COVID-19: Odisha's Artisans and Craftsmen in Deep Livelihood Crisis
The intangible cultural heritage of the state is at a cross road due to the pandemic and the lockdown disruptions.
The biological threat of coronavirus disease (COVID-19) has turned out to be a severe livelihood issue
for the bottom of pyramid artists and craftsmen.From unofficial sources, it is known that 18 lakh migrant workers have registered to come back to Odisha due to COVID-19 crisis. Initially, the Odisha government was estimating it to be around 2 lakh, but within 48 hours of opening the portal, more than 5 lakh people registered.
However, there is hardly any discussion on the 25 lakh more artists and artisans of Odisha, already facing livelihood crisis on the onset of COVID-19 crisis and apprehend the situation would not improve in near future as transport, trade and tourism affected too. Post-COVID livelihood and sustainability of artisans and craftsmen remain a challenge.
Ruined Gurukuls and Learning Centres
COVID-19 has destroyed gurukuls and learning centres engaged in art and crafts in the state. The first one happened due to FANI cyclone in May 2019 that devastated coastal Odisha. The scar was still visible and artists and craftsmen have yet to recover the loss.
Chitrasen Swain, a Gotipua Guru, Choreographer and Dancer has a different story to tell. He runs a Gurukul where more than 30 children get trainings on Gotipua tradition, the precursor of Odissi dance under one roof. Other than rigorous training under the Guru, children do also continue to attend school. Many a times, these children go for performance inside the state and there is the revenue model of the Gurukul. Coronavirus threat created panic among the children and kept them indoors. The Department of Tourism and Culture organised only two Gotipua Festivals (in 2011 and 2012) at the state levels in association with Guru KeluCharan Mohapatra Odissi Research Centre, Bhubaneswar. After that, it was stopped and there is no patronage and support to Gotipua tradition.
---
---
Pushpa Ranjan Magarajan, Odissi researcher and Guru, who has been nurturing a Gurukul in Bhubaneswar is apprehensive on what to do for his disciples. Without any disciple coming, he organised some virtual sessions on Odissi and managed to run the show. He said, the Post-Independence era has not seen any comprehensive patronage and promotion of cultural stewards. Without any help and support, these artists and artisans are nurturing age-old traditions and upholding national heritage.
Other states having deep culture and heritage could be compared with Odisha and its waning interest in protecting artists and craftsmen. Tamil Nadu and Bihar are two such states have nurtured institutions more than half a century ago. Rukmini Devi Arudhale started Kalaksetra Foundation much before Independence, which is now a national centre of importance.
The Bihar Government shaped up Shipl Anushandhan Sansthan in Patna and interestingly promoted an Odia Migrant artist, Upendra Maharathi, and named after him the institute.
Later Upendra Maharathi went to Japan and was deeply influenced by Buddhist art and architecture which was reflected in his creations in Bodh Gaya and other Buddhist heritage sites. In 1976, he was nominated as a member of the Bihar Legislative Assembly, and he passed away in 1981.
Institutions of Tamil Nadu and Bihar
 
KalakshetraFoundation, Chennai
Upendra MaharathiShilpAnusandhanSansthan,Patna
Visionary
Rukmini Devi Arundhale (1904-1986), of Madurai, Tamil Nadu and a Member of Theosophical Society, Chennai
Upendra Maharathi (1908–1981),an artist of Narendrapur, Puri District, Odisha
Established in
1936
1956
State
Tamil Nadu
Bihar
Recognition and Support
Institute of National Importance by an Act of Parliament in 1993.
Under direct control of Government of Bihar.
Support
An autonomous body under the Ministry of Culture, Govt.  of India.
Nodal agency of Industries Department, Government of Bihar
Areas of Training, Research and Promotion
Visual, performing art and Crafts
Art and handicrafts of Bihar
Unique Selling Proposition
Fine Arts, Bharatanatyam

Carnatic Music, Visual Arts, Crafts, Handloom Products like

Kalamkari Sarees, etc.

Bamboo & Cane crafts

Madhubani Painting

Manjusha (Angika) Art, Tukuli Kala,

Metal Craft, Papier Mache

Patna Kalam, Pottery & Ceramics, Sikki Craft, etc.

Linkages with Livelihood
Linkages with Tamil Nadu State government departments
Skill Development, Export, Product development, etc. in Bihar
Off late, the State Institute for Development of Arts & Crafts (SIDAC) was established in 2015. It was promoted by Handlooms, Textiles & Handicrafts Dept. and under SIDAC a Common Facility Centre was created for artisans in six different crafts such as Terracotta, Appliqué, Palm Leaf & Patta Painting, stone carving, Brass Metal and Natural Fibre crafts in Bhubaneswar.
Migration of Maharathi to Mahanandia
Born in Odisha, Upendra Maharathi (1908–1984) got his art education in Kolkata and started his career in Patna. After his education, he came back Odisha and did not find any space. Around that time, Odisha was being constituted as a state in 1936. He went to Lakhisarai, near Darbhanga of Bihar, to start his career as an artist in a publishing house. PK Mahanandia (born in 1949), another artist of Odisha travelled all along to Delhi and later cycled to Sweden. His journey to Sweden was partly love and art.
---
---
Both Maharathi and Mahanandia are just the tip of the iceberg how there are regular exodus of talents from once an art and culture rich state. Names like Jatin Das left JJ College of Arts, Mumbai to New Delhi. Vocalist Sunanda Pattnaik, who died recently, preferred Kolkata to nurture her skills in Kolkata, than her hometown in Odisha.
History Repeats after 150 Years
The jerk of Orissa Famine of 1866 or Na-AnkaDurbhiksha and mass exodus of people in Odisha happened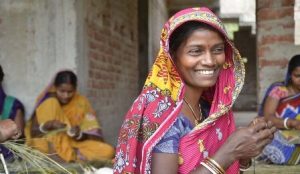 after 1866.  With the disruption of livelihood support system, there was a hiatus in art and craft scene. Different forms of arts and crafts faced extinction, and artists realigned to other professions. After 150 years, the situation is being re-created by COVID-19 crisis. The intangible cultural heritage of the state is at a cross road.This time, the in-situ population are in a cross road to depart from their traditional livelihood systems. The great Indian migration triggered mass exodus of people in search of work in countries like Fiji, Mauritius, South Africa, Myanmar and Guyana as indentured labourers.
Promotion of Art and Crafts
EkamraHaat, the urban craft village, is an initiative led by the Industries Department, came up in 2005 in the state capital. The state has set up similar craft villages at the pilgrimage town of Puri and Konark as well. The aim behind this initiative has been the promotion of crafts by enabling direct marketing opportunities to urban as well as rural artisans. Lockdown periods saw all its activities in a grinding halt. The online business too affected due to restriction on transportation, and int the operations of aggregators like Flipkart, Amazon, etc. and point of sales.The festivals are also postponed or stopped indefinitely.
SIDAC has been organising annual Toshali National Crafts Mela since 2005. BK College of Arts was established to promote art education. It is in the memory of Late Bibhuti Kanungo, an eminent painter,graphic designer, and art educationist of Odisha.
Artisans and Craftsmen Pushed below BPL Category
Priya Ranjan Kar, Secretary of Odisha Shilpi Mahasangha, alleged that the artisans and craftsmen are treated below poverty line (BPL) families. Giving an example, he said, Rs. 700/ – Madhu Babu Pension Yojana (MBPY) is applicable to any elderly person above 60 years of age while weavers are getting Rs. 500/- per month.
Folk artists are getting financial assistance at the rate of Rs.1200/- per month, but it is not applicable to artisans and craftsmen.
On 5 March 2019, Government of Odisha declared monthly financial aids to weavers and handicrafts artisan, but it has not been implemented so far. Weaver community believes that it was a pre-election (2019 General and Assembly Election) lolly pop to the artisan community. Survey of artists and artisan has not been done, so the exact number of population is ascertained. Odisha Shilpi Mahasangha demanded: a) special packages to corona-affected craftsman; b) monthly pension schemes for artisans; and c) revival of state handloom & handicraft council among others.
Post-COVID Livelihood and Sustainability
Responding to COVID-19 crisis, Odisha Government has increased person days under MGNREG schemes to provide additional income for BPL families and disadvantaged groups. There are no such schemes to address to the craftsmen. Artisans and craftsmen falling under BPL category got advance rations for three months, but the APL families were not included. Craftsmen have already predicted post COVID-19 tourist season would be impacted by reduced footfall in religious and ecological places. The world famous Rath Jatya (Chariot Festivals), this year will be observed on 23 June with bare minimum hands and with social distancing. When the lockdown phases are relaxed, the workers have started searching for other avenues.
Jambeswar Behera, Working President, All Odisha Bunakar Sangha demands that rebate of at least 20 per cent should be declared on artisan products to boost sales. He mentions that government response to artisan and weavers are too late. FANI cyclone relief to artisan reached during COVID-19, roughly the response time is of one year. He added that there is poor supply chain management of raw materials and atrocities and harassment of artists and craftsmen are also happening during COVID-19 crisis.