Right to Food and One Nation, One Ration Card
Every effort must be made during COVID-19 lockdowns to avoid food shortages and its distribution.
The Indian Constitution does not explicitly mention about the 'Right to Food'. However, the Supreme
Court has interpreted the same under Article 21 of Indian Constitution and held 'right to food is an integral and inviolable part of right to life'. Not only this, but Article 39(a) elucidate that the state government should make policies to secure its people with right to an adequate means of livelihood. Further, Article 47 obligates the state to raise the level of nutrition and health standards of its people. The Supreme Court in PUCL v. UOI highlighted that people starving due to their inability to purchase food have the right under Article 21 to get it from the surplus stock lying with the state, particularly when it is unused and rotting.
The National Food Security Act, 2013 (NFSA) was passed to sanction food to 50and 75 per cent to urban and rural population, respectively. It aimed to provide food grains at subsidised rates and also created certain group of people like lactating mothers, pregnant ladies, malnourished children to provide them benefits. However, an amendment was passed in 2018to ensure that beneficiaries choose food grains on their own and provide for food security during natural calamity. The amendment has been criticised as the rates have never been revised since its enactment. There are several leakages in the Public Distribution System (PDS). The Comptroller and Auditor General (CAG) in 2016 reported that states have not completed the process of naming its beneficiaries and 49 per cent of them are not yet included. It also reported that the states have inadequate storage potential to store allocated quantity of food grains. Also, most often people complain about the poor quality of food grains, which raises health concerns.
---
---
Rural infrastructure is the most neglected aspect. Mismanagement creates an adverse impact and make poor more vulnerable. Illegal diversion of grains, corruption and inefficiency add fuel to the fire. The Supreme Court in Swaraj Abhiyan v. Union of India remarked, "The Act; a social justice and social welfare legislation is not being implemented as it should be".
In the 2019 Global Hunger Index, India was ranked 102nd out of 117 countries with a score of just 30.3 that illustrates it to be a 'serious problem'.
The PDS gets affected due to corruption. In Nagpur, ration shops cheated the poor illiterates. Karnataka promised to provide food to even the citizens without ration cards through PDS shops. However, it failed miserably. A right to food campaign in Delhi, i.e.,'Dilli Rozi Roti Adhikar Abhiyan' was launched to monitor the functioning of ration shops. It was found that 29 per cent of shops, i.e., 10 out of 34 shops were closed during working hours and these ration shops have blatantly hoarded materials thereby giving rise to black marketing.
The situation got worsens with the Locust attack as they grow at an increasing rate and devastate the crops. According to the Food and Agriculture Organization (FAO), it has deep impact on food security and cause threat for livelihoods. The World Food Programme (WFP) elucidates that the world is on the brink of hunger pandemic and within few months may face multiple famines. 821 million people, i.e., one in nine people are hungry thereby making it difficult to achieve the goal of 'Zero Hunger by 2030'.
---
---
A survey was conducted by the Stranded Workers Action Network (SWAN), which covered 11,159 migrant workers stranded in different states between 8 and 13 April. It found that more than 90 per cent of the migrant workers did not receive rations from the government. While about 90 per cent were not paid by their employers, around 70 per cent of surveyed workers had less than Rs 200 from March 27 to April 13.
The union government recently launched Pradhan Mantri Garib Kalyan Yojana, wherein the beneficiaries are given double the current food entitlement at free of cost for three months. It also suggested that the states should organise kitchens by using 'state disaster relief fund' to tide over the pandemic. The plight of the workers can be reduced by launching of 'One Nation, One Ration Card', however, the scheme has not taken its pace due to interstate barriers.
A plea was filed in before the Supreme Court bench comprising Justices N. V Ramana, Sanjay Kishan Kaul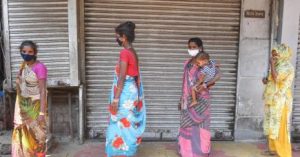 and B.R. Gavai for implementation of 'One Nation, One Ration Card' to benefit the migrant workers. The court did not find it appropriate to intercede for implementation, however, directed the centre to consider the feasibility for pre-ponement. Finance Minister Nirmala Sitharaman announced for its application and aimed to cover 67 crore beneficiaries in 23 states covering 83 per cent of PDS beneficiaries by August 2020 and achieve 100 per cent portability by March 2021. The announcement aspired to cover migrant workers, street hawkers, farmers and middle-income groups. Also, it visualised to provide food grains to individuals not covered under the NFSA or state beneficiaries. Therefore, those without ration cards will also be getting the benefits. However, this can happen only if red tapism, bureaucracy and corruption pave way for accountability and transparency so that benefit is available to the needy.
The Card' necessitates integration of the existing PDS or portals of various states and Union Territories with that of the centre under a central repository of all NFSA ration cards and beneficiaries. Such central repository also aims to eliminate duplicate ration cards and beneficiaries that exist in any state or Union Territory.
There are various critical factors that have to be kept in mind while rolling out the initiative. One such is studying, recording and updating about the patterns of labour migrants.
This becomes problematic and challenging to collate and reconcile data at both the locations, when a few members of family who possess ration cards migrate to other place for months. Other obstacle posited is that at present only 77 per cent of Fair Price Shops, i.e., 4.12 lakhs of 5.34 lakhs are operating in the country has installed electronic Point of Sale (ePOS) machines. The two major states West Bengal and Bihar, which witnesses the largest labour emigrants', are slow in this consideration. According to the data represented in Lok Sabha by Food Ministry, Bihar has only 62 installed ePoS as against requirement of 41,183 and West Bengal has only 366 out of 20,806 ePoS machines. For initiating One Nation, One Ration Card all over India, it is necessary that all PDS shops should install ePoS machines and that all ration cards should be linked with the Aadhaar card. The government shall also study about the seasonal migration of the beneficiaries so that they are not deprived of their rights. The use of advanced technology like installation of ePoS, computerisation of management of supply chain to increase efficiency and transparency to avoid corruption. All the states and union territories should participate actively onboard in adoption of such technology so that beneficiaries are provided subsidised foodgrains under the NFSA.
Every effort must be made during COVID-19 lockdowns to avoid food shortages and its distribution. The country must cater to the health and well-being of its citizens and take every possible measure to protect the food supply chain so that it does not gets disrupted. The lockdown has already led to the decline in agricultural and fishery export and lot of wastage due to spoilage of perishable items. The government must take the situation in its hands efficiently so that the crisis does not exacerbate hunger and malnutrition.