Cyclone Bulbul Causes Havoc in West Bengal and Brings Heavy Rainfall
A very severe cyclonic storm named Bulbul strongly lashed in the coastal regions of West Bengal and Odisha. Kolkata experienced an entire day of incessant rainfall and strong gusts of winds.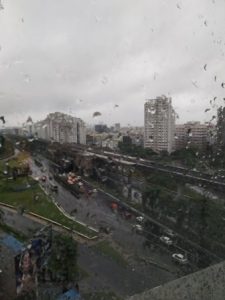 Severe cyclone Bulbul hit the land in areas between Sagar Island in Kakdwip, West Bengal and Khepuapara in Bangladesh, a little after 7pm on Saturday, 9th November. The recorded speed of wind amounted to 50km an hour in Kolkata around 11pm at night. Operations in Kolkata airport was suspended from 6pm on Saturday till 6am on Sunday as a precautionary step against the high risk of turbulence. All flights to and from Kolkata were cancelled for 12 hours ahead of probable wind shears and crosswinds.
On Wednesday, 6th November, The Indian Meteorological Department first noticed a deep depression created in the Bay of Bengal and predicted a forthcoming cyclonic storm that was set to intensify and move towards West Bengal. On Thursday, 7th November, the storm was looming over the Bay of Bengal and was located by the IMD near about 730km south-east of Paradip. Coastal areas in Odisha and Bengal were set on high cyclone alert and thunderstorm warnings were issued.
On Saturday, Cyclone Bulbul had a landfall at Bhadrak in Odisha. Heavy showers and gusty winds prevailed over different districts in Odisha including Puri, Kendrapara, Balasore, Jagatsinghpur among others. It also resulted in the uprooting of trees and roadblocks. As the cyclone moved towards Bangladesh and adjoining West Bengal coast, it triggered downpours and mild winds in Kolkata on the evening of Friday, 8th November.
---
---
A press statement released by IMD on Friday, stated, 'The cyclone is likely to intensify further till early morning of 9th November and is likely to move north-eastwards and cross West Bengal–Bangladesh coasts between Sagar Islands and Khepuapara, across Sunderban delta during the midnight of 9th or early hours of 10th November as a Severe Cyclonic Storm with maximum sustained wind speed of 110–120 km/hr gusting to 135 km/hr'.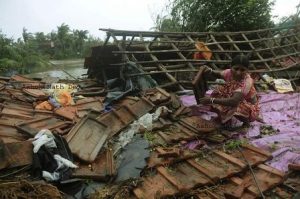 Kolkata experienced heavy rainfall from the very break of dawn on Saturday that continued throughout the entire day followed by strong winds in most areas. Even before Cyclone Bulbul arrived in full force in Bengal, many trees were uprooted around the city smashing few cars along the way. One such incident also resulted in the death of a 28-year-old man in Ballygunge area. Several roads were waterlogged due to continuous showers through the day.
However, proper safety measures were undertaken by the state of West Bengal and Odisha to fight the cyclone. Coastal regions were evacuated in large numbers and fishermen were asked to suspend their daily activities. Many people from the low lying coastal regions were moved to shelter homes and cyclone relief centres. Nearly 16 teams of National Disaster Response Force and State Disaster Response Force were deployed at required areas along with few Fire Service teams. The preparations for precaution against the cyclone were also reviewed by The National Crisis Management Committee. The Nabanna Special Control Room was assigned the taskof monitoring the movement of the cyclone and the administrative team was joined by the CM herself. On Saturday itself, Mamata Banerjee took to her twitter to inform.
Cyclone Bulbul is about to pass through Bengal. Our State Administration is closely monitoring the situation 24×7. We are taking all measures to tackle any contingency. Special Control Rooms have been set up and NDRF-SDRF teams are deployed. (1/3)

— Mamata Banerjee (@MamataOfficial) November 9, 2019
The major effect of the storm in West Bengal was noticed in South and North 24 Parganas as well as West and East Midnapore. Reports showed winds travelling at a speed of 80–90km/hr which was likely to increase up to 135km/hr towards the coastal districts of West Bengal. Meanwhile, a cruise ship with nearly 75 passengers was rescued by the South 24 Parganas police from the Bay of Bengal. The cyclone wreaked havoc in areas like Bakkhali, Namkhana, Kakdwip, Nandigram, Khejuri, Ramnagar and Nayachar. Several houses and shops in these regions underwent severe damage. Electric poles were rooted out alongside trees and power supply was disrupted in numerous areas. According to reports, paddy, wheat, vegetable and other crops have been largely destroyed due to the cyclone. Both the states of West Bengal and Odisha suffered major losses in terms of crops crushing the hopes of many farmers from these regions.
---
---
The storm then crossed the Dhanchi forest area near Sunderban with a speed of 110–120km/hr gusting up to 135km/hr as reported by IMD. The entire landfall process took around two hours to complete and as the Regional Meteorological Centre Director, GC Das, informed in an interview that the cyclone began interacting with the land by 11:30pm on Saturday night.
On early hours of Sunday morning, 10th November, the storm lay centred over Bangladesh and adjoining coastal region of West Bengal as reported by IMD. An update by the Regional Meteorological Centre of Kolkata stated that the intensity of the cyclonic storm is expected to decrease and turn into a depression with low intensity over the next 12 hours.
Official reports gave out records of 2 new deaths in Odisha and about 4 deaths in Kolkata and North 24 Parganas since Saturday. Prime Minister Narendra Modi assured his support through a tweet.
Reviewed the situation in the wake of cyclone conditions and heavy rain in parts of Eastern India.

Spoke to WB CM @MamataOfficial regarding the situation arising due to Cyclone Bulbul. Assured all possible assistance from the Centre. I pray for everyone's safety and well-being.

— Narendra Modi (@narendramodi) November 10, 2019
An aerial survey is set to be conducted in the highly affected areas to tally the damage caused. Proper rehabilitation and relief services have been promised to the effected individuals by Chief Minister Mamata Banerjee.