Delhi Sees Drop in Pollution Levels in Second Wave Lockdown
The capital has witnessed a drop in atmospheric NO2 levels since a lockdown was imposed on April 19 due to the second wave of Covid-19.
Pollution levels in Delhi have witnessed a drop due to the ongoing lockdown imposed in the city to contain the resurgence of Covid-19 infections in the pandemic's brutal second wave.
The lockdown was announced by Chief Minister Arvind Kejriwal on April 19, 2021. The next day, the city registered 28,395 cases, the highest yet.
In the 40 days of controlled activity, pollution levels have dropped significantly. Factories and construction work, which were the main contributors to Delhi's poor air quality were shut. There were also fewer cars on streets, leading to a 'moderate' air quality on most of the days, as per The World Air Quality Index Project.
Visuals from European Space Agency's Sentinel-5p satellite further reveal a drop in Nitrogen Dioxide (NO2) levels in the city. Emissions from vehicles on roads and combustion activities in factories are the primary emitters of Nitrogen Oxide (NO), which combines with atmospheric oxygen particles to produce toxic NO2.
As is notable in the image above, NO2 levels in the atmosphere ranged somewhere between 45-90 µmol/m2 between May 14 and 27, almost a month after the lockdown was imposed. This meant that NO2 levels declined due to a slowdown in vehicle and factory emissions. A few days before the lockdown was imposed, NO2 levels (between April 5 and 18), were docked around 90-130 µmol/m2.
---
---
In the following graphic, one can see the dwindling levels of atmospheric NO2.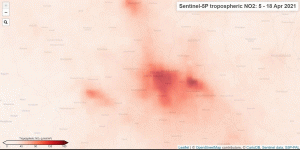 Delhi, the nation's pollution capital, also witnessed a slight improvement in its overall air quality. For many days, the air quality measured below 100 AQI, meaning that it was in the 'moderate' category. However, it is pertinent to note that air quality continues to remain 'hazardous' and 'unhealthy' in 2-3 pollution measuring centers, which varies on a day-to-day basis.
On Friday, May 28, the average AQI ranged between 70-74. Due to the onset of cyclone Tauktae last week, the air quality in Delhi improved by a great scale. The combination of rains and the lockdown fared its AQI to 'good' in some areas.
Delhi also witnessed a massive drop in pollution levels in the national lockdown imposed at the onset of Covid-19's first wave in March 2020. Since there was a total shutdown of activity across the country, air quality improved greatly. NO2 levels dropped down to lesser than 45 µmol m2. The UN had also issued a statement saying that NO2 levels in the atmosphere in Delhi had dropped by 70 percent due to the lockdown and ceasing of all activity. But the pollution returned to its pre-COVID levels by March 2021.
However, on Friday, Mr. Kejriwal announced that Delhi will be now be opening in a phased manner, primarily due to a steady decline in Covid-19 cases. Factories and construction work will be allowed to start operations to help the migrant workers who have been rendered jobless due to the lockdown.