Despondency Amidst COVID-19: Concerns of Returnee Migrant Workers
Uncertain of their future, the returnee migrants are spending days and nights worrying about what life will unfold for them next, while overcoming the memories of lockdown and difficulties they faced during the last two months.
India continues to dominate in the international migration and constitutes 6.5 per cent (18 million) of the total 272 million migrants in the world. International migration results in huge remittance that stands at around 2.5 per cent of India's GDP (79 billon dollar) in 2019 shared Prof Balwant Singh Mehta of the Impact Policy and Research Institute (IMPRI) and Institute for Human Development (IHD), New Delhi.Prof Mehta was speaking at the international webinar organised by the Centre for Work and Welfare of IMPRI, New Delhi,on 20 June 2020. In this webinar, apart from discussion on findings of a telephonic survey conducted among 323 returned migrant workers in hill districts of Uttarakhand, the national and international panellists discussed a range of issues on national level inter-state migration as well as international migration.
Prof Mehta stated that over the last three decades, the inter-state migration in the country has gone up almost twice from 27.3 million in 1991 to 42.3 million in 200, and further gone up to 56.3 million in 2011. The Economic Survey 2016–17 estimated 80 million migrant workers, of which around 9 million workers migrate across states annually. Prof Mehta highlighted major reasons for migration which are marriage, work/business and studies. In India, the origin states such as Uttar Pradesh and Bihar are mostly less developed, on the other hand, the destination states are relatively developed and industrialised states such as Maharashtra, Delhi and Gujarat.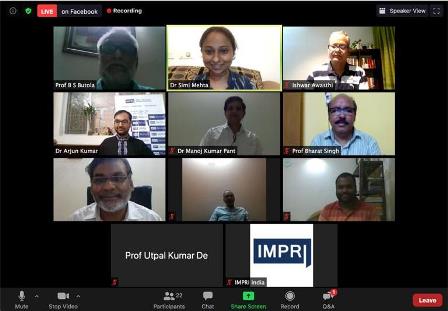 While talking about Uttarakhand migration facts, Prof Mehta said that the state was carved out from Uttar Pradesh in 2000 with an agenda to develop the hill regions of the erstwhile state.  However, even after the 20 years of its inception, the majority of the hill districts are still lagging behind than their plain counterparts; there is huge economicdisparity and inequality between the 10 hill districts and three plain districts of the state. As a result, a large number of people from hill districts out-migrate for better livelihood opportunities to either other part of the states or places outside the state across the country.
The census 2011 data show that as many as 734 hilly areas have become uninhabited after 2011 and are also referred to as 'ghost villages'.
During the on-going pandemic COVID-19 and lockdown period, we have experienced the images of migrants, carrying their reality on their heads, starved and exhausted, marching relentlessly only to return to their native places and this image will continue to haunt us for the rest of our lives. Finally, after two months of political drama, around 62 million migrants who have registered and many others are now returned to their native places across states; albeit to face new challenges. Uncertain of their future, these returnee migrants are spending days and nights worrying about what life will unfold for them next, while overcoming the memories of lockdown and difficulties they faced during the last two months. In this context, a telephonic survey was conducted among 321 respondents in Uttarakhand to understand their live and livelihood challenges, where estimated over 1 lakh migrants have returned tohill districts in the last one month period.
---
---
Prof I C Awasthi, Institute for Human Development (IHD), New Delhi, highlighted the findings of the survey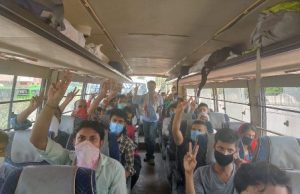 and stated that all resources in Uttarakhand are pulled from highland to low land areas without any value additions to the former. This has resulted in spatial and income disparities between the hill and plain districts in the state.Out of 323 respondents, nearly two-third were from Kumaon region and one-third were from Garhwal region. Majority of them were male migrants (90 per cent) and only 10 per cent were female, reflecting the male-dominated migration in the state. While seven out of 10 respondents were youth 15–29 years, three out of 10 were of 30–49 years 'middle aged', indicating youth distress and high unemployment in the state. The major migration destinations were Maharashtra mainly Mumbai (39 per cent) followed by Delhi NCR (10 per cent),plain districts within the state (36 per cent) and Rajasthan (7 per cent). Majority were engaged in informal low paid salaried jobs (81 per cent) as cook and waiters, security guards in private companies,etc. with low wages and remunerations. Prof Awasthi also highlighted that most of the respondent (68 per cent) would like go back to their destination places in absence of employment opportunities at their native places. He also stated that a small proportion of respondents received benefits from government mainly due to lack of awareness of government relief schemes.He emphatically stated that the role of Palayan Aayog (Migration Commission) of the Government of Uttarakhand is important in this pandemic situation to rehabilitate the return migrants through creating sustainable livelihood opportunities.
Mr Ramesh Joshi (Survey Coordinator), Secretary, Pandit Deendayal Upadhyaya Action & Research Society (DARS), Dehradun, shared his field experiences of two returnee migrants–one who returned from Germany to Uttarkashi, now engaged in bakery and another from Almora, who returned from Mumbai now opened a small hotel and doing well.
Prof Wendy Olsen, Head, Department of Social Statistics, The University of Manchester, UK, pointed out that 95 per cent of people are surviving the disease who are infected. She also made a point that going back to villages or hills is some kind of rescue for migrant workers and belief that they would be safe in such areas after observing the due period of quarantine. Prof Olsen was curious to know how return migrants were sharing the family responsibility, both in the farm and home.
Prof Irudaya Rajan, Professor, Centre for Development Studies, Thiruvananthapuram, noted that the young male dominated the survey sample,who are mostly petty salaried and they did not get their dues from their employers during the lockdown period. He also stated the lockdown was a state failure and the migrants have become the victims of the same. He questioned that how long their past savings and help from their relatives will last to meet their daily needs in the villages, unless state comes forward to help them by providing employment.
Prof R B Bhagat, Professor and Head, Department of Migration and Urban Studies, International Institute for Population Sciences, Mumbai, stated that as per the government sources around 4 lakh migrants have returned to Uttarakhand. He argued that migration takes place primarily due to lack of development and limited employment opportunities in rural areas. He expressed that rural development and urbanisation are complementary to each other and must work hand in hand to stop the migrant crisis like the current one. Prof Bhagat noticed that majority of migration is temporary and around 80 per cent of migrants are working in informal sector at low wages and remuneration without any social security. Clearly, government has to work both in the rural and urban areas by creating livelihood with some minimum social security.
---
---
Prof Utpal Kumar De, Professor, Department of Economics, North-Eastern Hill University (NEHU), Shillong, opined that wage differentials are playing major role while determining the issues of migrant workers between rural and urban areas. He emphasised that immediate job creation in the rural areas is of prime importance. Prof Kumar shared the concern that engagement of returnee migrants in agriculture would not add any value addition as already many members are already working on tiny and fragmented farms.He asserted that tourism, horticulture and MSMEs are possible areas where returnee migrants could be gainfully engaged.
Mr Bikash Kumar Malick, IES, Assistant Director, Ministry of Labour and Employment, Government of India, elaborated the government efforts of gradual formalisation of workers.Recently announced the Prime Minister Garib Kalyan Rojgar Abhiyan for the migrant workers is a novelty providing employment in 116 identified districts in six states. He also said that these programmes along with MGNREGS will generate more employment and provide the necessary income-generating opportunities to the returnee migrants and other poor.
Dr Manoj Kumar Pant, Additional Chief Executive Officer, Centre for Public Policy and Good Governance, Government of Uttarakhand, elaborated the efforts of Centre for Public Policy and Good Governance in generating job opportunity in rural areas. He informed that five key areas have been identified by the state for employment promotion. These are:organic farming, horticulture,tourism, AYUSH, forestry and power. Dr Pant also emphasised the need for developing quality education and quality healthcare services in the state.
Prof Bharat Singh, Associate Professor, Department of Economics, Satyawati College (Evening), University of Delhi, raised many relevant questions regarding the problem of demand of labour both at place of origin and place of destination, and flagged the need for a comprehensive debate on migration issues to understand the real problem better.
Prof BS. Butola, Centre for Study of Regional Development, Jawaharlal Nehru University, New Delhi, observed that the situation could have been better handled by the government rather creating a panic situation among the migrants.
The role of state government is most important to help them immediately and provide them with livelihood opportunities in their villages or nearby places.
There are numerous local areas resource-based opportunities in the hill areas and government should convert this crisis situation into opportunity by providing them some footholdfor livelihood. 
Dr Simi Mehta, CEO and Editorial Director, IMPRI, highlighted the plight of migrants amid COVID-19 and lockdown period in the country. She also said that the migrants are the most vulnerable victims both at their places of destinations as well as the origin. They are the centre-stage of discussion among policy makers, politicians and other stakeholders.
Some of the important points that emerged in the discussions pointed towards the issue of inclusiveness of migrants at their destination states. The government has announced PM Garib Kalyan Rozgar Abhiyan on 20 June 2020 with an outlay of Rs. 50,000 crore in 116 districts in six states, without keeping the hill specificities in mind. The scheme is converging and harnessing many existing schemes and offers 25 different kinds of work. The scheme has targeted the districts which have minimum capacity of 25,000 returnee migrants, but this has excluded the hill districts. The minimum capacity should be reduced from 25,000 to 10,000 for hill and northeastern districts and atleast Rs. 5000 crore should be provided for hilly districts in the Abhiyaan.