Full throttle on a note of parity
Celebrating womanhood and spreading the message of gender parity, six women employees took on the open road in a 20-day bike expedition from Kochi to Delhi.
A 22-year-old girl, a 41-year-old mother of two and a 27-year-old woman were three of the six women who travelled a distance of more than 4,000 kilometres as part of a national bike expedition, in a matter of 20 days.
As part of the 'Federal Bank Motorcycle Angels' national expedition, starting from Kochi on August 1, the riders, all employees of Federal Bank, covered eight states including Bengaluru, Mumbai and Ahmedabad before reaching Delhi on August 20.
Conveying a message of women empowerment and gender equality, Lavanya N, Merilyn Hamlet, Surya Ravindran, Seetha V Nair, Febina K B and Sangeetha Sikhamani "intentionally" rode the Royal Enfield Bullets bikes which are often associated with "strength and men".
Twenty four-year-old Surya mentioned, "Height, age and weight are characteristics that do not matter. What matters is your attitude, approach and concentration towards the task at hand."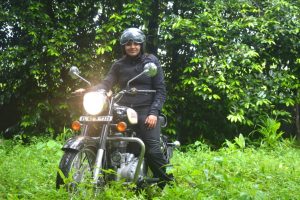 Sangeetha shared, "Since I am short, once someone actually told me that I was struggling to park my Bullet because of my height. But then, I believe that no matter what the society tells you, believe in yourself and go ahead." The 32-year-old inherits her love for bikes from her father who was more than thrilled to let her take up the challenge.
Similar stories of support and encouragement arise from her fellow riders. Febina, who is a mother to two daughters, told Delhi Post, "After marriage, I learnt to ride from my husband because at some point, I started liking the Bullet. It has been 3-4 years now. I learnt it for fun and took short rides. When this opportunity came, my parents, husband, sister and children were more than happy to let me go for it."
During the journey, the riders spoke and interacted with common people on the road, posed for photographs and also stopped over at the bank's various branches.
"We were fortunate to meet a lot of women and children every day. We used to be tired or feel dehydrated but when we met those people especially children and women, their smiles were contagious. Those smiles and admiration for us, kept us going," said Febina, who belongs to Kerala's Kakkanad. She further added, "We became an inspiration without actually beginning with such a thought."
"Two boys were waiting for us as they heard that we would be reaching Coimbatore on our way. They wanted to travel to Sikkim. They shared that their parents finally agreed to send them to Sikkim after reading about our story. That was one of the many instances that left us overwhelmed and inspired," recalled Febina, at the culmination reception of the expedition held at India Habitat Centre, New Delhi.
Telecom Secretary and Chairman of the Telecom Commission, IAS Aruna Sundararajan, who was also the chief guest along with the guest of honour, Odissi exponent Padma Shri Kiran Segal, spoke about such "bold and brave" initiatives powering and projecting women's capabilities.
"We belong to a country where women are never let free. Amidst anxious families back home and braving all kinds of odds, these bikers have set a platform for many others to replicate. I am delighted as a woman," said Sundararajan.
Sehgal was all praises for the riders while recalling brave episodes that took place in her own life when she and her team performed in Kargil and Drass at the time of the Kargil War.
The team captain, Merilyn, said that it was the support of their well-wishers and family that helped them carry forward the expedition and subsequently complete it despite being worried about the flood situation back home in Kerala, maneuvering issues such as constant rains, potholes on the road as well as constantly keeping the team members in sync while riding together.
The six were selected from hundreds of applications that were received as part of the bank's CSR initiative. "Forty per cent of our employees are women and the organisation works on an egalitarian basis. There is no discrimination and that is what we wanted to communicate. We thought that it is the right time to do something like this, in keeping with the government's outlook on women empowerment," Babu KA, Senior Vice President and Zonal Head, New Delhi, told Delhi Post.
"My priorities have always changed over time but one feeling that hasn't changed is the pursuit of happiness. Career choices don't matter. What matters is food for the inner soul. That has been my biggest driving force," signed off Merilyn, who is also a beauty pageant holder.