G20 Leaders' Homage to Gandhi Highlights Global Unity and Vision for a Harmonious Future
The summit marked a significant global shift in discussions, with Modi highlighting India's Human Centric Vision, focusing on technology for inclusive development.
In a historic moment that bridged the past and the present, world leaders of the G20 nations convened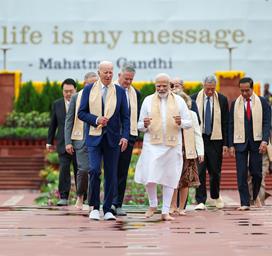 at the iconic Rajghat to pay homage to India's revered figure, Mahatma Gandhi. The Indian Prime Minister Shri Narendra Modi's gesture highlighted the universal applicability of Gandhi's principles and sent a message of world peace and unity.
Mahatma Gandhi, widely regarded as the beacon of peace, service, and non-violence, holds a unique place in global history. The G20 leaders' respect for the person who personifies these values demonstrated their shared desire for a peaceful, inclusive, and prosperous future for all. This was beautifully captured in Prime Minister Modi's statement, "As diverse nations converge, Gandhi Ji's timeless ideals guide our collective vision."
The Rajghat event symbolised India's deep-rooted commitment to global harmony and collaboration. These sentiments were further echoed in Prime Minister Modi's address at the closing ceremony of the G20 Summit. Referring to the "One Earth, One Family, One Future" vision, the Prime Minister emphasised the evolution from the concept of a Global Village to realising a Global Family. This perspective aligns with Mahatma Gandhi's long-held vision of 'Vasudhaiva Kutumbakam', meaning the world is one family.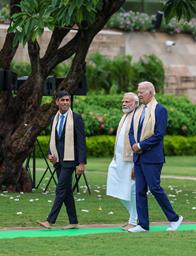 The summit itself marked a significant progression in global discussions. Modi drew attention to a shift from a GDP-centric to a Human Centric Vision, reflecting India's approach to harnessing technology for inclusive development. Initiatives such as sharing data from the Chandrayaan mission and endorsing a robust framework for Digital Public Infrastructure exemplified this commitment to shared global progress.
New-generation technology, like Artificial Intelligence, and emerging challenges like cybersecurity and cryptocurrency were also at the forefront of discussions. The Prime Minister emphasised the need for a unified global approach to these domains, mainly to ensure the security and prosperity of all nations. The call for immediate and effective reforms in global institutions like the United Nations Security Council, further underscored the importance of these structures evolving with the changing times.
A notable decision during the summit was the inclusion of the African Union as a permanent member of the G20, underscoring the changing dynamics of global politics and the need for broader representation on such platforms.
In sum, the G20 summit, while rooted in present-day geopolitics and global challenges, found resonance with the past in the homage paid to Mahatma Gandhi. It serves as a reminder that in a rapidly evolving world, the ideals of peace, unity, and inclusive progress remain as relevant as ever. As leaders look ahead, Gandhi's philosophy offers a timeless compass to navigate the complexities of the modern age and work collaboratively towards a shared global future.