G20 New Delhi Declaration: A Milestone in Multilateral Diplomacy
The declaration's section on Ukraine highlights the G20's commitment to peace and the principles of the UN Charter.
The G20 meeting in the Indian capital, New Delhi, on a landmark note today with the unanimous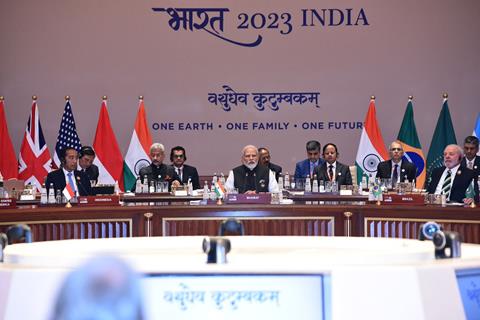 adoption of the "New Delhi declaration". Notably, this declaration boasts more outcomes and an unprecedented number of documents, eclipsing any previous G20 meets.
Reaching a consensus among international groupings has been challenging lately, especially given the ongoing conflict in Ukraine and global divisions over climate change solutions. Therefore, the successful negotiation of the New Delhi Declaration is a testament to the tenacity and skill of the diplomats involved.
Prime Minister Narendra Modi expressed gratitude in his announcement, highlighting the collaborative effort: "There is good news… With our team's hard work and with the help of everyone involved, the New Delhi G20 Leaders' Summit Declaration has reached a consensus."
One of the key sticking points in previous discussions was the situation in Ukraine. Yet, India achieved a significant breakthrough by amending the text on Ukraine, fostering consensus after several negotiation rounds. The declaration underscores the need for all states to act according to the Purposes and Principles of the UN Charter, emphasizing territorial integrity and the impermissibility of nuclear weapon threats.
Union Minister Hardeep Puri described India's G20 presidency as the most ambitious in history. He commended the declaration's mature drafting, stating it heralded a new era post-Covid and would inspire other multilateral institutions. "On all fronts — health, climate, climate finance, you can do a simple metric before and after this G20 has produced… This is a post-Covid new international order," Puri added.
In addition to global peace and security issues, the G20 New Delhi Leaders' Declaration shed light on crucial subjects such as climate change and health. Union Finance Minister Nirmala Sitharaman and External Affairs Minister S Jaishankar emphasized themes like women-led development, gender-inclusive climate action, and food security.
Social media platforms like X, formerly known as Twitter, buzzed with reactions. G20 Sherpa Amitabh Kant described the #NewDelhiLeadersDeclaration as symbolizing an "unparalleled global consensus". Kant further highlighted the achievements of women's empowerment and gender equality, calling them some of the declaration's significant milestones.
With 83 paras and absolutely no dissent , no footnotes, no chair summaries – the #NewDelhiLeadersDeclaration symbolises unparalleled global consensus.
Steered by the vision of PM @narendramodi, #G20India Presidency has delivered phenomenal action on high ambitions for the world. pic.twitter.com/T94uji7WKe

— Amitabh Kant (@amitabhk87) September 9, 2023
Other international leaders, including Netherlands Prime Minister Mark Rutte, also expressed optimism, lauding the G20's efforts to reach a comprehensive agreement.
The New Delhi G20 meet emerges as a beacon of hope in these tumultuous times. The declaration is a testament to India's leadership and represents a unified effort by global powers to address pressing challenges collaboratively. As countries grapple with the lingering effects of the pandemic and geopolitical strife, such international cooperation provides a glimmer of hope for a more stable and secure future.