G20 Leaders' Summit in Delhi Spotlights India's Agricultural Prowess
G20 Head of States' spouses visited a special agriculture exhibition organized by the Ministry of Agriculture and Farmers' Welfare at IARI Campus, PUSA.
As the G20 Leaders' Summit commences in the nation's capital today, the spouses of the G20 heads of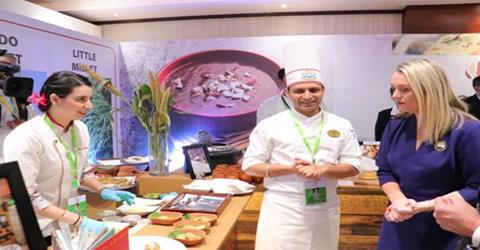 state were treated to an exceptional exhibition showcasing India's agricultural heritage, organized by the Ministry of Agriculture and Farmers' Welfare at IARI Campus, Pusa.
This special event exhibited the wealth and diversity of Indian agriculture with sections like the 'AgriStreet', celebrity chef-led live cooking sessions, and interactions with the country's innovative farmers and agricultural startups.
A striking feature of the event was the 'Rangoli Area' adorned with two expansive 'Millet Rangolis', representing the core themes of India's farming traditions and its global agricultural commitment. The pieces emphasized India's crucial role in international food security and showcased its commitment to unity and sustenance.
Inside the leading exhibition, the dynamic Agri-startup ecosystem was on full display, with 15 Agri-startups showcasing cutting-edge technological solutions, from Climate Smart Agriculture to digitizing the agricultural process. Additionally, Farmer Producer Organizations (FPOs) across India displayed edible products in line with 'Empowering Rural Prosperity through Collective Agriculture.'
A much-anticipated event segment was the 'Live Cooking Session', celebrating the International Year of Millets. Celebrity chefs Kunal Kapur, Anahita Dhondy, Ajay Chopra, and ITC Group's culinary experts, Chef Kusha and Chef Nikita, dished out mouthwatering millet-based dishes representing the culinary diversity of all G20 nations.
The exhibition also delved deep into India's Research and Development achievements in agriculture. ICAR's stalls demonstrated advancements from precision agriculture to India's global renown as the "Land of Spices". Highlights included the export potential of diverse Indian mushrooms and a display of a real-time monitoring system for the transportation and ripening of bananas.
The 'Agriculture Street', another integral component, depicted India's vibrant agricultural past and potential future, with nine interactive stalls celebrating millets and India's efforts in boosting food and nutritional security. Among the many inspirational tales from this segment was that of Lahri Bai, dubbed the 'Millet Queen' of India, known for conserving over 150 indigenous seed varieties.
As a token of appreciation and reflection of India's rich cultural tapestry, the G20 spouses were gifted a hand-curated hamper, including handwoven stoles and a bell metal figurine reminiscent of the ancient Harappan civilization.
Interactions with women farmers from India's top millet-producing states allowed the G20 spouses to gain a deeper understanding of the evolving millet value chain in the country.
The event served as a testament to India's strides in agriculture, especially millet farming. It provided an enriching experience for the first ladies and spouses, underscoring India's commitment to sustainable agricultural practices and its vast cultural heritage.