Government Bill disowns Transpersons as citizens: MP Tiruchi Siva
Instead of the 27 amendments carried out in the 2016 Bill, he says that his Private Member's Bill could have been passed with a couple of amendments.
Slamming the Government over the Bill that "is nothing for the Transgenders", Rajya Sabha MP DMK's Tiruchi Siva, who is the face behind the initial legislation moved in 2015, contends that the Government didn't even consult him or the Transgender community before putting up the "completely watered down" Bill in the Parliament.
As a Private Member's Bill, Siva's Bill named as 'Rights of Transgender Persons Bill, 2014' was passed in the Rajya Sabha through a unanimous voice vote but has been pending in the Lok Sabha since 2015. The Bill had provided for reservations in education and employment within the OBC quota and was widely applauded for its overall progressive stand.
Meanwhile, the Ministry of Social Justice and Empowerment brought out a draft of the 'Transgender Persons Protection of Rights Bill, 2016' which was severely criticised by Transgender activists. The same Bill was re-introduced as the Transgender Persons Protection of Rights Bill, 2018 and passed in the Lok Sabha recently with 27 amendments including the definition of a Transgender that has been taken from Siva's Bill. "When my Bill was passed, everyone supported it. What the Government did was, with the help of the Speaker, they dragged the previous Bill (2016) which was discussed for nine weeks (around 4 sessions). My Bill was kept pending because everyone would have supported it and it would have gone through," says Siva in an interview with Delhi Post.
---
---
Instead of the 27 amendments carried out in the 2016 Bill, he says that his Bill could have been passed with a couple of amendments.
Siva adds, "If you look through the 27 amendments, the Government Bill is nothing for the Transgender. Only one important amendment is the definition of a Transgender which has been carved out of my Bill. Instead of taking out the pains to do all this, they could have straightaway passed my Bill."
"So, they are really putting down the community instead of working for their well-being. I had rolled the ball and kept it near the goal post. They could have just kicked it with one or two amendments," he contends.
In retrospect, according to the original definition in the 2016 Bill, a Transgender was one who was 'neither wholly female nor wholly male; or a combination of female or male; or neither female nor male; and whose sense of gender does not match with the gender assigned to that person at the time of birth, and includes trans men and trans women, persons with intersex variations and gender-queers'.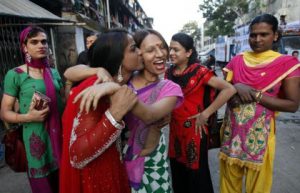 Now, the definition has been amended to "a person whose gender does not match with the gender assigned to that person at birth and includes trans-man or trans-woman (whether or not such person has undergone Sex Reassignment Surgery or hormone therapy or laser therapy or such other therapy), person with intersex variations, gender- queer and person having such socio-cultural identities as kinner, hijra, aravani and jogta'.
Siva opines that it still needs some clarification and points out, "Transgender is a person whose sense of gender does not match the gender assigned at birth."
Apart from that, the Bill also goes against the directives of the landmark 2014 NALSA judgement which earmarked the community as a "third gender" and stated that the fundamental rights under the Constitution are equally applicable to the Transgender community. The Supreme Court of India's judgment in the case also gave them the right of self-identification of their gender which was hailed as a major step towards gender equality in the country.
"Worst of all is that the Government wants a screening committee instead of self-identification of gender. They have to go before a committee. What is their competence? The committee might ask them to do whatever they want to," argues Siva, adding that his Bill's demand for a Commission with powers of a civil court as well as fast track courts to deal with pending cases have also not been taken into consideration.
"Another serious thing that they say is that no family should disown the Transgenders. But the first discrimination that they mostly face is from the family. That is why, they are coerced to come out of their homes and live somewhere else," expresses Siva, who has been with DMK for over four decades.
As per the 2018 Bill, there are no reservations for Transgenders in education and employment which Siva is disappointed with. Emphasising that reservations is the main criterion which has been taken away, he says, "I was asked how reservations can be given when the Constitution ceiling is 50 per cent and 49.5 per cent has already been provided for. I am not asking for vertical reservations but horizontal one which is out of what is already there like the OBC Quota."
---
---
He further adds, "In Tamil Nadu, we give three per cent to Muslims. It is out of the backward classes. Likewise, even the Supreme Court has stated that these people should be considered as OBCs and out of the 27 per cent, they could be given. So, if at all, the Government's intention had been genuine, they should have consulted me. And with an amendment, these portions could have been changed. Even if two per cent wasn't possible, something could have been worked out."
Now, what is going to happen to the Bill once the Parliament resumes after the Christmas break? "The Bill which has been passed in the Lok Sabha will come to Rajya Sabha. We are going to press it to be sent to a Select Committee when the Bill is listed. If at all the House agrees, it will be sent to a Select Committee and the report, should come before the next session. However, in the next sessions, there won't be any time to pass the Bill," says Siva adding that whether the Bill gets sent to a Select Committee or not, it will get lapsed and his Bill will also "go off".
He adds, "If they push it to be passed, it will be nothing more than pandemonium."