How Green are India's Green Highways?
By implementing the Green Highways Mission, India can reduce its carbon emissions by 35% and fulfill its commitment given at CoP 21 in Paris 2015.
India's highways are an important element of its economy. Despite having 2% of the total paved roads, they experience 40 percent of the total traffic faced in India. This highlights the significance of highways that act as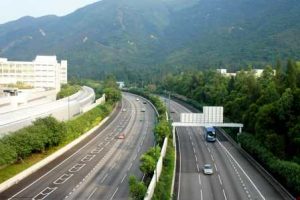 a catalyst for connectivity and subsequent development. But one cannot ignore the magnitude of trees getting cut for the construction of highways. An assessment conducted in December 2019, claimed that 1964 trees were cut for the upgradation of the Paderu-Araku highway in Andhra Pradesh. While the replacement of the chopped-up trees was assured, no number of new trees can compensate for the loss of mature trees.
This is where the idea of Green Highways works as a solution. The technology behind Green Highways was developed by a social group named Green Highway Partnership in 2002. It champions the construction of highways along with plantations to gain functionality and ecological value from road construction. By creating greenery alongside roads, we can reduce air and noise pollution; reduce soil erosion, and give employment to the nearby communities. All these benefits come along with aesthetic and ecological roads with dotted trees.
---
---
India's Green Highways Mission
In 2020 the Minister for Road and Transportation, Nitin Gadkari, had announced the humongous task of constructing 22 Greenfield Expressways or Green Highways over the course of the next few years. As explained by the Union Minister, a greenfield highway will offer connectivitybetween two major destinations without any tributaries or detours in its path. For instance, the Delhi-Mumbai expressway will help cover the long distance of 1300 km in just 12 hours.
The 22 highways planned and in the process of constructed are:
| | |
| --- | --- |
| Expected Date of Completion | Highway (with KM) |
Source – Times of India
| | |
| --- | --- |
| March 2023 | Delhi – Mumbai (1350 km) |
| March 2023 | Ahmedabad – Dholera (110 km) |
| March 2023 | Ambala – Kotputli (310 km) |
| March 2023 | Amritsar – Jamnagar (762 km) |
| | |
| --- | --- |
| March 2024 | Delhi – Amritsar – Katra (600 km) |
| March 2024 | Bengaluru – Chennai (272 km) |
| March 2024 | Kanpur – Lucknow (63 km) |
| March 2024 | UER II in Delhi (75 km) |
| March 2024 | Raipur – Vizag (464 km) |
| March 2024 | Delhi – Saharanpur – Dehradun (169 km) |
| March 2024 | B'luru Satellite Town Ring Road (281) |
| March 2024 | Durg – Raipur – Arang (92 km) |
| March 2024 | Chitoor – Thatchur (125 km) |
| March 2024 | Kota – Indore (136 km) |
| | |
| --- | --- |
| March 2025 | Surat – Solapur (464 km) |
| March 2025 | Chennai – Salem (277 km) |
| March 2025 | Kharagpur – Siliguri (235 km) |
| March 2025 | Solapur – Kurnool (318 km) |
| March 2025 | Indore – Hyderabad (713 km) |
| March 2025 | Hyderabad – Visakhapatnam (221 km) |
| March 2025 | Hyderabad – Raipur (330 km) |
| March 2025 | Nagpur – Vijayawada (457 km) |
Along with speedy connection between two destinations, these highways would provide an abundant lush Green Corridor. The Green Highways Policy of 2015 makes it mandatory to devote 1% of the National Highway budget in creating and maintaining tree-lined highways. According to Mr. Gadkari, that amounts to Rs. 1000 crore per year. A separate agency will engage in planting uniform greenery and ISRO would be monitoring plant growth and survival. On an annual basis, a performance audit will be created on the agency's task. Money would be released only if 90% of the trees have survived. New contracts will be drafted based on their performance.
Along with plants, the roads will harbor gas pipelines, transmission lines, and optic fiber, while the highway construction is on. Further plans include the construction of 1200 amenities that will generate employment for five lakh rural people in agroforestry and other plant-based industries. For instance, the Chambal Expressway is labeled as a 'game changer' for the tribals and unemployed of Madhya Pradesh, Rajasthan, and Uttar Pradesh. While the Z-Morh Tunnel project will create an all weather-connectivity for the Srinagar-Kargil-Leh National Highway which often does not function due to heavy snowfall.
---
---
Plantation Recommended
Traditional Indian roads were always lined with trees on either side. With the Green Highways project, the highways will be dotted with trees again. For this, the National Highway Authority of India (NHAI) has recommended Plantation Species Matrix. This framework will assist in the selection of different trees and shrubs for the Green Highway project. They have tabulated the best plants that can provide the roads with ecological, economic, and aesthetic value. Plants of varying heights are being selected, with shrubs between one to four meters, and trees between three to 205 meters. The foliage area should be with a width of 30 to 50 meters along with high pollution attenuation capacity.
The concentration of greenhouse gas emissions and dust particles restrict the growth of flora in the region. With high levels of SO2, CO, CO2 & NOX and Suspended Particulate Matters, proactive steps need to be taken to contain pollution emitted on the highways.
A multitude of research suggests the best plants with high toleration of pollution. The study conducted by CSIR-Institute of Himalayan Bioresource Technology proposes to plant native trees that could trap unburnt hydrocarbons and dust from transportation. They recommend 26 species inducing, silk oak, walnut plant, Holly oak, fig, and red cedar. On the same topic, researchers from Banaras Hindu University (BHU) recommend planting Shisham, Shirish, Neem, Gulmohar, Banyan, and Eucalyptus. Researchers from IIT Dhanbad, recommend planting Banyan, Ashoka, and mango trees for the formation of the Green Belt.
Planting the right trees along the way is crucial for the Green Highway to actually function. Plants have various levels of sensitivity and a carbon sequential nature. This is called the Air Pollution Tolerance Index. By choosing the right trees to be planted along our national highways, we can maintain the Green Highway concept as a useful one rather than a superficial one. The right trees would help improve the environment and reduce the pollution mitigation effect.
Current Scenario
The National Green Tribunal (NGT) has stated that the construction of green cover on both sides of the road is crucial. NHAI had recently claimed that Concessioners and not the NHAI were responsible for following the rule of mandatory green cover. But an NGT bench chaired by Justice Goel reprimanded the NHAI and added that the duty of NHAI does not end by hiring agents. This is not the first time NGT has seen a lack of concrete steps being taken for the plantation of trees. Following this incident, it has recommended the environmental regulatory authorities to look into the matter along with NHAI and the NHIDCL.
The Road and Transportation Industry, in a bid to complete highway projects in time, have decided to skip the Environment clearance. The Supreme Court ruled in the favour of the Central Government who would not have to wait for environmental clearance before acquiring any land and starting construction on it for highways. Any existing linear project up to 100 km and any road built for bypass will get clearance till September 3.
If these hurdles are not overcome, the devastation of many forests would take place and no authority will be incharge to look for the green cover implementation. An estimated 391 million tonnes of CO2 is emitted by Indian Highways. This will rise to 966 million tonnes by 2030. By implementing just one Green Highway Policy, India will reduce its carbon emissions by 35%, thus achieving its commitment given at CoP 21 in Paris 2015. One step of planting trees can drastically reduce pollution, and at the same time maintain the aesthetics of Indian Highways.