William Penn Opens Store at T2 Delhi Airport
Wlliam Penn, the multi-brand retail store chain housing premium writing instruments as well as business and lifestyle accessories from world-renowned brands has opened its newest store at T2 Delhi Airport.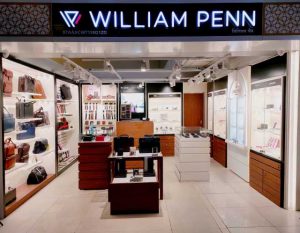 The new store is located at the domestic departure terminal and carries exciting products from international brands like Lapis Bard, Caran d' Ache, Sheaffer, Montblanc, Pennline, Hugo Boss, Sailor, Lexon and many more. Check in to this magnificent store to find the perfect gift for yourself or a loved one waiting for your arrival. Experience the magic of our fine writing instruments by putting even the most exclusive models to paper. The store also carries a wonderful array of stylish lifestyle accessories, notebooks and luxury gift sets you can touch and explore. Browse through the shelves at your leisure and witness our unparalleled customer service.
Fair warning: Make sure you keep a close eye on the clock; men stepping into this oasis of expertly curated collections tend to lose their hearts, and all sense of time.
---
---
William Penn currently has stores across India in Bangalore, Delhi, Mumbai, Chennai, Hyderabad, Kochi and Noida.
"We are glad to launch our new store at T2 Delhi Airport. There are not many stores that men can indulge in. William Penn's offering of writing instruments and lifestyle accessories provide a reason for him to feel good about having a choice before he makes up his mind." Says Mr. Nikhil Ranjan, Managing Director, William Penn.
About William Penn
Founded in 2002, William Penn is widely recognized as a definitive brand for premium writing instruments and men's accessories, as well as an unparalleled destination for personal and corporate gifts. With over 25 exclusive outlets across 7 cities and more than 50 globally renowned brands on offer, including the homegrown brands Pennline and Lapis Bard, William Penn is home to a breathtaking range of innovative writing essentials and lifestyle accessories.
To shop online, log on to https://www.williampenn.net/