I want to push the idea of a Gondi Radio: Shubhranshu Choudhary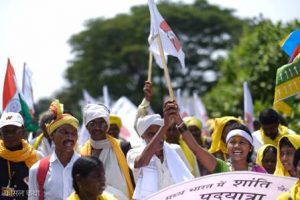 Because many Gondi tribals can't read newspapers, the renowned journalist Shubhranshu Choudhary vouches for a Gondi radio in Chhattisgarh that can help the tribals' access news in their native tongue. As the founder of mobile phone service CGNet Swara (Central Gondwana Net) that allows citizens to send and listen to audio reports in their local language, Choudhary has trained more than hundreds of citizen journalists to produce audio news reports which are verified by trained journalists from the community before going on air. The reach of the service is such that it once received more than 1,500 calls each day from people who accessed these reports. He also has developed a website from where the audios can be downloaded as well.
In an exclusive interaction with Delhi Post, Choudhary talks about how in between the Left Wing Extremism (Maoist movements) and the Government, the tribals are losing out on essential human rights, the peace walks initiated by the tribals in the run up to the 150th anniversary of Mahatma Gandhi in 2019, and the pertinence of reaching out to adivasis about the laws of the land including Forest Rights Act (FRA) and Panchayats (Extension to Scheduled Areas) Act 1996 (PESA Act), in Gondi even as the state saw a change in Government recently.
Delhi Post: Talk about the Maoist belt of Chhattisgarh and all we hear is Para military troops losing their lives or Maoists getting killed in "encounters". It is even called the "single most internal security threat". Has anything changed for real in Chhattisgarh?
Shubhranshu Choudhary: The history of Left-Wing Extremism (LWE), as the Maoist movement is called in parliamentary language, is long. Starting from voice against the Nizam in 1940s India to the first armed uprising launched in 1967 in the remote West Bengal village of Naxalbari, the movement spread as other "revolutionaries" across the country were inspired, and in the 1980s, Odisha, Maharashtra, Telegana, and Chhattisgarh became the hotbeds of what is termed as "Naxalism".
The Maoists moved to present-day Chhattisgarh (In Madhya Pradesh, the entire region was called Dandakaranya forest where the Maoists came to create a place to hide) in the 1980s and were finished elsewhere subsequently. Not many came after the 1990s which effectively means that the leaders of that time are now old. A lot of adivasi youth have joined but they have not reached the leadership role (Youth from cities have not joined much after 90s).
While some of them have consistently followed a violent agenda, rejecting parliamentary politics, few others have been participating in the democratic processes with considerable success.
Delhi Post: So, do you think participation in parliamentary politics is a plausible solution for the end of LWE?
Shubhranshu Choudhary: Maoists thought revolutions can happen in West Bengal, Telegana and Bihar where people have political consciousness owing to reading newspapers, writing articles and discussing politics. Here, adivasis have revolted because there is not much understanding. They have joined Maoists thinking their problems will be solved by following them. This is a very bad situation for lakhs and lakhs of adivasis spread over a huge area who are very poor and needy. In the last 40 years, there was "disciplined" political violence, what we now fear is, it will enter into a "nonsensical gang war of at least a few decades".
Why adivasis went for gun? To bring change, they say, they took up guns which I don't agree with. Let's learn from other countries and work on developing democracy rather than taking lives. We have a window of opportunity now to act. I would say, let us fight for the second best which is implementation of the adivasi laws. There is also a need to respect the Constitution and create an atmosphere for dialogue. If we can make that happen, that will be a major turn point. Then probably, we can come to elections.
---
---
Delhi Post: How important is the need for a dialogue and what measures can create a dialogue?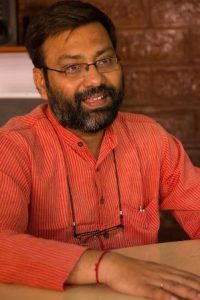 Shubhranshu Choudhary: We need to have a series of dialogues. Gond people who are indigenous are suffering on account of the Maoists and the law and order machinery. The older generation of tribals trusts their traditional leadership (which is under attack) of a Queen Mother more than they trust the State and the political parties.
12,000 people have died in the last 20 years. According to the government data, while 2,700 out of them were security forces, most of them were adivasis. This goes on every day but is not reported in the media unless the numbers are huge. From my own personal experience, I can tell you that the life of an adivasi has become a living hell. While the State arrests people on any pretence, they are at once killed by Maoists if they become suspicious. The tribals are the ones suffering in this conflict.
In fact, children can't study beyond fifth class because if they do, it is believed by the Maoists that they will join the police. The 'With us or Against us' mindset has tremendously impacted the tribals.
Delhi Post: Tell us about CGNet Swara and its aim.
Shubhranshu Choudhary: CGNetSwara is a platform for Gondi (apart from platforms in Hindi and also in Health etc). There are many more languages but Gondi is one of them. Since there is a break in communication, the tribals feel that the State won't listen to them. So, we are trying to work on communication through the mobile phone service. In association with Microsoft which is helping to create a machine translation tool, we have translated more than 200 books in Gondi for children. Gondi must have a radio and so, I want to push the idea across. It is important to send across the message that the tribals don't stand for Maoism, they need livelihood, land and language!
Delhi Post: What is the peace process all about?
Shubhranshu Choudhary: It is a process which some of the tribals as well as non-tribals wanted to start and had been conducting meetings from around a year for – so that both Maoists as well as the State pays heed to them. This is a one-year-old campaign as it is also the right time to talk about peace in the backdrop of the start of 150th birth anniversary of Mahatma Gandhi, this year. As a symbolic march, more than 150 adivasis got together and did the march – which the adivasis have previously also done in 1980s (Maoists walked the same path in 1980 to enter Dandakaranya from Andhra Pradesh). The peace walk was one of the programmes to have the maximum adivasis in attendance.
---
---
However, the adivasis of Chhattisgarh area didn't turn up out of fear of the Maoists' threat. The walk was presided by tribals from Andhra Pradesh, Telegana as well as parts of Maharashtra where naxalism is no longer a concern. Since, its long over there, they wanted to help their fellow tribals. At the end of walk, they sat for two days as part of the Bastar Dialogue 1. So, in the two days, they (tribals) decided to take a cultural route. They decided that the cases of present adivasis in jail must be reviewed. While state of Chhattisgarh had agreed to it six years back, they have not yet done it.
Recall that there was a Sukma collector named Alex Paul Menon who was abducted by Maoists. There were negotiations but there was a one-point agenda which was that all jailed adivasis' cases must be reviewed. Subsequently, a Committee headed by former Madhya Pradesh Chief Secretary Nirmala Buch was supposed to start working in a few hours. There were a few meetings but nothing of consequence emerged. To pressure the Committee, these adivasis started a signature campaign.
The second thing that they intend to do is a cycle yatra led by girl children. This is because their Government is giving cycles to eighth pass girls for them to commute and continue their studies.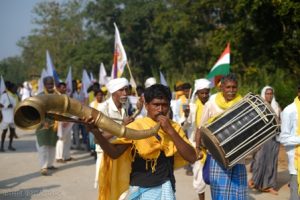 Delhi Post: You have mentioned that FRA which recognises and vests the forest rights into the hands of the locals of the land, and PESA which ensures self governance through traditional Gram Sabhas for people living in the Scheduled Areas of India haven't been communicated enough and translated in the local language. Can you throw some light?
Shubhranshu Choudhary: Forest Rights Act was formed in 2006. Now, it is 2018. There has been no translation of it in Gondi. It is a failure of our democracy and failure of our communication. The same is the case with PESA which rests powers of self-governance such that the tribals have to be consulted before a mining company comes and if they refuse, the land will not be given to any company. But they still don't know the law and that is where the implementation problems persist.
Delhi Post: What are your views on the recent change of Government with Bhupesh Baghel in the Chief Minister's seat? Further, the Chhattisgarh High Court has allowed Particularly Vulnerable Tribal Groups (PVTGs) to access contraception. Good news?
Shubhranshu Choudhary: Hope Congress will listen to core adivasi voices from deep forests and make its policies accordingly. Earlier signs from the new Congress Government are good. Hope that they improve on it and take some concrete steps for sustainable and just peace in adivasi areas.