Snooping Sarkar: Where the controversy stands
Intelligence Bureau officials have, however, insisted that the order was passed not to intercept information on computers en masse, but to keep a check on terror activities, committed through the internet.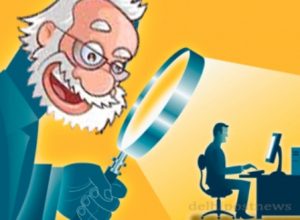 Recently on December 24, the Supreme Court denied an early hearing on the PIL filed against the government's snooping orders. The registrar denied an early hearing stating that there is no urgency in the case.
The PIL was filed in the Supreme Court challenging the government's order which gave authority to 10 police and intelligence agencies to "intercept, monitor and decrypt" all information on any computer device in the country.
The 10 agencies notified under the new order are the Narcotics Control Bureau, Intelligence Bureau, Enforcement Directorate, Central Bureau of Investigation, National Investigation Agency, Directorate of Revenue Intelligence, The Central Board of Direct Taxes (CBDT) for Income Tax Department, The Research and Analysis Wing, Directorate of Signal Intelligence (in service areas of Assam, J&K and North East) and Delhi Police Commissioner.
The petition was filed by advocate Manohar Lal Sharma which claimed that the government's notification was issued "to find political opponent, thinker and speaker to control entire country under dictatorship to win the coming General Elections2019 under an undisclosed emergency as well as slavery which cannot be permitted within the Constitution of India".
In his petition, Sharma termed the government's snooping order as "illegal, unconstitutional and ultra vires" to the law but incidentally, he was recently reprimanded by the Supreme Court for filing "frivolous" PILs and was imposed a fine of Rs.50,000.
Intelligence Bureau officials have, however, insisted that the order was passed not to intercept information on computers en masse, but to keep a check on terror activities, committed through the internet.
"This order is not to intercept computers en masse. This is just to target those who threaten the security and the sovereignty of country," say the Intelligence Sources.
"Kashmir-based terror groups, such as the one headed by Zakir Musa may use, for example, Telegram or WhatsApp for networking and spreading terror. The new rule will thus make these companies compulsorily cooperate with snooping agencies, attracting up to seven years of imprisonment, failing to do so," they add.
Just Yesterday, the National Investigation Agency busted an alleged Islamic terror plot on which Union Finance Minister Arun Jaitley said that it would not have been possible "without interception of electronic communication". He stated that Congress and other political parties were hitting on the government and said that the order was under a 2009 rule and the Opposition was "making a mountain where even a molehill doesn't exist".
---
---
"National security and sovereignty are paramount. Life and personal liberty will survive only in a strong democratic nation – not in a terrorist dominated state," Jaitley said.
The MHA, in a gazette notification, on December 21 said, "In exercise of the powers conferred by sub-section (1) of section 69 of the Information Technology Act, 2000 (21 of 2000) read with rule 4 of the Information Technology (Procedure and Safeguards for Interception, Monitoring and Decryption of Information) Rules, 2009, the Competent Authority hereby authorises the following Security and Intelligence Agencies for the purposes of interception, monitoring and decryption of any information generated, received, transmitted, or stored in any computer resource under the said Act."
The Government's order was slammed by the Opposition too. All India Majlis-e-Ittehadul Muslimeen (AIMIM) chief Asaduddin Owaisi termed the order as a return of George Orwell's Big Brother and said, who knew that this is what they meant when they said, #GharGharModi.
Congress spokesperson Randeep Surjewala accused the government of flouting the right to privacy with "brazen impunity".
अबकी बार,निजता पर वार!

Modi Govt mocks & flouts Fundamental 'Right to Privacy' with brazen impunity!

Having lost elections,now Modi Govt wants to scan/snoop YOUR computers?

'Big Brother Syndrome' is truly embedded in NDA's DNA!

जनता की जासूसी=मोदी सरकार की निन्दनीय प्रवृत्ति!
— Randeep Singh Surjewala(@rssurjewala) December 20 , 2018
"There are much bigger problems arising out of the situation that deal with right to privacy which is at stake currently.The argument on Aadhaar's privacy infringements also makes it clear that a fundamental right will always get priority over security concerns."
There are several questions following this: How tenable is the Government's argument that national security comes first? How will one ensure that the data collected by such means is not misused for political gains ahead of the crucial elections? Is the ruling party looking to hoard personal data in the garb of national security?
Justice B Srikrishna remarked that authorities could face a legal hurdle while amending the Information Technology Act, 2000 (IT Act) which was intended for a different purpose.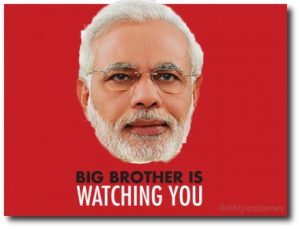 In August 2017, the Centre set up a 15-member expert panel to propose amendments to the IT Act. The members are required to submit individual recommendations by the end of this year. According to Scroll.in which spoke to three of these members to better understand the processes involved in amending the Intermediary Rules, all of them said they had not been consulted about the draft rules – the most contentious of which require online platforms to actively deploy technology to track content that seems to be unlawful and to break end-to-end encryption conventions in order to track the sources of contentious social media posts and messages.
In India as elsewhere, most online platforms have laid out community guidelines that broadly adhere to the country's legal, social, political, cultural and ethical parameters. If a piece of content attracts complaints or becomes controversial, the platform assesses it against its guidelines and, if it is deemed to violate them, takes it down. Some platforms also employ algorithms that prevent certain content, say nudity, from being published in the first place. "But to decide whether something is lawful or not is a whole different game and the decision would often be challenged," one of the experts said.
According to an analysis by PRS Legislative Research, a New Delhi-based independent research organisation, "the Bill enables the Central and state governments to intercept computer communication for investigation of any offence".
"Telephones and letters may be intercepted only to protect national interest, sovereignty etc. Neither the IT Act nor any other law covers how personal information may be collected, processed, shared and used. While the Bill provides compensation for unlawful loss or gain arising from unauthorised use of data, it does not address the issue of breach of privacy," they say.
Alleging that the latest directive will be misused by the enforcement agencies, Kapil Sibal told ANI, "They gave this power to Delhi Commissioner of Police, CBDT. Earlier, the right was given to the MHA only. Now they've given this right to every institution. After the privacy judgement, Supreme Court had said that privacy is a human right. I think, it is an unconstitutional decision and it will get challenged in court soon because if you give Commissioner of Police, this power, he will use it. These powers will be misused in the same way, the enforcement agencies misuse other powers."
Calling the order an attack on democracy ahead of the Elections, the Congress leader said, "Home Secretary is their own man. Whoever makes an intervention, be it CBDT, Commissioner of Police, Home Secretary will give his stamp on it. If it goes to Home Secretary, he will put his stamp and these powers can be delegated as well. These can be given to different organisations, other states. This is a bad step. They have been attacking democracy daily and will continue to do so because 2019 is approaching."