'India is a democratic country but West Bengal is not a democratic state as of yet': MP Saumitra Khan's wife Sujata
Saumitra Khan, second time elected to the 17th Lok Sabha from the Bishnupur constituency, West Bengal  and his wife, Sujata Khan who had campaigned on his behalf, share with Delhi Post about the electoral struggle and daring defection of Saumitra Khan from Trinamool Congress (TMC) to Bhartiya Janta Party (BJP).
His political career has been quite eventful as he first started as a Panchayat member in 2006 and later on was elected as a MLA to the assembly from Katulpur constituency in 2011, and then went on to win the Lok Sabha seat from Bishnupur constituency consecutively in 2014 and 2019.
He defeated Syamal Santra of TMC by a margin of 78.047 votes.
The interview is part of #KnowMyConstituency series where Parliamentarians/elected representatives from across the country will shed light on their achievements and talk about their hopes for a better tomorrow.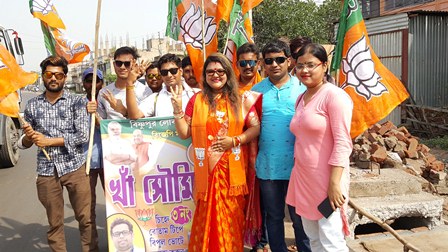 Delhi Post: What motivated you to join politics?
Saumitra Khan: In India, political background has been perceived having a lineage in politics, whereas I do not believe so. I rose from the ground looking at the harsh realities without any support. I created my own political identity and that's how. I built my own political career.
I started as a member of Panchayat in 2006. then got elected as an MLA in 2011 from Indian Congress Party's ticket of Katlupur, West Bengal. In 2014, I served as an MP of Bishnupur constituency from Trinamool Congress and I got re-elected this year from the same constituency but this time from BJP. This is what political career means to me. Blood relation has got nothing to do with it.
Delhi Post: You have been born and brought up in Bishnupur. Can you throw some light on the issues in your constituency?
Saumitra Khan: "Bengal thinks today, India thinks tomorrow" was the belief during the British era. But from 1977 to 2011, the 34-year-long rule by CPI (M) ruined thousands of industries in Bengal. This caused a lot of backwardness in the state and post Left's regime, when Trinamool came to power, things did not change its course as expected. Instead of taking Bengal towards development, they introduced heavy subsidies which were more like alms for examples, giving free bicycles to girls in the name of women empowerment but at the end of the day even after pursuing degrees as high as Masters, they were unable to bag jobs in order to earn a living. People's dependency on government subsidies was so much that they were not able to seek up to their own potential.
---
---
Delhi Post: Can you elaborate more on your constituency; demography, socio-economic conditions and culture?
Saumitra Khan: Bishnupur is a heritage city with a vast history of its own. From the Mallu Dynasty till date, the Swarnachari and Baluchuri sarees have kept the culture alive which are popular worldwide. Gamchas made of pure cotton and conch shell bangles are some of the famous commodities of Bishnupur.
Delhi Post: Sujata, you campaigned on your husband's behalf. Does it mean that you are thinking of joining politics?
Sujata Khan: I never wanted to join politics nor have any experience but the circumstances were such that I had to step in. My husband was not permitted by the court to campaign in Bishnupur. I was the one who was closest to the people after my husband, hence I had to take the plunge.
My fear vanished after seeing the support I got from the people. I had to be the one representing the voice of the women whose hearts were filled with anger towards the government and with each passing day, I became more confident and was able to face the arbitrary government in order to preserve my husband's honour.
My wife played the role of Maa Durga and campaigned for me, says MP Saumitra Khan.
The credit for Saumitra's glorious victory goes to Modiji's virtue, Saumitra's previous work in Bishnupur, BJP party workers support and my campaigning along with the blessings of the almighty contributed towards the win. Democracy was totally lost in West Bengal during TMC's regime. It was important for us to do something about it and ensure peace and harmony by bringing back the golden era in West Bengal. There's no other party other than BJP which can do so and both of us are very proud to be a part of it.
Delhi Post:  The Jute mill workers have been on a strike since March and their condition is getting worse due to insufficiency of wages and excessive use of plastic. How do you plan to address this issue?
Saumitra Khan: The excessive use of plastic is not only a problem in India but elsewhere too. It's my humble request- especially in government offices, the use of plastic should be banned which will surely give a boost to the jute industry. With the help of the central government, we'll be able to tackle this problem in a much better way and promote jute over plastic ensuring a better environment. In fact, in West Bengal, we aim to ban plastic absolutely.
---
---
Delhi Post:  This electoral season saw a change in the voting pattern of West Bengal.  BJP's vote share rose and Left's vote share dropped. How does BJP plan to keep this growth steady?
Sujata Khan: The rule of congress will completely de-escalate with time, the monopolistic rule of the Gandhi family has to come to an end because it showcases a clear sense of interdependency which terminates individuality. The feeling of living under a threat needs to be done away with, by assuring that people are free from any kind of fear. Democracy in West Bengal has lost its essence under the TMC government. India is a democratic country but West Bengal is not a democratic state as of yet. We seek for a political era that is full of peace and prosperity. BJP, without any doubt, is at its peak and we need to make sure we maintain this by working for the betterment of the people, development of our country and women and youth empowerment.