TMC is already on the back foot: West Bengal BJP Chief Dilip Ghosh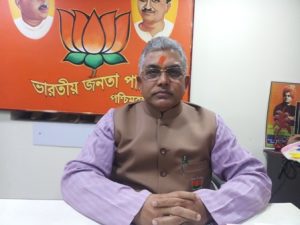 Ahead of the upcoming polls, Trinamool Congress (TMC) suffered its first-ever defection with two of its party members joining the BJP recently. Some others are speculated to follow suit. In the midst of all this, West Bengal BJP Chief Dilip Ghosh who is known for his off the cuff statements once again raised eyebrows with his 'Mamata for PM' remark only to make a U-turn, hours later.
In an exclusive tete-a-tete with Delhi-Post, the senior BJP leader shares that it was a "lighter tone" remark on Mamata's birthday, and further opened up about party's preparations to take on the rivals in Bengal for the upcoming General Elections along with host of other issues that are decisive in the run-up to the polls.
Delhi Post: Tell us about BJP's preparations ahead of the General Elections?
Dilip Ghosh: We have been preparing for the Lok Sabha polls for the past two years. We have surveyed every parliamentary seat in West Bengal and have also done a study on our organisational strength on every seat. Our workers are putting their best efforts in all the constituencies. We are building up booth level committees to increase the support base of our party. We are also running membership campaigns on the ground level to increase the members. We hope that our efforts will translate into results in the General Elections.
Delhi Post: How many seats do you think BJP can win this time in Bengal?
Dilip Ghosh: Our party President Amit Shah has already set a goal of at least 22 Lok Sabha seats (out of 42 seats up for grabs) from Bengal and we are working hard to achieve that target.
---
---
Delhi Post: On what basis you are making the prediction about BJP doing well in Bengal?
Dilip Ghosh: We are consistently performing better for the past 2-3 years in the state. We got around 17 per cent vote in the last parliamentary polls (2014). During assembly elections (2016), we got over 10 percent votes. In the recently held panchayat polls, we fielded around 38,000 candidates and won 7,000 seats despite the hooliganism unleashed by the ruling party (TMC) terrorising the opposition candidates. The good performance is the result of our hard work.
Even the Supreme Court took notice of the large number of seats won uncontested in Bengal. The results are also significant as the opposition, mainly Left couldn't field candidates in most of the seats.
Delhi Post: Do you fear that elections might be rigged as there were similar allegations during panchayat polls?
Dilip Ghosh: It is true that the elections of the local bodies are rigged in Bengal because the state election commission handles it. The ruling party first came to power in 2011 after demolishing the Left citadel. The change was possible only because the polls were held in the presence of central forces. So, they (central forces) are necessary for conducting free and fair elections without any fear.
Delhi Post: Is any top TMC leader in contact with the BJP?
Dilip Ghosh: The Trinamool Congress MP from Bishnupur, Saumitra Khan has joined us in Delhi. Several other leaders are also in contact with us. You will soon see more opposition leaders joining BJP. It would not be appropriate to take any names at this moment because the ruling party starts targeting the leader who decides to switch over.
Even Saumitra's personal assistant was picked up by cops a day before he joined us. He might also face the wrath of the TMC so we refrain from taking names as it might put other leaders in trouble.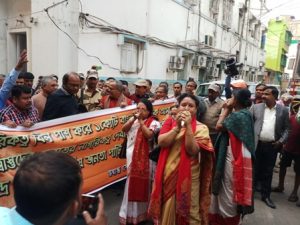 Delhi Post: Do you think TMC's seats might get reduced in the LS polls?
Dilip Ghosh: The TMC is already on the back foot. Their leaders are running from pillar to post to arrange people for their political meetings. The polls to two municipal corporations and 15 municipalities have been postponed because they know people will not vote for them and they have to unleash violence to gain power. It could damage their image ahead of General Elections so they didn't allow the local polls to happen. They are in panic after seeing the huge crowd that comes to attend the rallies of the Prime Minister, Narendra Modi and party president, Amit Shah. There is only party that can challenge Mamata Banerjee (TMC supremo and Chief Minister) in Bengal and so her party MPs and MLAs are joining us.
Delhi Post: You made a statement about West Bengal Chief Minister being a possible PM candidate and then you retracted. What made you to come with such statement and then a U-turn?
Dilip Ghosh: It was said in a good humour and in a lighter tone. I was just wishing her on her birthday. But in reality there is no possibility of her becoming the PM. Moreover, it is difficult for TMC to secure any major victory from outside Bengal.
Delhi Post: Do you think that such explosive statement might demoralise the BJP supporters in Bengal?
Dilip Ghosh: Absolutely not! Our workers cannot get demoralised with such statements. Our party workers are being murdered in Bengal and several thousands of them have been forced to flee their homes because of the terror unleashed by the ruling party men.
Our supporters have sustained wounds but still they are actively working for the party. Our candidates of panchayat polls were abducted and around 2,100 who won had to flee from their houses because of the fear of being attacked. But nobody has quit and all are with the BJP. So the confidence of our workers is high and such petty statements cannot put their moral down.
---
---
Delhi Post: Can we assume that there is infighting in the party that forced you to make the statement?
Dilip Ghosh: There is absolutely no infighting within the BJP party. It is all media manufactured news which is baseless. People are free to write anything. But we are unfazed of such allegations and working hard to perform better in the upcoming polls. Such allegations of infighting are common in politics and media and I am hardly bothered about them.
Delhi Post: Opposition is accusing BJP of a mock fight with TMC. Your viewpoint on that?
Dilip Ghosh: We are doing our work and not bothered what others have to say. We are working hard to increase our organisational strength and people are joining us from all other parties.
Delhi Post: Birbhum BJP General Secretary Kalosona Mondal has asked BJP workers not to harm TMC workers as they are not the opponents but to target the police instead. So don't you think that people are getting a notion that BJP and TMC are together? Even you have threatened cops of stripping their uniforms for registering false cases against BJP party workers. Is it fit for a leader of your stature to make such derogatory remarks?
Dilip Ghosh: He (Kalosona Mondal) was forced to come up with such a statement because of the continuous assault of the cops on the BJP workers. Our candidates managed to file nominations only in two blocks for panchayat polls while in the rest of the district, the entire administration along with cops prevented our candidates from filing nominations and even assaulted them. The policemen filed false cases against our party men. Our leader only made a derogatory statement but the TMC leaders there asked their supporters to bomb police station but we never said such things. Sometimes, BJP leaders do get carried away emotionally but still such statements are condemnable and should be avoided.
I also said some unparliamentarily words because sometimes, it becomes necessary to raise the moral of the workers that takes a hit due to violence unleashed by the ruling party. It is also necessary to instil fear among cops otherwise they will keep on attacking our party members.
Delhi Post: Do you think that inclusion of Mukul Roy has benefitted the party on the ground level?
Dilip Ghosh: Yes of course.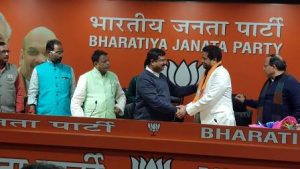 Delhi Post: Has RSS and other Hindu outfits have been helping BJP to build rural support base in Bengal?
Dilip Ghosh: The BJP has its own supporters who are helping the party to build its political base in Bengal.
Delhi Post: Left position in West Bengal.
Dilip Ghosh: They are fighting for survival.
Delhi Post: Is there a possibility of an alliance between Congress and the Left?
Dilip Ghosh: It is difficult to predict anything about the future. The Left might join hands with the Congress or TMC might go with the Congress. Some alliance might surely happen but it would be too early to predict anything at this moment. It all depends on the situation. We too have an understanding with some small parties in the state. They are with us and we hope to bring a change in Bengal along with them.
Delhi Post: Do you think that the recently passed Citizenship (amendment) Bill will help you to consolidate Hindu voters in Bengal?
Dilip Ghosh: Of course, people who have been struggling to get their citizenship for the past several years would be benefitted. The new Bill would allow them to live with safety and pride. They will definitely think about BJP.
Delhi Post: Lastly, will Modi wave work this time?
Dilip Ghosh: Modi wave was always there. After losing the three states, opposition ranted that Modi wave has faded away. So even they acknowledge that Modi wave was there (he laughs off) and the upcoming elections will again prove the detractors wrong.