India Mobile Congress 2023: Propelling India to the Forefront of the Global Digital Revolution
India is focusing on expanding its 5G network and enhancing its position as a 6G pioneer.
The 7th Edition of the India Mobile Congress (IMC) 2023, inaugurated by Prime Minister Shri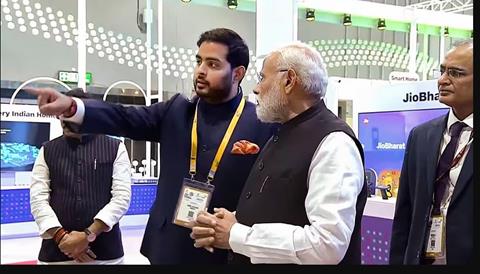 Narendra Modi, concluded on October 29th, leaving a resounding impact and setting new milestones in showcasing India's rapid strides in digital technology. Held at the grand Bharat Mandapam in New Delhi, the event revolved around the theme of 'Global Digital Innovation'. It solidified India's position as a leader in developing, manufacturing and exporting cutting-edge technologies.
The highlight of the event was the Prime Minister's awarding of 100′ 5G Use Case Labs' to educational institutions across the nation. This commendable initiative underlines the government's commitment to nurturing innovation and research, providing invaluable resources to cultivate a new generation of tech-savvy professionals and entrepreneurs essential for sustaining India's momentum in the digital arena.
Industry giants from Reliance Jio, Bharti Enterprises, and Aditya Birla Group shared the stage, expressing their unwavering support and offering insights into India's transformative digital journey. Shri Akash M Ambani, Chairman of Reliance Jio Infocomm Ltd, praised the Prime Minister's vision and shared details of Jio's significant contribution to India's 5G landscape, deploying over 10 lakh 5G cells nationwide. Shri Ambani stressed the transformative effect of these initiatives on the youth and reiterated the industry's commitment to realizing India's digital aspirations.
Shri Sunil Bharti Mittal, Chairman of Bharti Enterprises, reflected on India's rapid development of digital infrastructure, attributing it to the visionary Digital India program. He highlighted the significant progress in manufacturing, positioning India as a global leader in this domain. He shared Airtel's ambitious plan to achieve the fastest 5G rollout worldwide, with coverage spanning the country by March 2024.
Shri Kumar Mangalam Birla, Chairman of Aditya Birla Group, expressed gratitude towards the Prime Minister for his visionary leadership and underscored India's prominent role in shaping the future of global digital evolution. He highlighted India's active participation in setting standards for upcoming technologies like 6G, emphasizing Vodafone Idea's dedication to contributing to India's digital narrative.
In his address, Prime Minister Modi highlighted the transformative potential of digital technology in reshaping the future and democratizing access to technology. He detailed the rapid rollout of 5G technology, covering 4 lakh base stations within a year and reaching 80% of the population. He emphasized the government's initiatives to ensure equitable benefits from digital advancements.
The 7th Edition of IMC served as a pivotal platform for showcasing India's achievements in digital technology and setting the trajectory for future innovations. It underscored the collective commitment of both the government and the corporate sector to propel India to new heights in the global tech arena, fostering innovation, inclusivity, and sustainable growth.
The event also featured an exhibition at Hall 5, showcasing the future of telecom, technology, and connectivity. Prime Minister Modi confidently stated that India is not only expanding its 5G network but is also making significant strides towards becoming a leader in 6G technology. He highlighted India's metamorphosis into a startup powerhouse, with approximately one lakh startups today, a substantial increase from a few hundred before 2014. He expressed confidence in the 'Aspire' program, an initiative by the IMC to mentor startups, and emphasized the urgent need for a robust semiconductor manufacturing sector in India.
Addressing the critical issue of cybersecurity, the Prime Minister stressed the importance of self-reliance across the manufacturing value chain. He urged for discussions at the IMC on safeguarding democratic societies from cyber threats, highlighting the transformative potential of the technology across various sectors. He called upon the youth and industry leaders to champion India's journey as a thought leader and innovator on the global stage.
The India Mobile Congress 2023 has thus cemented India's position as a technological powerhouse, setting the course for future innovations, fostering a culture of inclusivity, and driving the nation towards becoming a global tech leader. The event has undeniably marked a significant milestone in India's digital journey, showcasing the nation's readiness to lead and innovate in the global digital revolution.
The India Mobile Congress 2023 emerges as a transformative event, illustrating India's rapid ascent in the global digital arena. Prime Minister Narendra Modi's inauguration and the government's significant initiatives underscore a strong commitment to propelling India's digital future. Awarding 100 '5G Use Case Labs' to educational institutions nationwide is a strategic move to foster innovation and cultivate a new generation of tech-savvy professionals, ensuring the sustainability of India's digital momentum. Industry stalwarts from Reliance Jio, Bharti Enterprises, and Aditya Birla Group have not only lauded these initiatives but also shared their substantial contributions and ambitious visions for India's digital landscape. The rapid deployment and expansion of 5G technology and a keen focus on establishing India as a startup powerhouse and leader in future technologies like 6G reflect a collective drive towards digital inclusivity and innovation. Additionally, the emphasis on cybersecurity and the call for self-reliance across the manufacturing value chain demonstrates a holistic approach to safeguarding India's digital future. In essence, the IMC 2023 sets a pivotal stage for India in showcasing its technological prowess and charting a course towards becoming a global tech powerhouse, fostering a culture of innovation, inclusivity, and sustainable growth.