Significant Dip in Stubble Burning Marks a Breath of Fresh Air for North India
The decrease in stubble-burning incidents is crucial for the health of residents in Delhi's NCR, which has been significantly affected by air pollution.
In the past 45 days, spanning from September 15, 2023, to October 29, 2023, the North Indian states of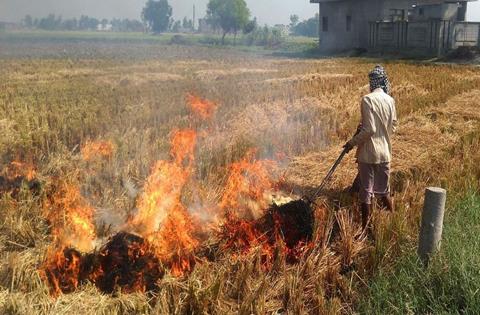 Punjab and Haryana, and regions in NCR (National Capital Region), including Uttar Pradesh, Rajasthan, and Delhi, have witnessed a substantial reduction in stubble burning incidents. The numbers have halved from 13,964 incidents in the corresponding period of 2022 to 6,391 incidents in 2023. This marks a significant stride towards mitigating air pollution, especially ahead of the winter season when the national capital is often enveloped in a cloud of thick smog.
The Central Government, recognizing the severity of the issue and its impact on air quality, has disbursed a whopping Rs. 3,333 crore under the Crop Residue Management Scheme. This initiative targets managing paddy straw, providing farmers with financial aid and machinery for sustainable crop residue management.
Punjab, which has historically been a major contributor to stubble-burning incidents, has shown commendable progress. The total incidents during the analyzed period have decreased from 12,112 in 2022 to 5,254 in 2023, marking a 56.6% reduction. Despite this progress, there was a notable spike on October 29, with 1,068 incidents, reflecting the complexities and challenges that persist in completely eradicating this practice.
Haryana, too, has demonstrated significant improvement. Stubble-burning incidents reduced from 1,813 in 2022 to 1,094 in 2023, a 39.7% decrease. This reduction is even more pronounced than the 2,413 incidents recorded in 2021.
These reductions can be attributed to a series of interventions and efforts from various stakeholders, including the state governments, the Central Government, and the Commission for Air Quality Management in NCR and Adjoining Areas (CAQM). The CAQM has played a crucial role in advising and urging the State Governments of Punjab and Haryana to mobilize resources and take stringent measures to control stubble burning.
Despite the promising reduction in incidents, challenges still loom large. The sudden spike in stubble-burning cases in Punjab during the last few days of the analyzed period raises concerns. With harvesting expected to peak in the coming weeks, there is a pressing need for sustained efforts and vigilance.
The availability of Crop Residue Management (CRM) machines is a critical factor in this context. The data shows substantial availability of these machines across Punjab, Haryana, and UP-NCR. The ongoing efforts to procure additional machines testify to the commitment to addressing this issue head-on.
The substantial reduction in stubble-burning incidents over the last 45 days is a laudable achievement, reflecting the collective efforts of various stakeholders. However, the road ahead is still fraught with challenges. The spike in incidents in Punjab serves as a stark reminder that continuous efforts, monitoring, and interventions are crucial. The CAQM's proactive role and the availability of CRM machines are pivotal in this endeavour. As we move forward, it is imperative to maintain the momentum, ensure compliance, and work towards a future where stubble burning is a relic of the past, providing cleaner air and a healthier environment.
The reduction in stubble-burning incidents is particularly significant for the health of residents in the National Capital Region (NCR) of Delhi, which has long borne the brunt of the resulting air pollution. The annual post-harvest season has typically seen a sharp deterioration in air quality, leading to respiratory issues, aggravated cardiovascular conditions, and other severe health impacts, especially among children, the elderly, and those with pre-existing health conditions. The delicate particulate matter from the stubble smoke can penetrate deep into the lungs and even enter the bloodstream, posing severe health risks. By halving the number of stubble-burning incidents, there is a potential for a noticeable improvement in air quality, which could translate to better health outcomes for the millions residing in NCR Delhi. However, it is crucial to continue and strengthen efforts to minimize stubble burning completely, as even reduced incidents can still contribute to elevated pollution levels, with corresponding health impacts.