International Day of Immunology
CUPB observed International Day of Immunology by organizing a Symposium on topic 'Coronavirus Disease: What we know and what we do not know'
To commemorate, International Day of Immunology (April 29) the Central University of Punjab's Department of Biochemistry in collaboration with Indian Immunology Society (IIS) and Young Academy of India (YAI)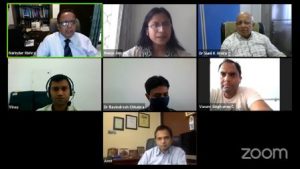 organized series of Events centered on the theme: "Coronavirus Disease: What We Know and What We do not Know". The programme that was conducted under the patronage of Vice Chancellor Prof. Raghavendra P. Tiwari featured three enlightening lectures by Prof. Narinder K. Mehra, Emeritus Scientist, ICMR, New Delhi, Prof. Sunil Arora, PGI, Chandigarh & Dr. Amit Awasthi, THSTI, Faridabad on the topics such as Dynamics of Coronavirus, Immunology of Coronavirus disease and COVID-19 Vaccines.
In addition to this, a series of interactive events such as special COVID-19Quiz, Poster Making, and IdeaHunt competitions were conducted on this occasion.  A total of 1086 participants registered in COVID-19 Quiz from almost all over India and other countries such as USA, Bahrain, Germany, Afghanistan, Egypt, Nepal, Singapore etc. Along with this, students & scholars from different schools including Meritorious School, Bathinda and multiple educational institutions of the country presented unique ideas on Coronavirus Immunology and COVID disease control to combat COVID-19 in Poster Making and IdeaHunt Competitions.
Vice Chancellor Prof. Rahavendra P. Tiwari inaugurated the event and emphasized on prioritizing health over anything in the present context relating with practice of our age-old traditional lifestyle with health benefits.
---
---
The Chief Guest of this programme Prof. Narinder K. Mehra appreciated the young scientists to take the science of our immune system to grassroot level and encouraged school & college students to take up the important and interesting field of immunology as their career path.
During this symposium eminent scientists deliberated on the biology of coronavirus, the way our immune system reacts to this virus and how the vaccines that are available can help our immune system to fight the disease.  The talks brought out the significance of immunity in fighting the covid.
During the Quiz Competition which was moderated by Dr. Felix Bast (CUPB Botany Dept.) Jayakrishnan VM, Himani Pant, Rhea Jana got the first, second and third position. The Poster Making competition was conducted by Dr. Vinay Bari (CUPB Biochemistry Dept.). In this, the first position was jointly shared by Kuhu Selvapandiyan, XIIIth class student from D.P.S. R.K Puram, New Delhi and Krishna Harshad Chauhan, XIIth class student from St.Xaviers High School, Maharashtra. Second position was taken by Sania Sah, K V -5 bathinda cantt, Bathinda. The event was concluded with an excited round of Idea Hunt by Dr. Ravindresh Chhabra (CUPB Biochemistry Dept.) which was won by a 9th standard school student, Panchal Dhruvansh Loyesh Kumar.
The programme commenced with the welcome address by Prof. R.K. Wusirika, Dean In-charge Academics. Towards the end, the coordinator of the programme Dr. Manju Jain (Assistant Professor, Immunobiology Laboratory, CUPB Biochemistry Dept.) thanked all those who contributed towards making it a learning experience for all.