I Trust, I Have Surrendered: Irrfan Khan
"Darya bhi main, darakhtbhi main … Jhelum bhi main, chinar bhi main … dair bhi hoon, haram bhi hoon … Shia bhi hoon, Sunni bhi hoon, main hoon pandit … main tha, main hoon aur main hi rahoonga."
Irrfan Khan, one of Indian cinema's premium actors who had achieved significant success in British and American films, passed away on 29 April 2020 at the Kokilaben Dhirubhai Ambani Hospital, Mumbai at the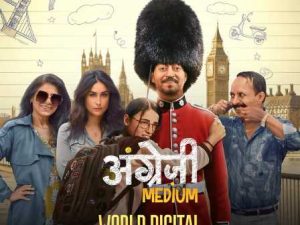 age of 53. A man of few words and an actor of silent expression with his deep eyes, Irrfan Khan is still on the minds of the millions of fans of art cinema. In a film career of almost thirty years, Irrfan Khan has earned numerous awards including a National Film Award for Best Actor for the film Paan Singh Tomar (2011), Filmfare Awards in four categories, and an Asian Film Award. Considered to be one of the finest actor in Indian cinema, the versatile actor was awarded the Padma Shri, India's fourth-highest civilian honor in 2011 for his contribution to the field of arts. Khan made his debut in Indian cinema with a small role in Salaam Bombay! (1988). After years of struggle, Khan made his comeback with the films Haasil and Maqbool in 2003 and went on to gain critical acclamation for his roles in The Namesake (2006), Life in a…Metro (2007), and Paan Singh Tomar (2011).
Further success came into his way through his roles in The Lunchbox (2013), Qissa (2013), Piku (2015), Talvar(2015), and Madari(2016). His Hollywood appearance in the films like The Amazing Spider-Man (2012), Life of Pi (2012), Jurassic World (2015), and Inferno (2016) has always been admired by critics. His highest-grossing Hindi film, which won him the Filmfare Award for Best Actor in 2017 was Hindi Medium (2017). He made his final appearance in the film Angrezi Medium (2020) which was released on 13 March 2020.
---
---
Born as Sahabzade Irfan Ali Khan, the veteran actor was born on 7 January 1966 in Jaipur, Rajasthan. Irrfan's father belonged to Khajuriya Village near the Tonk District in Rajasthan and his mother hailed from the Tonk Hakim family. His father ran a tire business, while his mother was a housewife.
Irrfan, in his early life, was a skilled cricketer and had been selected for CK Nayudu Tournament – an entering gate to First-Class cricket for under 23 players.
However, he could not turn up for the tournament due to a lack of funds. While doing his Master of Arts in 1984, he received a scholarship for the National School of Drama (NSD), New Delhi, and then there was no turning back. He kept struggling to mark his presence in Mumbai while doing odd jobs such as air conditioner repairman.
In 1995, Irrfan Khan married SutapaSikdar, his colleague at NSD and the couple has two sons: Ayaan and Babil. Sutapa is an Indian Film Producer, Dialogues writer, and Screenplay writer who has produced Irrfan Khan's films Maddari (2016) and QaribQaribSinglle (2017). Before his debut in films, Irrfan enacted in various television series including Chanakya, Bharat EkKhoj, Sara Jahan Hamara, Banegi Apni Baat, Chandrakanta, Shrikant (Doordarshan) etc. He was also appointed as the brand ambassador for 'Resurgent Rajasthan' in September 2015 by the Government of Rajasthan.
When he decided to build his career in acting, Irrfan dropped the "Sahabzada" from his name because it pointed to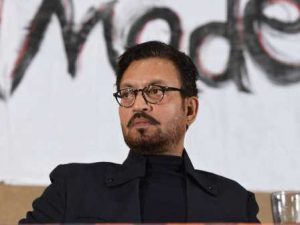 his family's privileged past. He also changed the spelling of his name by adding an extra 'r' making it 'Irrfan' simply because he liked the way it sounds. Despite being thoughtful and philosophical in nature, Khan had spoken candidly about the film industries in which he had worked.
In 2013 he told the Guardian, "I always object to the word Bollywood. I don't think it's fair to have that name. Because that industry has its own technique, its own way of making films that has nothing to do with aping Hollywood. It originates in Parsi theatre." He also commented, "Hollywood is too planned. India has no planning at all. It's more spontaneous and informal. India could be more formal and Hollywood more spontaneous."
By the time he got acclamation for his roles in Indian films as well as Hollywood, he became choosy about the roles he took on. He once told an interviewer: "I try to do films which leave a longer impact, which speak to you and which keep coming back to you after you've seen them. I prefer movies which have a longer relationship."
---
---
Irrfan Khan has contributed significantly to Indian art films through his startling roles and his sheer brilliance of dialogue delivery and soul-stirring performances. Irrfan Khan was one of the few Indian film industry actors who speak through their eyes. Losing Irrfan Khan at this stage when Indian Art films are establishing themselves on the world front is a matter of great loss to the Indian film industry and art as well.
Irrfan Khan will always be remembered for setting a new dimension to acting and challenging the set norms in Bollywood. His last public message before the release of the film Angrezi Medium (2020) signifies his presence even after leaving this world suddenly: "Hello, bhaiyon, beheno. Namaskar. Main Irrfan. Main aaj aapke saath hoon bhi aur nahi bhi." Truly, Irrfan Khan will always be present with us – in our memories, through his films, through his iconic roles, and evergreen dialogues. Irrfan Khan was a gem who had won the hearts of millions through his acting in National and International films, and his significance in the Indian Film industry cannot be denied.
"I suppose, in the end, the whole of life becomes an act of letting go, but what always hurts the most is not taking a moment to say goodbye" (Life of Pi) – and the most painful part of Irrfan's death has been summed up in this dialogue of his. The world could not step outside to say a final 'goodbye' to such a strong soul – a man of few words who developed his kingdom silently, marked his presence in the World, had fallen asleep in the lap of the earth silently.
Zamana bade shauk se sun rahatha, humin so gaye dastan kahte kahte! – Alvida Khan Sahab.