Is BJP Trying to Emulate Indira Gandhi?
Indira Gandhi was a genuine mass leader, and she knew how to make the best use of her stature, just like Narendra Modi. She invalidated the old guard of Congress who had doubted her supremacy in the party, and she decimated them to become an indisputable leader of the country—another facet of her leadership that resembles Modi.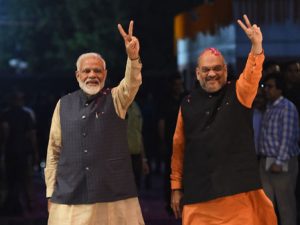 In today's India, the Citizenship Amendment Act (CAA) 2019 is the most debated issue. The newly reformed act brought changes to Citizenship Act 1955 to make religiously persecuted migrants from Afghanistan, Bangladesh and Pakistan eligible for Indian citizenship. The law had no mention of affected Muslims communities like Ahmadiyyas, Rohingyas and Uyghurs. The law will only allow Hindus, Sikhs, Buddhists, Jains, Parsis and Christians to obtain the Indian passport.
The CAA, which will be followed by National Register of Citizens (NRC) and National Population Register (NPR), sparked widespread protest and violence across the country. People took the street to voice their dissent against Narendra Modi led government's move, and this once again divided the nation on the religious ground after several decades. Youths, intellectuals, clerics, pundits, priests and opposition leaders joined hands and hit the boulevards. They held rallies and protest marches that witnessed police launching an unprecedented attack on the protesters. Moreover, students at top universities incurred physical assault and have been termed Deshdrohi (anti-national/traitor).
The space for discussion and debate is getting narrowerbecause Modi and his close aide Amit Shah, who holds the Ministry of Home Affairsportfolio, don't believe in interaction. They, in fact,invest their trust in direct talk with the netizens of India. Prime Minister Modi even relies upon state radio, All India Radio, to connect with citizens of India through a weekly monologue, Mann Ki Baat, much like his US counterpart Donald Trump, who opts for Twitter to communicate with his followers.
---
---
The fourth pillar of the democracy failed to counter-question the government as in the world of corporate media ownership it is very much reliant on advertisements for its survival.
Speaking the truth and stinging the government with razor-sharp questions would only deny them major revenue generator, attaining advertisement from the government.
Hence, they found it easy to question those who raise slogans against Modi and Shah for failing to curb inflation, mob lynching, rising unemployment, which is the worst in 45 years, with the downfall of the Indian currency and imposed undeclared 'Emergency', which stabbed constitutional rights of citizens. While BJP is enjoying unquestionable popularity in every nook and corner of the country, thanks to its Hindutva politics, every move of Modi is being celebrated with much fanfare. Although the country's economy has not been in good shape and food prices have been rising, the majority of the people are being fed with hyper-nationalism and anti-Pakistan rhetoric.
But statistics don't often decide the fate of politicians. In present-day politics, they look like a much smaller problem in comparison to nationalism and popularity. Economy takes a backseat when a major section of the population takes interest in chauvinism, war and anti-Pakistan oratory. People love their mass leaders' pro-poor slogans which may have no value at the ground level.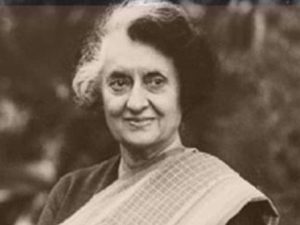 It has been decades since India witnessed its leaders getting busy in promoting nationalism on media and at public rallies to stay relevant when they fail to bring the economy out of the coma. You feel familiar with the current political atmosphere; you witnessed this before, right? Notwithstanding the prevailing situation will take you back to the 1970s when former Prime Minister Indira Gandhi had enjoyed Modi-like popularity and managed to put herself above party politics.
Indira appeared to be a genuine mass leader, and she knew how to make the best use of her stature, just like Modi. She invalidated old guard of Congress who had doubted her supremacy in the party and decimated them to be an indisputable leader of the country, another facet of her leadership that resembles Modi. She came to power in 1966 succeeding acting Prime Minister Gulzarilal Nanda. From 1966 to 1971, she proved herself as an iron lady and gained enormous popularity riding on Garibi Hatao (Remove poverty) policy, agricultural reforms—Green Revolution, and most importantly, by humiliating Pakistan in Bangladesh liberation war that made people compare her with 'Goddess Durga', slayer of demons. Indira's policies had won the party loyal voters who couldn't think of voting anyone other than Congress for decades.
Does it not sound similar to the current situation? BJP, who has already built a loyal Hindu vote-bank, felt that relying on Hindu majority voters only will not guarantee them eternal power. So, party's iron man Modi and his Home Minister Shah amended CAA at the parliament to allow religiously persecuted minoritiesto secure Indian citizenship.
It is one of the wisely taken moves of the party to stay valid in the power.
Indira's decision to give citizenship to Bangladeshi migrants after 1971 war had helped Congress to build a loyal vote bank. It won't be entirely incorrect to say that the BJP fell for the same tactic to strengthen their vote bank.
The only difference between 1971 and 2020 was that Indira didn't consider religiona parameter for acquiring Indian passport. In contrast to her move, BJP excluded Muslims from the CAA to allow only Hindus, Sikhs, Buddhists, Jains, Parsis and Christians to obtain Indian citizenship.
---
---
Excluding Muslims from the act and then failing to elaborate NRC in details ignited widespread protests across the country. The voice of dissent has been growing. With the unemployment level increasing, economic crisis deepening and constitutional rights being undermined, the duo of Modi and Shah could end up facing the same consequence that Indira had to confront five decades ago.
Indira was taught a harsh lesson for failing to resolve economic crisis and stabbing constitutional rights imposing 'Emergency' on June 1975 after Supreme Court invalidated her election in 1971 for electoral malpractice. The dark days continued for close to two years. Indira called off the 'Emergency' in March 1977 when she thought Indians would reward her in general elections for installing discipline in the country. She was outright wrong as people punished her for undermining democratic values.
Unless BJP takes a lesson from Indira's regime and their leaders stop bullying dissenters, they too should get ready to face the same fate as the vibrant Indian democracy has a history of teaching a harsh lesson to its masters for overlooking real issues and dividing the country on religious ground.
When the stomach gets empty, jingoism doesn't worth value. BJP's poor performance in the recently held state elections, social media trend and voice of dissent are indicating its downfall after the highs in 2019 general elections. Until the economy comes back on track, which is very much reliant on social issues, Modi and Shah must get ready to face Indira's 1977 fate in 2024.With foreign investors leaving Indian shores taking a cue of the volatile atmosphere, Indian economy's path to recovery looks in a shambles.
Indira was again voted to power in January 1980 for the third time as people found their political alternatives were not strong enough to govern the country. With Indians still plagued with 'no-alternatives' trap, 2024 could yet again see another sweeping victory of BJP. But it must be noted that in 2009 nobody ever thought that ruling Congress would be decimated to 44 in 2014 and a struggling BJP would come to power with a world-conquering optimism. The political course here doesn't take much time to be altered so Modi and Shah should be wary of what they do.