Job done by Hema Malini in Holy City Mathura So Far
Are the celebratory or high-profile MPs missing in action? Hema Malini, who is representing the Holy city of Mathura for the second time, shows no near satisfaction from the people.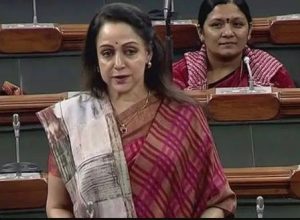 The Dream Girl of Bollywood, Hema Malini after a successful career in acting, decided to serve the people by entering into politics. She has won consecutive Lok Sabha elections in 2014 and 2019, both by a big margin. There have been debates on whether celebrities could really help the constituency or it is just star power to woe the voters. The election this year saw several celebrity faces in a political battleground like Jaya Prada, Kirron Kher, Sunny Deol, Shilpa Shinde, Urmila Matondkar, Hema Malini, etc. Not all of them were able to impress the voters but some just swept away most of the votes in the constituency.
Hema Malini was born in a Tamil Iyengar family in Ammankudi, Tamil Nadu, in 1948. She studied at Andhra Mahila Sabha in Chennai andis a versatile personality. She is an actress, writer, director, producer, dancer and politician. During her acting career, she was given the nickname of 'Dream Girl'. In 2000, Malini won the Filmfare Lifetime Achievement Award and also the Padma Shri, the fourth-highest civilian honour awarded by the Government of India. In 2012, the Sir Padampat Singhania University conferred an Honorary Doctorate on Malini in recognition of her contribution to Indian cinema. She started her political career in 2003 when she became a member of Rajya Sabha. In 2019, Hema Malini retains her Mathura seat with a comfortable margin of over 3 lakhs, defeating her nearest rival from RLD, Kunwar Narendra Singh. In 2014, she defeated Jayant Chaudhary of RLD. She is also the richest woman MP to contest Lok Sabha elections in 2019.
Calling herself as 'Gopi of Lord Krishna', she says she has done a tremendous job to develop the holy city. But in various interviews that she gave during the political campaigns in April this year, she has contradicted her own statements.
---
---
When a reporter from CNN-News 18 asked her to share some information on development initiatives, she said she can't recall as she has done a lot of work. 
Presence in 16th Lok Sabha
According to Lok Sabha data available at PRS Legislative Research, since 2014, after obtaining her office, Hema Malini has a mere 39 per cent attendance in comparison to the national average of 80 per cent till the Budget session 2019. She has participated in a total of 17 debates in her first term.
Hema Malini's exact participation from 1 June 2014 to 13 Feb 2019 is clear from the following graph: 
Here if we go in the details of topics of debate where she showed her concern for Mathura in the early days of her political career, some debates she participated in were: Pollution and cleaning of river Yamuna to provide safe drinking water in Mathura and construction of a parallel canal for sewage water on 02 December 2014, issues related to the waste management in Mathura–Vrindavan on 10December2014, the plight of the Braj region comprising Mathura and adjoining areas due to pollution in the Yamuna caused by the sewage water and industrial waste from Delhi and Haryana on 11 March 2015. 
Where Does the City of Krishna Need Attention?
We attempt to talk about the core issues faced by this holy city of Krishna, then the most pressing concern there is job creation. In spite of the increasing population, the requirement of services is increasing but no mechanism has been set up to provide skill development opportunities. There are many engineering colleges in Mathura like Anand Engineering College and Hindustan College of Science and Technology, but job opportunities are mainly from other states. Mathura is known for its Big Oil refinery serving as one of the most important employment generating organization.
Tourism is one of its main sources of income in Mathura but the mobility is still a problem, as there are congestion and pollution during festive seasons like Janmashtami or Holi. In such conditions, NH-2 is usually slowed down or completely jammed.
Some positive outlines of the city are its tourism and cultural heritage; many foreigners can even be seen serving in various temples because they are so influenced by the culture.
Opinion of Mathurawasi
Talking to people about how Hema Malini as an MP has helped the city bring to the limelight different opinions of the people. Some say that many developments have been initiated by her, she has built roads, frequently visited Mathura to meet people and that no one is upset with her. On the other hand, some also had a completely different statement to make and say that they have not seen much development as she promised and even after 2019 elections, she has not initiated any major move they know of. They also say that she visits Mathura very rarely. A man complains 'She spent more time in Mumbai than in Mathura. Nobody has benefited during her tenure as an MP'. They even said that the 'Master plan road' initiative was launched by the Samajwadi Party. Some even emphasis that only those villages have been developed which are personally adopted by her.
Recently, Prime Minister Modi along with the Chief Minister Yogi Adityanath visited Mathura to launch several programmes including the mission to eradicate single-use plastic waste from the country. During his visit, PM Modi also met women who pick up and segregate plastic waste from garbage in the town and interacted with them. Interestingly, Hama Malini's absence was noticeable during the visit of the PM in her Constituency as well.
Statement by Hema Malini during Election Campaign 2019
There were many controversial statements made by Hema Malini; one of them were that she has visited Mathura for about 250 times (which means more than 4 visits a month) and hence have brought a house in Vrindavan. Some of the residents of Brijbhoomi say that she visits on small and big programmes, whereas others complain that she visits Mathura very rarely and within villages only to campaign and click photos as she did in this election.
---
---
Hema Malini claims that she has laid down many roads which were in a bad state, many street lights have been installed and many public toilets have been builtin Mathura. However, in her interview to NDTV, she said she didn't have funds on her own but she was able to manage it from her friends and well-wishers. When she was asked about her initiative regarding the cleaning of the Yamuna river, she said Yamuna cleaning is underway, Union Minister Nitin Gadkari has approved various machines which are worth a crore rupee and that all Mathura citizens can go and see; the results will be visible in a year. Claiming to have done a lot of work and then also asking to wait a year for visible results seems contradictory, doesn't it?
One of the biggest setbacks faced by the Hema Malini was when she held a rally in Mathura along with Uttar Pradesh CM Yogi Adityanath; there were a thin crowd and empty chairs. According to a report, even BJP workers find Hema Malini to be an 'absentee MP' and are only backing her because they wanted Modi to be PM again. Some crowd trickled out when the politician started to speak up.
She did an extensive campaigning with her husband Dharmendra during the 2019 election and promised several developments and welfare works in her Constituency to won the election for the second time.
An active karyakartha (worker) of local BJP, who anonymously spoke to Delhi Post, says that now the people in our Constituency is watching our MP's commitment for the Constituency and will respond timely and appropriately on our party platforms.  
Hema Malini's Performance in Parliament
Hema Malini's participation in parliament, as per data available from 17 June 2019 to 6 August 2019 is as: Her attendance for 1.5 months is 59 per cent, so far so good but still no way near the national or state average.
And she has participated in total 4 debates, related to Surrogacy bill and laws to protect doctors; once again far more below the State and National average.
The residents of Mathura have chosen their chance and shown utmost confidence on Hema Malini that she would bring more development and growth in the holy city. Before this election, she announced it would be her last election and hence she wants to serve the people. Hema Malini has 5 more years now to fulfil all the promises she made during her campaign.
Delhi Post tried to contact Hema Malini through various mediums to get her response directly but to no avail. Delhi Post will update the information as soon as we build communication with her.