PM Modi's idea of a New Bharat envisioning a corruption-free India: Says Dr Kirit Solanki
Dr Kirit Premjibhai Solanki, third time elected MP to the 17th Lok Sabha from Ahmedabad (west) constituency, Gujarat, shares with Delhi Post about Prime Minister Narendra Modi's vision for a new India, and his views on various social and health care issues that affect the nation.
He is Chairperson of the Parliamentary Committee of Welfare of Scheduled Castes and Scheduled Tribes during the 16th Lok Sabha. He is also the Chairperson of Indian Medical Parliamentary Forum (IMPF), a practicing surgeon and a medical professor. He is one of the pioneer surgeons for Laparoscopic surgery in Gujarat. Dr Solanki has been a champion voice in the parliament for anti-tobacco, and passionately advocating for #EndTB and #ZeroThalassemia2022. He firmly believes that India can eliminate Thalassemia by 2022.
He defeated INC candidate Raju Parmar by a margin of 3,21,546 votes. Ahmedabad (west) is 100 per cent an urban constituency.
This interview is part of #KnowMyConstituency series where Parliamentarians/elected representatives from across the country can share their achievements and talk about their constituency, plans and challenges.
Delhi Post: Briefly explain the socio-economic picture of your constituency—Ahmedabad (west)?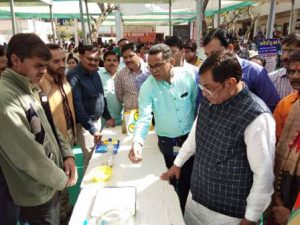 Dr Solanki: My constituency Ahmedabad (west), a large constituency, is part of Ahmedabad historical city. Socially, it comprises of people from different backgrounds be it elites, people from the service sector or labourers. It has people hailing from different religions, the majority being the Hindus along with Muslims, Parsis and Christians.
Delhi Post: What do you believe is the vision for a New India with BJP in power at its second term?
Dr Solanki: In the 16th Lok Sabha, Prime Minister Narendra Modi coined the idea of a New Bharat
envisioning a corruption-free India, eradicating poverty and communal discrimination as well as providing opportunities for all by 2022, which marks 75 years of independence of the country. His belief in 'Sabka Sath, Sabka Vikas and Sabka Vishwas' (Everyone's cooperation, Everyone's growth and Everyone's faith) garnered the party a huge majority for the second time in the Lok Sabha elections. I believe that with the faith and support of people under the leadership of Prime Minister Narendra Modi, we will be able to achieve a dream of New India.
Delhi Post: Ever since hospitals claim, package rates fixed by the government under Ayushman Bharat Yojana are bearing a loss. How does the government propose to maintain a balance between the interest of the patients and the hospitals?
Dr Solanki: Ayushman Bharat is one of the most impactful health care schemes. It aims to benefit 50 crore families by providing INR 5 lakhs per year to each family. I believe that if this doesn't seem viable to the hospitals, the government is open to suggestions. Access to health care in rural areas is the primary challenge at hand. With the implementation of this scheme, we aim to provide door-to-door health care facilities. This scheme has successfully benefited 27 lakh people.
---
---
Delhi Post: Can the model for Thalassemia prevention adopted in Gujarat stand as a viable model at a national level? What are the measures to be taken by the government to achieve Zero Thalassemia by 2022?
Dr Solanki: If I were to tell you about Thalassemia, it is a challenging disease which requires blood transfusion twice a week, and leads to stunted and retarded growth as well as enlargement of the spleen. Gujarat model of Thalassemia prevention aims to eliminate Thalassemia by 2022. There are around 2 lakh children and adults affected by this disorder. There are two types of Thalassemia: major and minor. Thalassemia major leads to major anaemia in which the body doesn't produce enough red blood cells, and there is a constant need for blood transfusion, which can also lead to other risky diseases. On the other hand, Thalassemia minor leads to minor anaemia and fall in the haemoglobin level.
It is a common practice to match kundlis before marriage but I believe that matching medical kundlis can prevent genetic disorders. For example, two people with Thalassemia minor will give birth to a child with Thalassemia major. In Gujarat, there is a prevalence of Thalassemia within the Sindhi community hence a Thalassemia society was established to prevent the disease. If this plan is adopted at a national level, we will be in a position to eliminate Thalassemia from India by 2022.
Delhi Post: In its publication, Indian Chest society claimed that it is not possible to eliminate Tuberculosis from India by 2025. How do you propose to achieve the objectives with respect to the National Strategic Plan?
Dr Solanki: In earlier times TB was referred to as 'Rajrog' (a mortal illness) due to its incurable nature. It is prevalent in slums but is also detected in affluent people like Amitabh Bacchan. WHO and UN have set a goal to eliminate TB by 2030. Our Hon'ble Prime Minister Narendra Modi set a goal to make India TB free by 2025. I believe it is a challenge in itself, but not impossible. Direct Observation Treatment (DOT) has provided medications to the patient directly.
Medical Drug Resistant TB (MDR) is often used for the treatment of TB. Hoping that after 1-2 months of medication, people might withdraw themselves from the treatment on feeling better. Our biggest challenge is that the people who avail private health care are not registered Tuberculosis patients.
Similar to the implementation of the Pulse Polio scheme, with peoples' participation we will be able to eradicate TB by 2025.
Delhi Post: Considering your association with SC/ST welfare, what do you have to say about increasing mob vigilante in India due to caste discrimination?
Dr Solanki: Even after 72 years of Independence and undying efforts of Bhim Rao Ambedkar, untouchability still remains an issue in India. People from the SC/ST community are mostly affected by mob lynching. Distinction on the basis of colour is prevalent in foreign countries but untouchability still remains an issue in India. We cannot rule out these problems simply with the work of the government's administration and rules, peoples' participation is imperative. Religious leaders address communities on a larger platform, where thousands of people get influenced by them. So, I suggest they should impart some time to spread out awareness about untouchability.
Delhi Post: What is your stand on the security of doctors after the recent doctors' strike in India?
Dr Solanki: Attacks on doctors are often life-threatening. Being a professor of surgery myself, I have noticed how patients release their anger towards doctors. Many times, patients begin with treatment at the terminal stage. They put all their trust and expectations into doctors to cure them. The inability of which leads to outburst of anger. In my experience, I have noticed the lack of coordination amongst doctors and the patients. There should be an adequate and informative engagement with the patient and its family regarding the treatment. I'm a surgeon and I firmly believe that there should be strict laws for the protection of doctors.
---
---
Delhi Post: Do you think with the advent of westernisation, there is a lack of awareness leading to an unhealthy lifestyle amongst people? Please share your views.
Dr Solanki: The lack of awareness amongst people about changing food habits have led to obesity, heart and stomach problems. The fast pace lifestyle influenced by western culture has restricted people within the four walls of their houses. Our Shastras speak of the benefits of being 'Nirogi' (A person with no disease). The balance between health and food can be maintained through exercise, yoga is one such method. Our Prime Minister has worked extensively on promoting Yoga in the world which has now been adopted by 190 countries. Therefore, I think exercise and eating healthy food is essential to lead a healthy life.