Karnataka Elections: A look at alluring promises
While media, especially the social media websites are chock-a-block with 'who said what' in their respective rallies in the final few days before the Karnataka elections, the core value and importance of manifestos prepared for the people of the state are dissolved in the noise of political blame game.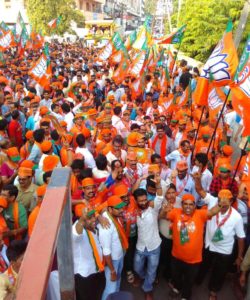 Congress, Bharatiya Janata Party (BJP) and Janata Dal (Secular) have released their respective manifestos detailing their plans for the future of Karnataka, if they get elected to rule the southern state for the next five years. As we are now three days away from the state elections, keeping aside the controversies and big names involved, let us revisit 'who promised what' in their election manifestos to get a more concrete picture of what the respective political parties have in stock for Karnataka.
When in Elections, it is farmers first!
It was not surprising how farmers' welfare and waiver of agricultural loans remained the top most priority for these political parties during elections. Congress claimed of taking the necessary measures to help the farmers in distress by waiving agricultural loans availed by the farmers from cooperative societies and banks and promised to waive off the loans availed from the public sector banks if given another chance to rule the state. The current Siddaramaiah government has waived off loans up to Rs 50,000 availed by each farmer in the state.
Following the same lines, the BJP manifesto promised to waive off farmers' loans up to Rs 1 Lakh, a more lucrative offer for the farmers of the state. However, it was Janata Dal (Secular) that came out with massive announcement, projecting itself as the benefactor of farmers. The JD(S) promised to waive off Rs 52,000 crore worth of agricultural loans (including interest amount) within 24 hours of coming to power in the state.
Ayushman Bharat and much more
These political parties have also vied among themselves in announcing a slew of health programmes for the benefit of poor and economically weaker sections in the state. The Congress government had announced the introduction of health for all schemes, but it failed to take off effectively due to the infrastructure problems. In its manifesto, the Congress promised to implement the scheme effectively to ensure treatment for all sections of the society free of cost. On the other hand, the JD(S) proposed to start four 350-bed hospitals in Bengaluru to provide treatment for people of the state and the city. All parties have assured to start as many as dialysis centers to cater the needs of diabetics in Bengaluru. The JD(S) said that pregnant women, differently abled people, senior citizens and widows would be given pension by the state government.
"A pregnant mother will be provided with an assistance of Rs 6,000 per month for 3 months before delivery and 3 months after delivery. We are aware of the problems of women in rural areas and the condition of hospitals,'' the JD(S) state president said.
The JD(S) has even promised to supply mosquito nets to all below poverty line (BPL) families in slums to protect them from mosquitoes.
In case of BJP, other than their Union Budget declaration of the National Health Protection Scheme- "world's largest public healthcare scheme", the party's manifesto assures to increase access to healthcare by establishing a network of approximately 28 Smart Clinics which will run 24×7.  This was followed by their immunize children under the age of two and pregnant women against seven life-threatening diseases — tuberculosis, poliomyelitis, hepatitis B, diphtheria, pertussis, tetanus and measles.
More power to civic responsibilities
Another major area of focus was addressing civic responsibilities and development of the city. To address garbage menace in Bengaluru, Congress had proposed to have more waste to energy units to manage tonnes of solid waste being generated in Bengaluru. The manifesto proposes a 15-year development plan for Bengaluru and a comprehensive Development Plan (CDP) 2033 – with focus on sustainability, livability, urban poor, swachha Bengaluru, public transport, growth etc.
"To improve citizen-government communication, a new digital platform www.bengaluru.gov will be launched to build a partnership between Citizens and Government with the help of technology for growth and development of Bengaluru. Fifty per cent of each ward committee will be represented by the members of local Resident Welfare Associations (RWAs),'' the Congress manifesto said.
Similarly, the BJP manifesto promises total revamp of Bruhat Bengaluru Mahanagara Palike (BBMP) administration with a focus on making the civic body more citizen-centric, responsive, responsible and accountable. It has also promises to make the Bangalore Development Authority (BDA) free from corruption.
Keeping in mind the haunting 2017 New Year's eve as well as the recent crimes against women in Bengaluru, the party also promised to install face recognition cameras at vantage positions across the city to curb the menace of eve teasing, chain snatching, stray dog menace and traffic management. It intends to have special police units with training and capacity for crimes against women and children and to ensure security for women and citizens travelling in late hours with increased patrolling.
While Congress claiming to have fulfilled 95 per cent of promised made in its 2013 assembly election manifesto and seeking the people to vote it to power again based on its performance, BJP and JD(S) are appealing to give them one chance to prove their capacity to provide transparent and efficient government in Karnataka.