LDF Government is marked by Corruption and Nepotism, UDF will come in Power: Dean Kuriakose, MP
 "For a 'Congress-Mukt Bharat', CPI (M) and BJP may form an indirect alliance," says MP Dean Kuriakose on the upcoming Kerala assembly elections.
With the assembly elections a few months away, anxieties in the state of Kerala are running high. While the incumbent CPI (M)-led government battles a number of serious corruption allegations, the BJP and Congress have armored up for the tripartite battle. Delhi Post sat down with Lok Sabha MP Dean Kuriakose to discuss the UDF's strategy for the upcoming elections, inquire his opinion on the controversial farm laws, and know more about the developments in his constituency, Idukki. 
Following is an edited excerpt of the interview.
Delhi Post: Could you please explain the current socioeconomic scenario of your constituency, Idukki?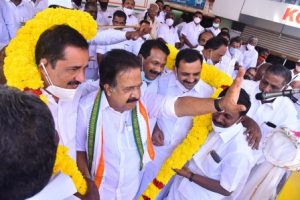 Dean Kuriakose: It is the largest constituency in Kerala. There are 7 assembly segments: 5 from Idukki district and 2 from Ernakulam district. This includes Devikulam, Peerumade, Idukki, Udumbanchola, and Thodupuzha (Idduki) and Muvattpuzha and Kothamanglam (Ernakulam). A majority of these are classified as high range areas with 70–80 percent population depending on agriculture. We also have a large tribal population with close to 60,000 tribes in my constituency. The plantation sector that deals in tea, cardamom, pepper, etc. is also situated in the hilly areas. The constituency has a mixture of tribes, Tamil linguistic minority people who work in the plantations, and farmers. We have a mix of cultures in the Idukki constituency, and that makes it different from others in a variety of aspects.
Delhi Post: What were the top strategies implemented in your constituency and in Kerala to fight the COVID-19 virus?
Dean Kuriakose: The number of cases in our district is comparatively low. This is primarily because our population density is low. Also, since it is a high range area, it did not witness a lot of visitors during the lockdown.
Anyway, we fought very well. We had allotted 75 percent of 2.5 crore rupees given to our constituency toward healthcare infrastructure development, which included hospitals, ventilators, ambulances, and medical equipment.
Delhi Post: How do you think a constituency such as Idukki, which takes a major share of its economy from tourism, has been able to recover and attract tourists to visit now that the virus is on a decline?
Dean Kuriokose: We should have a post-Covid-19 strategy in every sector, and tourism is one we are focusing on in Idukki. This is our priority. Munnar and Thekkadi are globally well-known tourist places and have been receiving an increased number of tourists every year. After Covid-19, we are surely facing a crisis. But we should have a plan to attract more tourists to our area. by developing infrastructure facilities, provide hospitality, accommodation, etc. I am working with the government departments, and we should possibly see the results in a few months.
Delhi Post: Coming from an agrarian constituency, what are your views on the three farm laws being protested against by farmers from north India? Since Kerala does not have an Agricultural Produce Market Committee (APMC) system, how do you think these laws would affect agriculture in your constituency?
Dean Kuriakose: Yes, Kerala does not have an APMC system. It is only there in Punjab, Haryana, and Rajasthan, where large groups of farmers are protesting. Kerala's farmers come under the small/marginal category; they cultivate spices (cardamom, pepper, etc.) more than paddy. Our local bodies, cooperative sector, and NGOs have more potential than any other state, and they are amplifying agricultural development and providing maximum opportunities for farmers. But, these laws, the black laws, will affect Kerala and other states because of the PDS system. Kerala is a consumer state, of course, because food grains and rice mostly comes from other states through the PDS system. These laws will affect the PDS system; bring in the corporatization of the agricultural sector. Through FCI, food grains and rice is passing through PDS system. If, after a few years, this corporate sector captures all farmlands by the advantage of farm laws, then it will definitely affect our the PDS system directly. If the latter collapses, it will affect Kerala. In this way, the farm laws will damage Kerala. In another way, it is not directly affecting Kerala.
Delhi Post: Ever since the Pettimudi tragedy in August 2020, what measures have been taken to prevent such a disaster? Paired with the pandemic, the tragedy has also resulted in a number of children traveling long distances to attended online classes. Have any efforts been made to provide students with mobile towers/remote internet connections?
Dean Kuriakose: We can expect natural calamities in hilly areas at the time of monsoon season as it is a general phenomenon. At the time of floods in 2018, in my constituency, more than 400 landslides had happened. We cannot predict that much and that is the truth. In Pettimudi, people lived close to the thick forest-centered origin of the landslide. As a result, their homes were taken away. As for the precautionary measures, all that we can do in the expecting zones (ecologically dangerous areas) is shifting the residents to a safer place. In my view, that is the only possible way to prevent human loss. We are planning to do this before the coming monsoon season.
As for online classes, almost all the areas in the high-range sector have low mobile operations. I called a meeting of service providers in my constituency and discussed how children here are unable to access online classes. We identified the points and are working to provide a network wherever there is urgency. For that, we are taking into confidence all service providers, not only BSNL, even though the latter is the biggest service provider in the area.
Delhi Post: With the assembly elections a few months away, what are the aspects that the UDF/Congress would be focusing on? Could you share a few issues that would top the Congress manifesto?
Dean Kuriakose: As far as United Democratic Front (UDF) is concerned, we are confident this time. In every aspect, the present Left Democratic Front (LDF) government is a failure. There has been a lot of corruption and nepotism. There is gold scam, sprinkler scam, a number of cases to point out. Surely, by that effect, some anti-incumbency is working out. People want change. As far as UDF is concerned, we are preparing our manifesto as per the version of the common man. We have formed a committee and that is going everywhere, meeting every sector of people, addressing their concerns.
In 2016, the UDF government had worked on several welfare schemes. The LDF government took advantage of Solar scam allegations that have now been proven to be false. Our welfare schemes such as Karunya were very effective. We cannot see that kind of welfare scheme nowadays in Kerala. We realize that people need such direct benefit schemes, and that is why we will be introducing Nyuntam Aay Yojana (NYAY). Much like MNREGA, NYAY will provide a basic income to citizens.
The present government has been engrossed in a number of allegations, which are being investigated by Central agencies such as CBI, Customs, NIA, and ED. They are focusing on the Chief Minister indirectly.
Altogether, we can see that UDF has a good chance in these elections. Our leader of the opposition has started his rally/jatha from Kasargod to Trivandrum. Now it is passing through the central part of Kerala. By campaigning and strategy, we will get power this time.
---
---
Delhi Post: With the central government allocating funds to construct highways in Kerala (Budget 2021–2022) in an election year, how do you anticipate the BJP to perform? Do you think that LDF is having hand in glove with BJP in this Assembly election 2021?
Dean Kuriakose: The main aim of BJP is communal division. While they have gotten an advantage because of that, it will not work out in Kerala primarily because it is a much more politically developed state. This kind of political division will not be applicable here, and that is why BJP has less chance. CPI (M) is indirectly trying to ally with BJP because the BJP's first enemy is a congress. Leaders of the party, such as Amit Shah and Prime Minister (Narendra Modi), are often heard saying that they want a "Congress-Mukt Bharat."
In that point of view, CPI(M) and BJP may form an indirect alliance. But we are campaigning and informing people that this will ruin the secular fabric of Kerala. We are speaking the truth to the common people. People will accept the view of UDF.
Delhi Post: As a member of the standing committee on labor, what are your views on the four labor codes scheduled to be implemented this year?
Dean Kuriakose: The four labor codes means the Codes on Wages, Occupational Safety, Social Security, and Industrial Relations. Behind this legislation, the main motive of the government is the ease of doing business. By this legislation, the government has surrendered the fundamental freedom of laborers, something they have attained through long-standing struggles. They have surrendered before the corporate owners. They are not bothered about the protection of laborers, workers, and farmers.