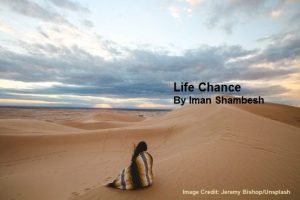 She stood there, I watched her.
Can't deny, loved her smile.
To get a glimpse, I came closer,
Thinking of a topic to talk over.
Suddenly, I stopped and paused,
For I had so many flaws.
Didn't have the strength to continue ahead,
Listened to her talks with her friends instead.
She was different than the others I've met,
Her eyes met mine and I started to sweat.
She turned away and I just saw her go,
As if the sun will never again glow.
Her aromatic smell filled my world by all means,
For minutes, it lightened up all my dark dreams.
Since then I never saw her again,
Can't describe my feelings with a pen.
I completely regret for just that glance,
It made me lose probably a life chance!