Mohun Bagan–East Bengal Derby: A Tale of Uniqueness
In the recent Boro Match (or Big Match) between Mohun Bagan and East Bengal, excitement, fervour and hue were on display.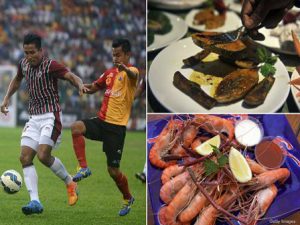 In the history of football, famed Kolkata derby is not merely a pride of India but also well known in Asia; it is among the biggest derbies of the world. Though the quality of the century-old Kolkata derby has declined over the years, its appeal among the masses of Bengal is still strong. What makes Mohun Bagan and East Bengal so special is their huge supporter-base, which no other Indian club can claim to have over the course of time. Whenever Mohun Bagan and East Bengal face each other at Kolkata's Vivekananda Yuba Bharati Krirangan aka Salt Lake Stadium, fans of either side turn up in thousands to cheer up their favourite side in the emotionally charged derby.
During the recent Boro Match (or Big Match) between Mohun Bagan and East Bengal, much of the same excitement, fervour, and hue were on display on 19 January at the city's architectural heritage Salt Lake Stadium.
When it comes to supporting a club people usually pick their favourite side on the basis of a club's playing style, success rate, favourite player or a place they belong to. In the history of football, two footballing giants hailing from the same city is not new. And their rivalries give fans a reason to watch football—the beautiful game.
---
---
We all know how a rather quiet city gets divided down the middle when two clubs from the same land meet each other. The Milan Derby between AC Milan and Inter Milan, the Madrid Derby between Real Madrid and Atletico Madrid, the North London Derby between Tottenham and Arsenal, Manchester Derby between Manchester United and Manchester City are famous all around the world and they are the reason for the ecstasy of millions of fans cutting across the boundaries of nations.
Kolkata Derby: A never-ending rivalry between 'Ghotis' and 'Bangals'
When it comes to Mohun Bagan and East Bengal, fans have a unique reason to be divided—in a good way, of course. Mohun Bagan, founded in 1889, was a national sentiment. It played a crucial role in awakening the national conscience against the colonial rule beating the East Yorkshire Regiment 2–1 in 1911 IFA Shield. It has fans not only from Bengal but also from all over India. East Bengal, as its name suggests, appeared to be the self-esteem of immigrants of the east who migrated to Bengal from East Pakistan (Now Bangladesh) after partition.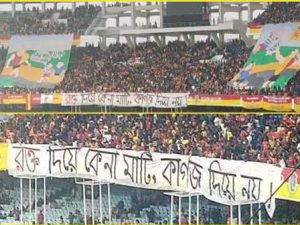 For fans of East Bengal, it was like finding root in the foreign land and identity in West Bengal where they were being called 'Bangal' for their ancestral root in Bangladesh. While Mohun Bagan fans found fun in calling East Bengal fans 'Bangal', the 'people of east' didn't sit back as they came up with a strong reply terming the local inhabitants 'Ghoti', the people of western Bengal of undivided India.
This battle of identity in the Bengali society found special mention through Mohun-East derby. The difference in their speaking style and food habitalso made a space at the grandstands.
'We have the Ghotis and the Bangals. It's all about the identities. On most occasions, you do not become a fan of either club. You are born into it', opined East Bengal defender Arnab Mondal.
In the meantime, Bangals' love for Ellis (Hilsa) and Ghotis' favourite Chingri (Prawn) added a unique flavour to this rivalry. It was much about the difference between their culinary cultures. A win means Ghotis' favourite Chingri will be cooked at home next day and vice versa or a defeat means staying quiet few days.
Ellis vs Chingri: A Story of Past
However, the appearance of Ellis and Chingri at the stadium is now history. They are replaced by a rather new evolution in Indian fan-culture that is tifo and innovative chants from the stands. They are meant to cheer up their team while shattering the confidence of oppositions.
In the last season of I-League, fans of Red and Golds unfurled a tifo showcasing a pictorial word-play on a certain chant directed towards their counterparts. In reply, Mohun Bagan supporters displayed a banner that urged their players to 'Take no prisoners' in the 2019 CFL Derby.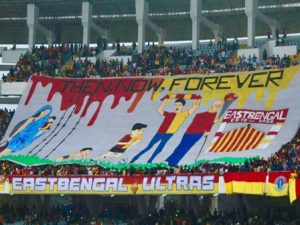 'Take on prisoners' chant witnessed a surprising twist during this season's Kolkata derby. The famous pictorial world-play and chants against opposition teams were missing. They were given rest for a cause as East Bengal fans decided to take on Citizenship Amendment Act (CAA) and National Register of Citizens (NRC) which they believed questioning their existence in Bengal.
We all know sports are meant for entertainment, but sometimes it becomes a mega platform for expressing dissent against any prevailing political situation. Kolkata witnessed one such incident during this season's first derby. Though East Bengal lost the match 1–2, it didn't dampen the spirit of their fans who thronged the stadium with a giant tifo to protest against NRC and CAA.
The tifo read: 'Rakta Diye Kina Mati, Kagaz DiyeNoy' (A paper cannot replace a land acquired through the blood). The tifo pointed towards the tragic past of people of the east who left their ancestral home in Bangladesh for India amid bloodbath after the partition. With anti-CAA, anti-NRC movements rapidly gaining momentum, East Bengal supporters said that this has once again questioned their 'Indian-ness' and opened their old wounds. So they opted for the Boro Match to express their dissent against CAA and NRC.
'For long, we have been taunted regularly by supporters of rival clubs as 'refugees', as 'Bangladeshis' and as those who have crawled into India from beneath the barbed wires', said Hrisav Bhowmick, a member of East Bengal Ultras, which was behind the making of this creative tifo.
'These taunts have intensified since CAA–NRC came into news. Be it on the ground or on social media this has now become regular', Bhowmick added.
The tifo culture is rather new in Indian football—a wave that comes down from Europe and is taken up by the fans who have grown up watching artistic tifos put on inside the stadiums by the fan-groups of clubs like Inter Milan, Borussia Dortmund, Red Star Belgrade, Dynamo Zagreb and many more.
---
---
Question of Survival
That European influence is now strongly present in Indian football. The days of coming up with Ellis and Chingri, and taunting each other are now a story of past. As the generation 'Z' has been cherishing a new fan culture,tifo has become an integral part of Kolkata derby. And it is scripting a new chapter in the history of Mohun Bagan–East Bengal rivalry, the battle of pride and identity.
But now the question is being raised about the existence of century-old derby after Mohun Bagan's merger with ISL side ATK. As East Bengal stands completely on the opposite end of this trend ruling out the possibility of any such collaboration with a corporate organisation, the future of derby looks bleaks.
It must be noted that both clubs might act as each other's nemesis but without their co-existence, they are incomplete and Indian football will certainly lose its charm. Notwithstanding, without East Bengal's presence, Mohun Bagan is just like a lone bird in the desert and vice versa. 'Both clubs need each other to push themselves forward', Arnab Mondal summed it up beautifully highlighting the eternal dependence of each other.