Mamata Didi Runs 'Cut Money' Ki Sarkaar: Modi in Howrah
PM Modi addressed a rally in Howrah on the second day of polling in 2021 Assembly Elections in West Bengal
As the second phase of polling in the West Bengal Assembly Elections commenced on April 1, Prime Minister Narendra Modi spoke to hundreds who had gathered to attend his rally in Uluberia, Howrah. In his 30-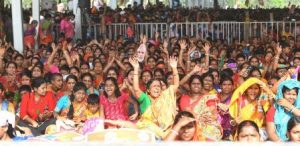 minute long speech, Mr. Modi directly attacked development policies of All India Trinamool Congress chief and WB Chief Minister Mamata Banerjee, and criticized her government by calling it a 'cut money ki sarkaar' (corrupt government). He began his speech by saying that Bharatiya Janata Party's government will bring along 'ashal paribartan' or true change, and will realize the dreams of Bengal's youth. "The election rallies we hold every day are breaking new records, and our victory will ensure true development of the state," he said. Addressing the audience in Bangla, he said, "I guarantee you that we will restore 'Sonar Bangla' (golden age of Bengal)."
Howrah, located in south Bengal, is considered to be a bastion of AITC. The current MLA, Hiader Aziz Safvi, was voted to power twice: in the 2011 and 2016 state elections.
Taking a jibe at the economic development in the region, Mr. Modi said in the last 10 years, the iron and steel industries have been destroyed by the AITC government. "Howrah was once a hub of engineers and had a plethora of metal workshops. But weak governance diminished it all. You are all aware of the condition of the iron and steel industry, and the zari work industry…either they have shut down, or are about to," he added.
---
---
Stressing that the people of West Bengal wanted a long term vision, he assured the people that he will return the state to its glorious past. It has been made clear in the last 10 years that Mamata Banerjee does not have a vision for development. She has held up the implementation of the PM Kisaan Samman Neeti, the Ayushmann Bharat Yojana, and the PM Aawas Yojana. He further alleged that the state government had engaged in corrupt practices when it came to the implementation of the Har Ghar Jal Yojana.
A dominant theme of Mr. Modi's speech was the 'double engine' policy, which, he says, ensures smooth implementation of government schemes due to both the state and the center having the same ruling parties in power. Speaking on the condition of jute farmers, he said, "BJP's double engine policy will support jute mills and the jute workers who are currently engaged in innumerable court cases. We have been working to make jute an alternative to single use plastic, and this initiative will benefit the jute farmers of Bengal."
He also said that minimum support price for jute had increased by 85 per cent under the NDA government at the center, and specialized seed acquiring policies have also been implemented, and added that if elected to power, all pending funds of the PM Kisan Samman scheme will be disbursed to Bengal's farmers. "Under this scheme, we have provided 19 crore farmers of India with Rs 1.5L crore. I assure Bengal's farmers that if we form a government here, we will transfer Rs 18,000 directly to the bank account of every one," he said.
Mr. Modi also imposed several allegations on Mrs. Banerjee and her party by saying that corruption and greed among state officials was on an all time high. He stated, "Where are the Amphan Relief Funds? Why are potato farmers in the state being given much less money for their harvest than what is due to them? In the last 10 years, it is only the corruption industry that has thrived here."
Polls in WB began on March 27 and will be held in 8 phases until April 29, 2021.