Mastodon Is the New Twitter
After the suspension of SC lawyer Sanjay Hegde's Twitter account, Indian users have labelled Mastodon as a more egalitarian social network.
Over the past few days, there was a buzz in social media about the name 'Mastodon' as an alternative to Twitter, after the Supreme Court Lawyer Sanjay Hegde's Twitter account had been blocked by the site because he had been publishing some Nazi tweets. Hegde then revealed that instead of Twitter, he would start posting the same on Mastodon, and many decided to leave Twitter in solidarity, which saw a sudden increase in the users of Mastodon from 6 November to 8 November.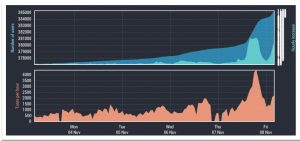 The movement not just started after the Twitter account deletion of Sanjay Hegde but also when a poem by Gorakh Pandey titled 'Usko Phaansi De Do' got reported. Hegde then announced that he is going to start posting on Mastodon instead of Twitter and many decided to quit Twitter. Using the hashtag #BoycottTwitter, users criticized the micro-blogging giant for opaque moderation policies, censoring government critics and failing to control hate speech. Some active twitter users such as musician Vishal Dadlani, journalist Shivam Vij and social activist Kavita Krishnan have moved to Mastodon.
Blue Tick Controversy
Users of Twitter's micro-blogging platform were in arms in India through the company's blue tick verification procedure. The uproar began after a campaign called discriminatory by journalist and activist Dilip Mandal on Twitter.
---
---
Mandal launched a hashtag campaign to verify #SCSTOBCminority and sought to verify 500 user accounts of marginalized communities.
Later, the Twitter spokesperson clarified saying that 'its public verification process was currently closed and that it verifies people who are active in the public conversation on Twitter on a 'case-to-case basis' and that it has a 'dedicated global process for managing selected verifications.
'As we have publicly stated on a number of occasions, our public verification process is currently closed. On a case-by-case basis, we do verify people who are active in the public conversation on Twitter', stated the spokesperson.
About Mastodon
Mastodon's etymology refers to the mammoth-like extinct creature that is the avatar of the platform. Maybe the platform's name refers to its indescribably large size.
Mastodon, founded by Eugen Rochko on 5 October 2016, calls itself a 'federation' that comprises thousands of groups, similar to Reddit, with timelines similar to Twitter. Users can create profiles, post images, messages and videos like any social network, all while following other users.
Mastodon is a self-hosted, free and open-source social networking platform. This allows anyone to host their own client node in the network, and there are many different servers that federate their various separately run user bases. Mastodon has Twitter-like microblogging functionality, or Weibo, although it is different from them, and unlike a traditional web network app, it is not hosted centrally. The basic privacy choices can vary from site to site, but usually include direct messaging, just followers, public but not specified in the public feed, and public and added to the public feed. A brown or grey woolly mammoth, often portrayed using a tablet or smartphone, is the Mastodon mascot.
Mastodon as an Alternative
The social network has seen 18,800 new users on mastodon. Social alone over the past week while it does not collect user data. By comparison, earlier on mastodon. Social, growth was about 1,000 a week. 'All policies of Twitter are driven by what makes Twitter profitable. Mastodon gives users the priority. Mastodon offers reliable and detailed tools to manage users against bullying and hate speech', spokesperson for Mastodon said.
Mastodon is a distributed system for social networking that allows users to create their own private networks.
It does not collect user data to sell as Twitter does, and has released all of its code as an open-source, making it easy for anyone to start their own instance of Mastodon.
---
---
But Mastodon has its set of drawbacks too like there is no concept of 'verified accounts' as you would find on centralized social networks due to decentralization—but some Mastodon users put green checkmarks as a joke in their display names. Another condition which arises because of the drawback is that you cannot uninstall Mastodon accounts (you can tell your instance administrator to delete your account but some of it will stay in other cases). You would also be unable to uninstall to other instances toots that have been federated. Deleting Mastodon accounts (or federated toots) does not make any sense because of decentralization–once again, like in the email, you can change your email address, but people who sent emails will still have messages that you sent to them previously. This is because centralized social networks mean that people seem to have started to forget the rule that 'if you post something on the Internet, it will stay forever on the Internet. It's still under development, so there are some missing features that can lead to additional threat as experts in the field say that some of that feature doesn't make sense of this social network design anyway. On Mastodon, you will want to be more careful; making a mistake there might be more expensive.
Get Started
You must visit the homepage of the website to create a Mastodon account and click the 'Get Started' button to take you to the 'Sign Up' section. Here, you can search and pick a group for which you want your account to be created; each has its own set of rules and priorities. @mastodon.social is one of the most common general communities.
From any server, you can follow and speak to anyone, irrespective of the group you are joining. You will need to fill in a sign-in form when you click on 'Join', which will ask you to enter your email ID and create a username and password. Complete this step and you are all set. The interface is similar to Twitter's and there is a character limit of 500 for each post, or 'toot'.