Electric Vehicles: Towards a sustainable future
The ambitious target that the government has set of having only electric vehicles by 2030 will help turn the pollution curve upside down.
India, one of the fastest-growing automobile markets, is a key target market and manufacturing hub for all the companies. With the government's push to electric mobility, the companies are seeking to leverage the large low-cost manufacturing capability and the supplier base in the country.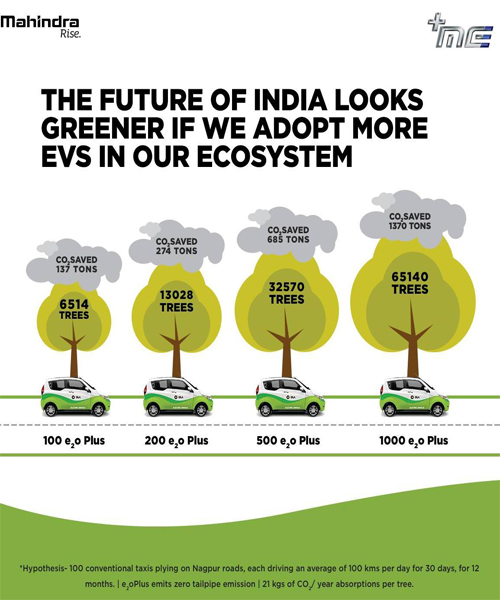 The government has set an ambitious target of having only electric cars by 2030 and plans are being executed to achieve this goal. In September 2017, Union Road Transport and Highways Minister, Nitin Gadkari said, "We should move towards alternative fuel… I am going to do this, whether you like it or not. And I am not going to ask you. I will bulldoze it."  This effectively means that the government will try to disincentives production of petrol and diesel vehicles while incentivising electric vehicles. The biggest problem in the way of electric mobility in India is the lack of charging infrastructure.This situation is expected to be corrected with the big companies launching activities to promote widespread acceptance and use of electric vehicles. These will include setting up of charging infrastructure, human resource development including training for after-sales service technicians and systems for appropriate treatment of end-of-life batteries. In line with the agreement, batteries, electric motors and major components for manufacturing electric vehicles will all be procured locally, helping the Indian government further its 'Make in India' initiative.
Toyota Motor Corporation and Suzuki Motor Corporation have concluded a memorandum of understanding (MoU) that will consider a cooperative structure for introducing electric vehicles in the Indian market in around 2020.
"The prices of battery packs haves been plummeting by about 8 per cent a year, and electric cars
are now projected to become cheaper, more reliable, and more convenient than
their gasoline-powered equivalents"
Tata Motors Chairman, N Chandrasekaran and Chairman Emeritus. Ratan Tata, rolled out the first batch of Tigor EV (Electric Vehicle) out of Tata Motors' Sanand factory in Gujarat last year.Tata Motors had won the tender of 10,000 electric cars floated by Energy Efficiency Services Limited (EESL) in September 2017. Maruti Suzuki, India's largest carmaker will roll out its first electric vehicle by 2020. The technology will come from the Suzuki-Toyota partnership and Maruti will make and sell the cars in India.
A Hyderabad-based startup, Gayam Motor Works (GMW) has raced ahead indeveloping an electric three-wheeler with Li-Ion battery, with a battery swapping system. GMW is the first company in the world to develop Smart Auto which is almost as powerful as a diesel auto- rickshaw. Its high power motor can go up to a maximum speed of 55kmph and can take a load of 500kg. It is remarkable to see what it has been able to achieve in a short span of time with limited resources.
India's first electric vehicle (EV) charging station became operational in November 2017.It was set up by Indian Oil Corporation (IOC) in Nagpur as a step towards spreading the use of green energy. It is the first city to introduce the electric public transportation charging model in India: AC (Alternate Current) and DC (Direct Current) electric vehicle chargers. While the DC chargers can fully charge an electric vehicle in 45 to 60 minutes, the AC one takes 6 to 7 hours.
Investments in electric cars may soon do to the transportation sector what wind and solar have done to the power sector: turn the pollution curve upside down. The prices of battery packs have been plummeting by about 8 percent a year, and electric cars are now projected to become cheaper, more reliable, and more convenient than their gasoline-powered equivalents around the world by the mid-2020s. Some companies like Tata Motors and Maruti are committed to the Indian Government's vision for electric vehicles by 2030 and will work in a collaborative manner to facilitate faster adoption of electric vehicles and to build a sustainable future for India.