Acting is a Happy Switch: Alaya F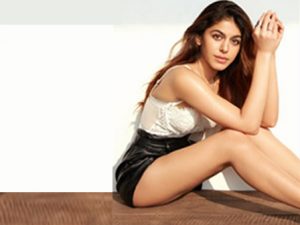 Delhi Post in conversation with the debutant and promising actor Alaya F as she takes us through the journey of her first film Jawaani Jaaneman, alongside Saif Ali Khan and Tabu. Directed by Nitin Kakkar, the film is ready to hit the theatres by the end of January this year. Alaya is the daughter of Bollywood actress Pooja Bedi and Farhan Furniturewala. She also talks quite a bit about her personal life, her journey into the industry, her switch from direction to acting, her reasons behind the switch, her hobbies, interests, etc.
Delhi Post: Talk to us about Jawaani Jaaneman. How did you bag the film, what is the crux of the film, share your experiences of working with actors like Saif Ali Khan and Tabu?
Alaya: After I graduated from New York Film Academy, I came back here and worked on my dance, Hindi, acting, gymnastics, etc. After which, I actively started attending auditions and meetings and, somehow, I got lucky and got this film!
Jawaani Jaaneman is a fresh take on modern-day family relationships and dynamics. It is about a man realizing that he has a daughter and then everything that follows, but the tone of it is very happy, upbeat. It has its emotional depth but still has this freshness to it, which I really enjoyed.
Shooting with Saif sir and Tabu ma'am was amazing. They are such supremely talented people and are so good at what they do. So, for me, everyday on set was a learning experience. The way they perform or the kind of people they are on the set, the way they conduct themselves so wonderfully. So, you know, it was amazing!
---
---
Delhi Post: Tell us a little about your character in the film. Do you find any similarities between your on-screen character and yourself?
Alaya: My character is actually quite a bit like me; she's independent, easy-going, mature but also a little immature, and she sort of knows what she's doing.
I play Saif sir and Tabu ma'am's daughter, Farida ji's granddaughter, I mean, it's like a dream family! I'm actually quite happy with my character being similar to the real me. I feel it's wonderful to play a character that's like you because when the audience is watching the film, they are not only watching your character but they are also watching the real you.
Delhi Post: Can you tell us about a few memorable experiences from the set?
Alaya: There were so many fun incidents actually. I feel like ours was generally a very happy set. So, Saif sir and my tents, like where we get our make-up done and all were sort of connected, and there was a wall between us which was made of cloth.
So, a lot of the times, I would usually do my lines and all before the scene and my makeup artist used to read the lines with me; and one day, I was reading my lines and suddenly, I hear Saif sir saying the lines back to me and we started doing our lines across the room! That was fun! And it became like an everyday thing after that.
Delhi Post: The song Gallan Kardi has created quite a buzz among youngsters. Tell us a little about your experience shooting for it.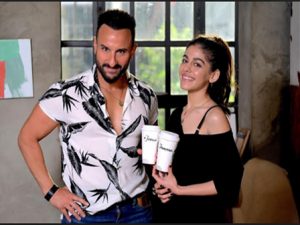 Alaya: This is my first-ever song, so naturally I was quite anxious about it. I used to be not a very good dancer but I trained a lot. So, it was a very big moment for me. The first shot was quite scary, but after I saw it on the monitor, I was too excited. I was like 'Oh my god! Let's continue!' it was so hot that day but none of us wanted to stop. Even Saif sir was like 'this is so much fun, let's continue!'The song is lovely and it was playing all over set which was a great vibe and yeah, I'm obsessed with the song!
Delhi Post: Tell us about the moment when you really knew that you wanted to be a part of the industry as an actor?
Alaya: When I first joined the New York University, I had gone to study direction. I wanted to be a director. And there was this one class in which we were learning how to direct actors. So in that, there was a little bit of acting. Some of us would pretend to be actors and the others had to direct them and I remember that was the first time I ever acted. I went by with memorizing lines and I was like, 'Oh wow, this is amazing'. And before I knew, it had become my favourite class! I would go all out to be an active part of that class, for example, if any student was absent, I'd volunteer to do their scenes, etc.  I was obsessed with the whole acting thing! And I was like, you know, who am I kidding? I want to act and that's what I will do!
Initially, the reason I said I didn't want to get into acting was because everywhere I went, people would only tell me one thing, 'you come from a family of actors, so you'll be one too' and I was like no! I'll do something else. But soon, I realized that I loved acting and that is the only reason I'm doing it.
---
---
Delhi Post: What was the reaction of your family and friends when you told them about your decision to take up acting as a profession?
Alaya: Well, initially, my mother thought I was being indecisive and didn't really pay much attention to it. I went and applied to New York Film Academy myself, sent in all my documents and applications and after I got in, went to my parents with my admission letter and a five-year plan and said, 'okay, now you have to say yes', after which they agreed. My friends, on the other hand, were not surprised at all. All of them were like 'we knew it!'
Delhi Post: Tell us a little about yourself: your hobbies, likes and dislikes, your stress busters, your favourites, etc.
Alaya: I enjoy doing a lot of art and doodling, which is more like a stress buster for me. I used to play sports. I don't really play sports anymore, but I used to play hockey. I played centre-forward for my school team. I enjoy reading occasionally when I do get the time. I love watching movies and TV shows. I enjoy doing gymnastics, although, now that's also part of my training. And I tried learning an instrument but I'm not very musically talented, so I wasn't successful at that.
When it comes to my favourites in cuisine or music, it mostly depends on how my mood is at that particular time. Generally, I enjoy all types of cuisines and my top three would be Indian, Italian and Japanese.
When it comes to music, I listen to Bollywood music, pop, alternative music, etc. Actually, it's anything but hard rock I don't like hard rock.