Network Brings Cinematic Change in Bengali Cinema
Film Review: The deception lurking behind the camera, and it's repercussions on both the viewers and makers is the heartbeat of the new Bengali movie Network.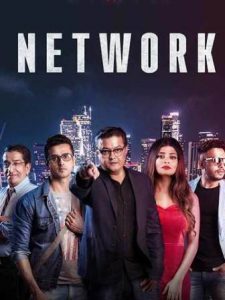 How far can we go to fulfil our dreams? How often do we pay heed to our pricking conscious? Do we even re-evaluate our actions? What does it take to rise after falling? How fragile is the thin line of demarcation between the real and virtual? Time and again, each of us find ourselves in a juncture, where we end up in a state of dilemma. These are those inevitable turn on roads that we cannot help but cross, in the way we know best. Network brings you the hidden sham behind the narcissist human mind caught up in the superficial ways of the world. And trust me, it's not just about one but every other person we encounter in life. Sadly, the rapidly advancing era of technology has trigged the surfacing of such shallow self-made complexities.
Abhijit Ganguly, the central character of the plot, issues a disclaimer right at the beginning, 'Eita thik boy meets girl story na … ektu onnorokom' (This is not just another boy meets girl story … A bit different). It is a story of revenge laced with psychological and philosophical questions … a thriller that won't let you look away from the screen for even a second … a tale so gripping and unpredictable has been filmed after a long time. The director-writer duo Saptaswa Basu and Rini Ghosh have come up with an intriguing premise in a dark setting, filled with occasional satire. The conception and its execution set a new benchmark for Bengali films, winning over the audience's heart in no time. Network is one of those crafts that deserve critical mention, especially because of the commendation efforts of fresh minds weaving in fresh perspectives.
One cannot miss Saswata Chatterjee's substantive brilliance enacted through his eyes and composed vibes.
His character Abhijit Ganguly is battling cancer and his lost glory. It all goes shapes fine until time he gets backstabbed by his own crew. Acutely aware of his limited, he must now seek revenge on a few rising stars, who took the shortcut to success by ruining Abhijit's life, work, fame and peace. 'Not everybody can handle stardom' shifts the spotlight on the Achilles's heal of the fragile lifestyle of celebrities, especially the new and upcoming ones. This weak nerve is what he pressed to first give an equal measure of pain and then make them regret their mistakes. 'Ei nam ar josh diyei oder ke suffocate korte hobe' (We will have to suffocate them in their own name and fame).
Rini Ghosh as  Shreya and Indrajit Mazumdar as Raj have played their parts with professional approach, and they fit their roles perfectly. People will most definitely be curious about their future work prospects. Sabyasachi Chakrabarty as the evil corporate tycoon Arindam potrays the perfect antagonist there can be to charge Abhijit's simple-minded. Bhaskar Banerjee as a lawyer and Abhijit's friend tremendously supports the protagonist's rightful urge to filter sense in vicious minds and see them fall.
It has been ages since a Bengali film has come with such veteran actors playing a varied range of roles. The product that is created when experience meets enthusiasm sets a new benchmark through this movie.
The director has employed many visual techniques to unfold the plot, and this modern format of film-making meets the global standards, making it apt for all viewers. The very themes of greed for fame, nihilism, desolation and redeeming one's own self blends so well that the audience starts to relate to the fears and emotions of the characters on screen.The mind games of the lead players seem no different than ours. Unpredictability is the strongest point of Network as it keeps you guessing till the end, where the boundary of reel and real is blurred. 'Ebar ei show ta reality na fiction seta dorshok i bichar korbe' (Whether this show is reality or fictions remains for the audience to decide).
 What is fiction if not reality's mirror image. And what is reality, if not an imitation of fiction in everyday lives.
Apart from the plot, the music too is soothing. Shaan's voice indeed uplifted the charm of the plot. It was truly a pleasure to hear him after long, that too in that same romantic feel. A huge applause to the music composers for the heart throbbing background score, which was composed accurately to bring out the depth of mystery, silence, devastation, futility in different places as demanded by the narrative. The dialogue, 'The world is my set' seemed to have been employed through intricacies in the making of the film as well. To summarize it all, Network has an awesome storyline and cinematography, engaging plot, relatable to life and people in general, brilliant performances with a subtle hint of serenading music.
---
---
'Sandhankoronahole sob suddhu Nikhoj hoe jabe …' (Find a solution else everything will simply be undiscovered) is the positive moral one derives from this movie. It's the self-motivation that drives change, which is often triggered by external forces. Who doesn't want to renowned? Who doesn't desire wealth? Who would ever throw away their peace of mind? Nevertheless, there are indispensable moments, either pre-meditated or by chance, wherein these all seem pointless. However, striving for solution this simply needs a reminder from time to time, encouraging us all to stay afloat. Giving up is easy, Giving in never lets one be at ease, but sailing through is the most challenging aspect of life.After all, we are all protagonists in our own lives, and antagonist too at times.
 A fine cinematic experience that skillfully renews one's stereotypical notions about Bengali movies.  If you like a film that's out of the box, this one is for you. Please go ahead, watch it  and support the work.