Non-Traditional Livelihoods call for gender parity
The three-day conference deliberated on issues related to livelihood options of resource poor women in India and how there was a need for visibility along with an ecosystem.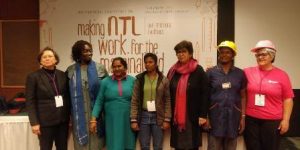 Gender lies at the heart of issues that continues to hinder women's participation in the workforce especially in Non-Traditional Livelihoods (NTLs) as construction workers, electricians, carpenters, motor mechanics, veterinary doctors etc. "Lot more research needs to be done on looking at gender at the core of policy building and that is something that we are still not doing enough. For instance, conducting gender audits," Amrita Gupta, Head of Research at Azad Foundation told Delhi Post.
Ahead of the High Level Political Forum 2019 on sustainable development in July 2019 where Sustainable Development Goals (SDGs) Goal 4 (Quality Education), 8 (Decent Work and Economic Growth), 10 (Reduced Inequality), 13 (Climate Action), 16 (Peace and Justice strong institutions) and 17 (Partnerships to achieve goals) will be reviewed, Azad Foundation brought together researchers, practitioners and policy makers in the domain of Women and NTLs at its First 'International Conference for Making NTLs work for the Marginalised' recently.
---
---
"It was necessary to take this opportunity to get information around SDG8 of Decent Work Economic Growth and and build a collective of organisations across the world including global ones so that we can harvest these learning and take it to the High Level Political Forum among others so that an ecosystem of support for sustaining women at the workplace can be ensured," said Gupta.
According to Azad Foundation, NTLs are opportunities that help women break stereotypes emerging from intersections of gender, caste, class, religion, sexual orientation, disabilities or any other marginalities within a dynamic context of space and time. "We say that NTLs increases the set of viable livelihood choices available to women and gives them access and control over skills, technology, market, mobility and resources. It creates economic stability along with psychological, social and political empowerment," Gupta pointed out.
The three-day conference deliberated on issues related to livelihood options of resource poor women in India and how there was a need for visibility along with an ecosystem. The conference also pointed out how in the event of challenges like stagnating job market and rising unemployment levels, there is a need to move beyond traditional conservative approaches to skilling and livelihood.
"Time is ripe for changing the rules of the game itself so that more women and their voices can be brought into changing the system rather than bring them in the same old system," said Archana Dwivedi, Deputy Director, Nirantar Trust.
Meenu Vadera, Founder and Executive Director, Azad Foundation said issues of gender discrimination in workforce around the world and pay parity across Asia and particularly for India need to be addressed. "CSOs and practitioners are demonstrating the power and potential of enabling resource poor women get into non-traditional livelihoods. In India, predominantly, the situation concerning women's workforce participation is alarming with only 27 per cent women engaged in productive work force."
---
---
Women beneficiaries from across India particularly from Africa, Nepal, West Bengal, Madhya Pradesh, Haryana, Maharashtra shared their experiences on how getting employed in NTL changed their lives. Maya Verma was the first woman mason in her community to construct a toilet back in 2012. Today, she is the member of State High Powered Committee under the Swachh Bharat Mission. She has trained over 100 other women as masons on Fecal Sludge Management.
"The main aspect that the conference made us think over was the fact that efforts are being made to be disruptive whether in government jobs or civil society, but we need to ask disruptive questions, we need to be disruptive. A number of people are there in NTLs globally but these have been sporadic. There was a need to bind them together and to see what else is required," Gupta told Delhi Post.
She further stressed, "We need to talk about unpaid care work, about men as enablers, and the need for collectives so that women have the bargaining power and gain solidarity."
"The living conditions of Indian poor women and gender division of labour at home and gendered notions of what work women can do outside their homes has restricted their ability to work outside in remunerative jobs and create a favourable environment for themselves and their families. With this conference, the aim is to appeal to Indian policy makers to consider NTLs as having a significant potential for empowering today's resource poor women to gain livelihoods with dignity", added Wadera who is behind the 'Women on Wheels' programme of Azad Foundation and Sakha that has enabled more than 1,600 resource poor women to become employable in the transport industry as chauffeurs.
Eminent speakers like Jayati Ghosh, Development Economist; Marissa Wesley, CEO, Win-Win Strategies, United States of America; Theo Sowa, CEO, African Women's Development Fund; Susan Moir, Founder, Tradeswoman Building Bridges in India and USA and Research Director for PGTI, Hope Chigudu, Co-Founder, Zimbabwe Women's Resource Centre and Network discussed some significant issues about the trembling condition of resource poor women across Asia with current context in the India market.