Oxytocin: Critical Drug, Crucial Debate
Misconstrued as the love hormone, an oxytocin variant has become a bone of contention even as the Delhi High Court further deferred the ban till November 1.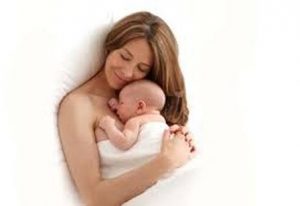 Q uashing reports that call for regulation of the critical drug oxytocin is based on "unscientific evidence", Animal Rights Activist from welfare organisation, People for Animals Gauri Maulekhi tells Delhi Post that regulation is in keeping with the need to check rampant use of the drug on milch animals, especially on buffaloes.
"What we want is proper regulation to check illegal use. We are simply following Section 12 of The Prevention of Cruelty to Animals Act, 1960, where the use of Oxytocin Injection on milching animals in order to induce milk is illegal, amounts to cruelty and is a cognisable offence," Maulekhi tells Delhi Post, adding that it "has nothing to do with cow protectionism" or 'gauraksha' as mentioned in many media reports. She also says that she is not asking for a ban.
"While physiologically, oxytocin, often called the 'love hormone', is important for milking, synthetic oxytocin (called Pitocin) is used to enhance the milk letdown for more production and profits, which is illegal under the 1960 Act that Maulekhi refers to."
It states that 'a person shall be punishable with a fine, which may extend up to Rs 1,000 or with imprisonment for a term which may extend up to two years or with both and the animal on which the operation was performed shall be forfeited to the Government'.
"India had halted retail sales of oxytocin as a prescription-only drug in 2014 under the provisions of the Drugs and Cosmetics Act, 1940, but failed to curb its illegal sales."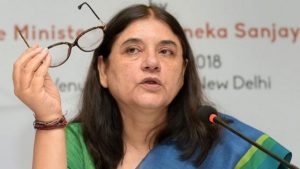 It is widely claimed that oxytocin ampoules were readily available not only at chemist shops but also from other unauthorised outlets in markets near dairies. Adding to it, the volume of imports was unclear.
Maulekhi asserts, "The percentage of the drug manufactured does not match the sales figures. There seems to be a major diversion towards non-therapeutic use."
Now, private chemists who have access to the drug have to also maintain a record of name and address of the prescriber and the patient as well as the drug's name with the quantity being sold.
The drug is, in fact, a part of India's National List of Essential Medicines. So, what are Animal Rights' Activist and Union Cabinet Minister Maneka Gandhi's contentions?
"Maneka's fight against the drug started way back in 1999 as a concerned voice against the unethical treatment of animals. She wrote extensive letters to the Ministry of Health claiming that the drug made "cows barren", "milk harmful" and can even led to "blindness in children". She again flagged the issue in 2013-14, and thereon."
"Cows give milk if they are well fed, watered and exercised. Since all three inputs do not exist, their bodies have to struggle hard to produce milk. In order to get the milk, dairy owners inject them with an illegal drug called oxytocin twice a day. Oxytocin sends the animal into labour, so for two hours a day the animal is writhing in labour pains till the milk is squeezed out of her inflamed diseased teats," mentions the Women and Child Development Minister in a First Post article in June, 2016.
She further writes in the piece, "Oxytocin comes into the milk and results in hormonal imbalances in humans, who get diseases like tuberculosis, cancer, blindness in children etc. In fact, the single main disease-giving drug in India is oxytocin which is being smuggled into India from China by a mafia that is headquartered in Kolkata and Mumbai."
"However, health activists are of the opinion that her concerns lack scientific evidence and are solely based on media reports. Though they advocate that cruelty to animals should "definitely be curbed" and illegal use of oxytocin "like any other drug" should be stopped, they assert that any action in the matter should be taken keeping in mind the health and safety of pregnant and new mothers."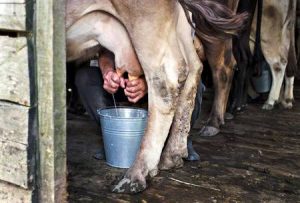 As a hormone secreted by the pituitary gland and as a neurotransmitter, oxytocin is often associated with the feelings of empathy, trust and bonding between the mother and child. It helps prevent excessive bleeding during childbirth. However, in cases where there are no natural contractions during labour or where contractions are slow, oxytocin medication can be administered either by drips or by intramuscular administration. It helps prevent blood loss following childbirth or Post Partum Hemorrhage (PPH) which can otherwise cause death, and is one of the leading causes of maternal mortality. As per World Health Organisation, PPH accounts for about 35 per cent of all maternal deaths around the world.
Emphasising its importance as a life-saving drug, Health Activist and ENT Specialist, Dr. Gopal Dabade tells Delhi Post, "The claims by Maneka ji have no scientific evidence. Even the 'Goodman and Gilman's – The Pharmacological Basis of Therapeutics' textbook which is known as the bible of pharmacology and is used all over the world does not have any reference to such claims. I support her care for animals which is well-intended. But to say that the drug itself manifests into drastic health issues like blindness is not correct, especially when there is no proof of it."
He further says, "The availability of affordable and good quality oxytocin is extremely important. Oxytocin is also used to induce unobstructed labour, which needs monitoring by health experts. It is a life-saving drug and restriction on the drug might create issues in its requisite supply."
He along with Dr. S L Pawar wrote an Open letter to the Cabinet Minister on behalf of the independent civil society organisation Drug Action Forum – Karnataka, which campaigns for rational drug use.
The contents of the letter published on September 1 state that based on "scientific facts and also the essential nature of oxytocin", the Ministry of Health and Family Welfare, Government of India, should "withdraw the restriction on manufacturing oxytocin in the sole interest of saving our mothers".
A similar letter from Members of Parliament, Dr. Dharam Vira Gandhi from Punjab's Patiala and Dr. Karan Singh Yadav from Rajasthan's Alwar has already been sent to the Prime Minister's Office. Both of them belong to the medical fraternity.
Dr. Yadav says that the rampant use of the drug on milch animals is a matter of concern and "there must be a crackdown" on it. However, he reiterates that it doesn't mean that the "useful drug" be regulated or banned. He tells Delhi Post, "It is an issue for investigation. Probably, ICMR (Indian Council of Medical Research) should do a study and a committee should be put up to review the issue."
Dr Gandhi also expressed his concern to the restriction of the manufacturing of oxytocin and tells Delhi Post, "I have sent the letter to the PMO requesting Hon'ble PM to look into the issues by setting up a high level expert committee to study them. He also added that he, along with other MPs, will raise this issue in the coming winter session of the Parliament.
Back in 2016, the Himachal Pradesh High Court asked if restriction of the drug could be made feasible in public sector companies. Under the Drugs and Cosmetics Act, 1940, a statutory body, the Drugs Technical Advisory Board (DTAB) recommended that human use formulations can be restricted "if supplied only to registered hospitals in the private and public sector" so as to ensure tracking and prevent misuse. DTAB in February 2018 had also recommended an import ban on oxytocin.
However, back in June 2014, scientists from the National Institute of Nutrition concluded in a study that 'exogenous oxytocin does not influence its content in milk. Further, oxytocin present in milk is rapidly degraded during intestinal digestion, ruling out its intestinal absorption and associated adverse health consequences'.
Once the proposed ban comes into effect, coming to the production and distribution aspect, under the Pradhan Mantri Bhartiya Janaushadhi Pariyojana (PMBJP) and the Affordable Medicines and Reliable Implants for Treatment (AMRIT) Programme, the Karnataka Antibiotics and Pharmaceuticals Limited (KAPL), a Public Sector Undertaking (PSU) will be the only one allowed to get the licence to manufacture and distribute the drug across the country for human and veterinary use.
This, the activists contend, could lead to "scarcity of this life-saving drug" and there are several media reports claiming that as a PSU, KAPL doesn't have the requisite experience as they started with manufacturing operations for the first time reportedly from July 2, this year.
Maulekhi says, "If they fail, then they can be held responsible, but let's not make anticipatory remarks."
"She refers to the Delhi High Court's decision on the case filed by three petitioners, Mylan Laboratories, Neon Laboratories and All India Drug Action Network, has further been deferred till November 1."
An official from KAPL, referring to the ongoing issue of the ban in the Delhi High Court, tells Delhi Post, "The matter is sub judice and we don't have any issues. Let the court decide." Refuting allegations that many of the states including Northeastern states and Jammu and Kashmir don't have the facilities for distribution, the official says, "We can assure you that we have enough facilities for manufacturing and distribution in the nook and corner of the country including Jammu and Kashmir."