Pick WhatsApp or Privacy
WhatsApp's Privacy Policy 2021 subjects 400 million Indian users to either accept and give the app permission to use their data as it wants, or give up their ability to use WhatsApp altogether.
As of June 2020, WhatsApp has an estimated 400 million regular users and over 15 million WhatsApp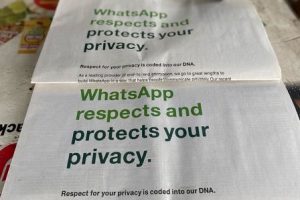 business users in India, out of the global share of over 2 billion. In its biggest market, WhatsApp announced its new privacy policy on the 4th January, 2021. This update seeks permission to share users' data with its parent company Facebook and any other third party it deals with.
The privacy policy 2021 has accumulated much backlash in India over the issue of denying privacy to Indian users. But this isn't the first time WhatsApp has tried to share its users' data. After Facebook acquired WhatsApp in 2014, it circulated a new privacy policy in 2016. With this update, WhatsApp shared contact details with Facebook to enhance Facebook's capability of showing friend suggestions and requests.
It is common knowledge that many apps collect data when we accept their terms and conditions without reading it. Where the privacy policy of WhatsApp differs is that it wants to collect your data excessively, including your WhatsApp payment and transaction details with Facebook and undisclosed third parties.
---
---
What will they collect?
One question that naturally arises is what type of data WhatsApp seeks. With its feature of end-to-end encryption, WhatsApp messages will not be shared with Facebook when WhatsApp itself cannot read them. It will collect the users' metadata. Metadata is data about data. So even though it can't read your messages it can share the information on who you message, how often you do, your time, and the location of chatting.
Metadata also contains information like one's data usage, location of sender and receiver, contact details, and much more. In 2016, researchers at Stanford University collected and analysed the metadata of telephonic users. With that data, they were able to draw perfect conclusions about one's personal data, including health details. With metadata, government authority or private players could carry out covert surveillance and tailor-make their advertising and marketing.
Currently, WhatsApp provides no alternative to its Terms of Service. If you can't find a pop-up on your WhatsApp, then chances are you have already agreed to it by clicking the Accept option.
But if you haven't accepted the ToS, then you will be able to see the pop-up repeatedly. Over time, WhatsApp will increase its frequency until you finally accept it. If you still persist, then WhatsApp will slowly take away key functions from its app and you will end up with a degraded version of the app.
WhatsApp claims that it will not delete your account right away but the users who do not accept can face "limited functionality." The app would limit your ability to access your chat list and later restrictions will be placed on your incoming voice and video calls. After few weeks, it would disable your WhatsApp notifications, calls and even messages. After 120 days of "inactivity," WhatsApp could even delete your account.
This leaves the users with only two options. Either accept and give WhatsApp the permission to use your data as it wants or altogether give up your ability to use WhatsApp.
The Backlash
The pop-up for updated privacy policy came on WhatsApp on 8th February. After severe criticisms from both users and privacy activists, the company, on 15th January, announced to delay the process till 15th May. The Ministry of Electronics and Information Technology has given these points to highlight WhatsApp's violation of user's privacy. WhatsApp has not disclosed the type of data it will collect, the purpose or use of the data, any option to withdraw consent, and the third parties involved.
The Centre had requested Delhi High Court to look into the matter as WhatsApp's new privacy policy violates the Right to Privacy under the Constitution. The court has listed the matter for further hearing on 3rd June. Even after numerous attempts by the IT ministry, WhatsApp has not changed its plan. The ministry has provided a seven-day period for the company to change its new policy or face legal action by 25th May.
Yet WhatsApp remains undeterred.  It claims that the privacy policy does not violate Indian IT Laws and Rules. The company has also said that a majority of its users have already given their consent to the new policy. Though the exact number is not revealed.
---
---
Personal Data Protection Bill
A huge factor that enables WhatsApp to insert Privacy Policy 2021 in India and not Europe is because of European Union's General Data Protection Regulation (GDPR). It is a robust data protection regime that does not allow WhatsApp to take user's private information as easily. Currently, India only has Information Technology (Reasonable Security Practices and procedures and Sensitive Personal Data or Information) Rules, 2011 which deals with sensitive personal information. But it has loopholes that WhatsApp is currently using to push its privacy policy.
However the Personal Data Protection Bill, 2019 would have helped avoid WhatsApp Privacy Policy 2021. Under its Clause 11(2)(c) it says that the data principals must provide specific consent and under clause 11 (3)(c) it mandates that different consent should be taken for different purposes. This would have made WhatsApp unable to take consent for all purposes by just one pop-up.
The bill also mandates under its clauses 5 and 6 that data could only be used by the company for the purpose the data principal had consented to. The Privacy policy 2021 would not have been a massive problem if we had established laws governing the privacy of data. But the draft of the Personal Data Protection Bill, 2019 has been stuck for more than a year. It is currently being reviewed by a Joint Parliamentary Committee.
The Indian Contract Act, 1872 does say that when a person has "no choice or no meaningful choice" than agreeing and accepting the contract, then such a contract must be considered unreasonable. The WhatsApp Privacy Policy 2021 leaves one with no choice but to accept their way. This provides the user with only two choices. Either the government passes the PDP Bill and makes the right to privacy a hard law. Or the user should give up WhatsApp and switch to other messaging services that respect users' data privacy.