WHO Opens 74th World Health Assembly
The decision-making body of the WHO will convene its 74th session virtually.
The World Health Organisation (WHO) opened its 74th World Health Assembly on Monday, May 24, and will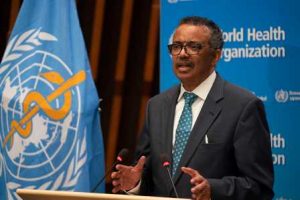 hold week-long committees and plenary sessions to discuss the ongoing Covid-19 pandemic. Member states will also discuss methods to avoid future pandemics. However, one of the biggest themes this year, as stressed by Director-General Dr. Tedros Adhanom Ghebreyesus, is WHO's global vaccination agenda, COVAX.
In his opening remarks on Monday, Dr. Tedros stressed the need to vaccinate healthcare and frontline medical workers globally. "More than 75% of all vaccines have been administered in just 10 countries, and these, if administered globally and equitably, would have been enough to cover all health workers and older people," he said. Roughly 72 million doses of Covid-19 vaccines have been supplied by the WHO to 125 countries.
"Right now, this is not enough. Countries that vaccinate children and other low-risk groups now do so at the expense of healthcare workers and high-risk groups in other countries," he added.
WHO will be introducing two draft resolutions on the health workforce, the passing of which will be discussed among member states.
---
---
Dr. Teros discussed the need to cater to the demands of health workers who have been working continuously at the frontline, and sometimes even without adequate protection. "We owe them so much, and yet globally health and care workers often lack the protection, the equipment, training, decent pay, safe working conditions, vaccines, and the respect they deserve. If we have any hope of achieving a healthier, safer, fairer future, every member state must protect and invest in its health and care workforce as a matter of urgency," he added.
Chairman of the WHO Executive Board and India's Health Minister Dr. Harsh Vardhan seconded vaccine equitability in his opening-day remarks. "The board has called for further efforts to ensure fair and equitable access to Covid-19 vaccines through COVAX facility," he said. India, under its Vaccine Maitri initiative, has supplied 1.98 crore doses of Covaxin and Covishield to 95 countries. He further added that the Board has encouraged WHO to work closely with multiple organizations to identify the zoonotic source of SARS-COV2, the coronavirus behind the global pandemic.
India's move to supply vaccines under COVAX, however, has been criticized severely, especially seeing the dwindling supply for citizens themselves.  (LINK)
Covid-19 cases across the world have been witnessing a decline in the last week. However, Dr. Teros said that the pandemic cannot be over until it is controlled in every country. He offered suggestions for improvement, which include:
-Upwards arrow surveillance, testing, sequencing, sharing information source.
-Surge supplies needed to protect health workers.
-Fight misinformation
-Empower communities to play their part
-Support businesses to open up safely
-Vaccinate those most at risk & donate jabs to COVAX
The WHO chief appealed to boost COVAX facility enough to vaccinate 10 percent of the population in every country by September, and 30 percent by December.
"Sprinting to our September goal means we must vaccinate 250 million more people in low- and middle-income countries in just four months, including all health workers and the most at-risk groups as the first priority," he added. For the 'Drive to December', he suggested scaling up the manufacturing of vaccines, especially by sharing licenses, technology, and know-how with non-origin companies.
He also thanked India and South Africa for pushing the waiver of intellectual property protections on Covid-19 products at the World Trade Organisation seminar held last week.
The WHO is also working on a 'pandemic treaty' that will be signed by member states. As part of the same, countries will devise joint rules for fighting the ongoing pandemic and preventing any further ones.
"This pandemic is not yet beaten nor will it be the last of its kind. New diseases will break out again & again in the future. The priority must be to enable the world to respond to pandemic threats as rapidly as possible. In their reports, the panels welcome the global treaty on pandemics as an important element in the WHO reform process. I share that view," German Chancellor Angela Merkel said.
The President of France, Emmanuel Macron, also pushed for global collaboration through the treaty, whilst advocating funding for the global health administrative body. "WHO has to be robust in times of crisis, flexible enough to be able to react to emergencies, and solid when it comes to controversies. We must improve the funding of WHO to be more sustainable, more predictable & less dependent on several big donors," he said.