PM Modi in Palakkad: Choose NDA Govt for 'FAST' Development
PM Modi attacked UDF and LDF on the recent gold-scam allegations, and said, "Judas had betrayed Jesus for silver, and the LDF has betrayed Kerala for gold."
Addressing his first public rally in Kerala from Palakkad on Tuesday, Prime Minister Narendra Modi laid down a list of promises for the upcoming Legislative Assembly elections. Speaking a week before Kerala goes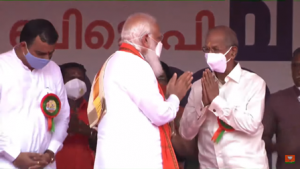 to polls, PM Modi informed the voters of their plans for reforming the state if a Bharatiya Janata Party government comes to power. "BJP brings a refreshingly fresh vision compared to that of the United Democratic Front (UDF) and the incumbent Left Democratic Front (LDF) governments. We are miles apart from both as they engage in vote bank politics. We are here to empower the youth of Kerala who have woken up and are able to see how regressive these alliances are," he said. He further added that voting for the National Democratic Alliance (NDA) will lead to 'FAST' development in Kerala. "By 'FAST' development, I mean, F for fisheries and fertilization, A for agriculture and ayurveda, S for skill development and social justice, and T for tourism and technology," he said.
Taking a jibe on the LDF and UDF, Mr. Modi alleged that both these parties were working together and had a friendly agreement. "In the United Progressive Alliance (UPA)-I government, both Congress and Left were together. In UPA-II government, the Left continued to show issue-based support to the Congress."
He also attacked the incumbent CPI (M) led government on the recent gold-scam allegations, and said, "Judas had betrayed Jesus for silver, and the LDF has betrayed Kerala for gold."
Praising the NDA's candidate for Palakkad, E. Sreedharan, who is accoladed for his role in developing the Delhi Metro, he said, "Metro-man Sreedharan is the son of Kerala's soil. He is a role-model for professionals and youth alike. If he wanted power, he could have got it years ago. But he decided to work for the development of the country first and led to its modernization with the construction of metros."
In his 30-minute speech, Mr. Modi took several jibes at the development in different economic sectors of Kerala.
---
---
He stressed on BJP's aim to grow the fisheries sector and empower the agricultural & tourism sector.
"After getting re-elected in the national elections of 2019, we made a separate ministry for fisheries. The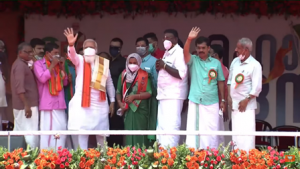 hardworking fisherman of India has had enough assurances, and now wants a concrete action plan that improves their lives. Our government has improved the sector by bringing in latest technologies and more credit avenues. Fishermen today have access to the Kisan Credit Cards, and the government is bent on upgrading boats and harbor facilities," he added.
Mr. Modi also pushed for the development of agriculture which is the dominant in the Palakkad constituency. He commented, "While MSP hike was promised for many years, it was only under our government that it increased. Over 11 crore farmers have received monetary support due to PM Kisan Samman Scheme. Value edition is key to agricultural growth and that is why we are devoting immense importance to the food processing sector also."
He also spoke of several steps taken by the NDA government in the sectors of education, skill development, ayurveda, and social justice, and made assurances to develop the tourism sector in Palakkad by boosting tourism infrastructure and road connectivity.
Mr. Modi attacked the UDF & LDF by saying that both alliances stand against the culture of Kerala. "Both are ashamed of the culture of our land, and also take to violence to oppose it. The BJP State President, Mr. K Surendran, was recently detained by the state police merely for protesting against the ways the LDF was harassing Kerala's traditions," he said. He also promised to end the culture of party-based violence in the state if his government is elected to power.
Elections in Kerala are scheduled on April 6th, with three fronts directly confronting each other- LDF, UDF, and the NDA.