Rebuilding Kerala: UN PDNA exercise to not count just damage, but rebuild better
Building Back Better and greener Kerala is the aim of the recent United Nations Post Disaster Needs Assessment (PDNA) Draft Report, stresses Disaster Risk Reduction Expert with UN Environment, Muralee Thummarukudy in an exclusive interview with Delhi Post while referring to the report that indicated that Rs 27,000 crore may be needed to rebuild Kerala.  
As a first time exercise in India, the United Nations recently launched the PDNA (Post Disaster Needs Assessment) Draft Report on Kerala which mentioned that Rs 27,000 crore may be needed to rebuild Kerala. Disaster Risk Reduction Expert with UN Environment, Muralee Thummarukudy says that the basic approach is to not just look at damage but also look at "the need for rebuilding the state to make it greener and better".
"We have said that Kerala has the potential to be rebuilt as a green state. Integrated water resource management should be the foundation of dealing with it along side risk-informed and ecosystem-based land use planning which are needed in Kerala to prevent future disaster risks," Thummarukudy tells Delhi Post.
"The PDNA exercise which looks at damaged infrastructure, livelihoods, houses, services, governance and social systems with an emphasis on building resilience and reducing future risks, is routinely conducted after major disasters by UN along with World Bank and the European Union. Thummarukudy has been involved in many since 2008."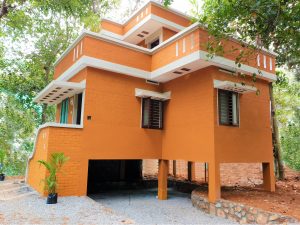 Prepared with the support of 11 UN agencies, the report mentions that housing requires Rs 5,659 crore, rebuilding roads requires Rs 8,554 crore, livelihood requires Rs 3,903 crore, irrigation requires Rs 1,484 crore, water and sanitation requires Rs 1,331 crore and agriculture, fisheries and livestock require Rs 4,499 crore.
"I think the very fact that it has been done (in India) is a good start because it brings many sectors which are not normally covered. For example, what happens to cultural artifacts when a flood happens? Normally, we look at buildings. Now, a cultural artifact is not just a building. So, environment and culture have been covered (in this exercise)," says Thummarukudy.
He believes that such a comprehensive exercise brings a cultural shift in the way, "damages are assessed" in the country. "It also brings a new approach to rebuilding. Rebuilding is not just about building back to the old condition which is prone to disasters. When we look at rebuilding, we look at how to create a state or a place which is less risky and greener. So, it is all about Building Back Better (BBB). That's a philosophy which we are bringing. So, we want states in the country to become aware of such an exercise," highlights Thummarukudy, in an exclusive interview to Delhi Post.
Normally, in the recovery phase, while the health department looks at health facilities, education department concentrates on educational needs, road and transport department look after roads, in a PDNA exercise, all the stakeholders are brought together, says Thummarukudy.
"Normally, damage counting only involves the government system but PDNA involves the element of the civil society which is an essential practice," he says.
Since joining the UN Environment in 2003, Thummarukudy has been involved in dealing with crises responses in all major disasters and conflicts in this century.
---
---
Recollecting the sequence of events of the Kerala Floods 2018, the specialist says that unlike the popular belief that Kerala was just hit by floods, he says that sequence of three events led to the unprecedented crises.
"When we talk about the recent disaster event, it is assumed that it was floods in August, particularly, between August 12 and 19. But that is not really the case. Kerala faced three sequential disasters. There was already flooding in a place called Kuttanad in July, and then there were a series of landslides happening in the higher ranges which continued even beyond August 19. And then the biggest flood which happened in the history of Kerala during the week of August 12-19," says Thummarukudy, who travelled to Kuttanad, the higher ranges and the most impacted areas in Kerala for three weeks in his personal capacity to contribute with his expertise.
He particularly says that the response from the Pinarayi Vijayan led-state mechanism was "actually exceptionally good".
He says, "In many cases, you would see that complaints are there. But here, this wasn't the case. The disaster was unprecedented. Last time, we had a flood anywhere close to this was in 1924 when Kerala as a state did not exist and was three separate entities. After Kerala was formed in 1956, this was the biggest disaster in our history. Considering no one has handled such disasters, considering there were three of them in sequential order and how unprecedented it was, from what I saw, I think the Kerala Government handled it exceptionally well."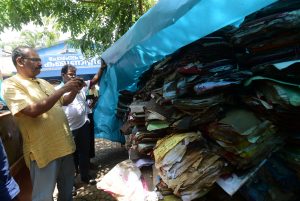 Close to a million people were displaced from their homes during the peak time. "Now, 99.99 per cent people are out of the camps. I was told that 1,200 people are living in camps probably because they lost their houses. This is the number one priority. They need secured accommodation. How to provide them for their losses is another priority, closely followed by livelihood recovery options for people who were, say, for instance, engaged in farming or tourism," asserts Thummarukudy, emphasising that Kerala needs to be shown support through stimulating the economy's tourism by travelling to Kerala.
In order to ensure that such incidents do not happen again, Thummarukudy says that "we have to understand why this happened at the first place. And then take measures to prevent such things from happening".
"For example, people were living close to rivers. This was one reason that flooding affected so many people. Now, the time is ripe to rethink this as a strategy when planning to build on the sides of rivers or such vulnerable areas," he tells Delhi Post, while eloquently speaking about the need for construction in accordance with nature.
"When thinking of infrastructure, it has to be in accordance with the changing climate and its impact. It should not just be calibrated to the flood that happened but to disasters that may happen in the future," he points out.
Thummarukudy has often publicly recommended the need for sustainable construction and ways of living. He says that more than the one who has been affected, the onus is on the shoulders of the knowledgeable to share the best practices of sustainable living with those who are yet to understand them.
"Clearly, it will not be fair of us to ask the affected people to suddenly learn all about sustainable development and sustainable housing. Other people who are knowledgeable about this can promote such best practices," he says, while mentioning an example of one of his friend, Architect Shankar from Habitat Technology Group, who has built a Flood Relief Prototype in a matter of 23 days.
---
---
Made of a concrete base, the construction is built on pillars which can sustain up to five feet of flooding, is made of pressed mud compressed into blocks for the right strength, is energy-optimised and has scalable provision. "Don't put up concepts if people can't see and recreate it. Functional models should be created so that green construction is normalised in day-to-day living," he notes.
Focusing on Kerala's achievements in terms of education, skills, livelihood and empowerment, he points out that it only needs to leverage on all of it to build back better.
"The disaster has created an opportunity for people to understand that the way you plan your city, your village and your house can all be impacted by the environment around you. So how do you create a living where you understand your environment better, minimise the damage to the environment, ensure that disasters don't affect you and you don't cause disasters. That mindset change is to be achieved," he says.
He further adds, "Rebuilding taller houses, taking insurance cover and then waiting for the next disaster to strike – that is not really the rebuilding that I dream of. Rebuilding Kerala is not just about rebuilding buildings. It is about rebuilding an attitude to Kerala."
Can a Pre-disaster Needs Assessment be possible at any point? "Certainly! Disaster risk reduction is also about what happens before a disaster strikes. It is very much possible to go to cities and look at the possible disasters in a city and then analyse the systems in place to fill in the gaps. One can't wait for every state to experience a major disaster before they understand the need for disaster risk reduction. The state should learn from others," he says, mentioning that the understanding needs to translate into legislative provisions, better engineering codes and better land use planning to achieve "long-term disaster risk reduction".