Sainbari to Sandeshkhali at IFFI 52 Indian Panorama
"If Jallianwala Bagh, Battle of Panipat and Battle of Buxar appear in our history books, why not Battle of Sainbari where 15,000 people were killed in just one night?"
This is the rather incontestable question raised by Sanghamitra Chaudhury, Director of the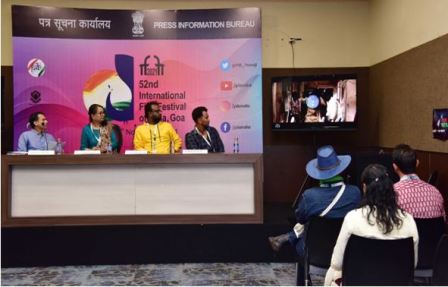 film Sainbari to Sandeshkhali, which has been showcased to the audience at the 52nd edition of the International Film Festival of India, being held in Goa in a hybrid format, during November 20 – 28, 2021. The director was addressing a press conference on the sidelines of the festival today November 25, 2021.
The film follows the trail of politically inclined mass murders that took place in Sainbari, Sandeshkhali and other places of West Bengal during the period 1970 – 2019. The film has been presented at IFFI 52, under the Indian Panorama Non Feature Film category.
Chaudhury recalls how these killings came to be. "These affected people were refugees from East Bengal, now Bangladesh. They came to take shelter in West Bengal. However, they were sent to remote islands of Sundarbans and there, all necessities like medicines, clothes and food supply were taken away from them. So, they started farming and had to make do with a subsistence living. One night, there were boats carrying unknown people to the land; these people who came in boats killed the refugees and set fire to their houses. This is the tale we have portrayed in our film."
Narrating the particular incident of Sainbari, from where she says it started, the Director said: "I went 50 years back and started the film from Sainbari onwards because that was the most dreaded political murder. There, an entire family was killed and the mother of the killed sons was forced to eat rice stained with her son's blood. There was only one brother who survived because he was not in the house at that time. There are people in Bardhaman who still remember this incident. These are stories which are not narrated in our history books."
So, what inspired her to make this film? Chaudhury explains: "Even now, we hear about the incidents that happened in West Bengal, but it is not covered by the media. So, I thought I will make a film which would reach to the masses."
The Director informed delegates that most of these cases have been forgotten by the public and the media alike, and hidden from public view.
Chaudhury revealed that the film shows how the bereaved families are still reeling under the traumatizing effect of the tragedies inflicted upon them. "In the riots of Sandeshkhali, three young people were killed after the Panchayat elections. One corpse among them is still missing, so his wife is continuing to wear sindoor. She says, 'until and unless I see my husband's body, I will not believe he is no more'.
She admitted that it takes courage to make a film of this kind. "Initially, when I started making this film, I made a small trailer and put it up on social media.
Soon, I started getting threat calls from unknown people. But I challenged them back saying, if you can come, I will show you the documentation."
It was very hard to get the documentation for the film, however, the Director said. "During the period in which the incidents took place, there was no social media, no cameras; and media were not allowed inside. But there are people who were witnesses and who narrated the whole incident. So, this is more a film on history than a political film. I did thorough research and against every scene, there is documentation – either people who have witnessed the happenings or newspaper cuttings I have collected. Some TV footage is also there, which I got at a later stage."
---
---
Chaudhury confessed that getting documentation and making the film was very painful as well. "I went to all affected areas and talked to the bereaved people. As they narrated their experiences, I could see tears rolling down their cheeks. They were still not freed of the horrific remnants of the wounds those incidents caused."
The director said that lots of detailed research went into making this film. "I planned this film in 2018 and then, I started doing the research for the film. I found out that there were around 15-16 incidents during this entire period."
Showing the trailer of the film, Choudhury explained why she terms it a docu-feature rather than a documentary. "Some scenes of the documentary were created as we could not get footages. So, we had to recreate them; so, this film is not completely a documentary but a docu-feature."
She recalled that she had faced challenges in getting the film certified by CBFC, but that once cleared by the Board, it became viral.
The Director informed the delegates that we are still waiting for justice for the incidents she has portrayed in her film. "Justice has not been meted out to those victims and their families. I would like not only entire India, but the entire world, to see this film, so that they know what happened in West Bengal."