Stan Swamy's Custody: JCSA Calls for National Day of Solidarity
Stan has consistently worked on humanrights issues related to land, forest and labourof Adivasi communities, and also their representation in Jharkhand. He has been vocal about the "indiscriminate" arrest of thousands of young adivasis by the investigating agencies labelling them as "Naxals".
Renowned Jesuit priest Stan Swamy has been taken into custody by the National Investigation Agency (NIA). Stan, the 83-year old priest in poor health, has worked tremendously for the uplift of the marginalised, downtrodden and other vulnerable people, especially for the tribals in Jharkhand for several decades.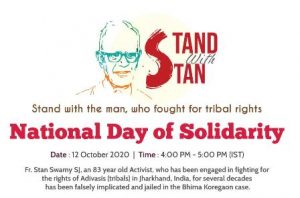 Stan was taken from Ranchi by the 9.30 am flight on 9 October to the Sessions Court in Mumbai where the charge sheet was filed, and he was sent to Taloja jail. The Jesuit Conference of South Asia (JCSA) has called for a National Day of Solidarity for Fr. Stan Swamy on Monday, 12 October 2020.
Fr Stan was questioned multiple times for over 15 hours by the NIA at the Jesuit residence in Bagaicha, Ranchi, in July and August.He was again summoned to the agency's Mumbai office this week in connection with the controversial Bhima Koregaon–Elgar Parishad case. The NIA took Fr Stan into custody from his Ranchi residence on Thursday, 8 October. Despite consistently denying all allegations made against him and  cooperating with the agency in their investigation, NIA took him into custody. It is highly deplorable that the 83-year old has been taken to Mumbai in the midst of the global pandemic COVID-19 and against the Jharkhand government's directive that those above 60 years of age may not venture in public. Fr Stan had informed the officials that he is not in a position to undertake such a long travel considering his age and the pandemic,and is willing to subject himself to questioning over video conferencing.
In a video statement made prior to his arrest Fr Stan said, "What is happening to me is not unique. Many activists, lawyers, writers, journalists, student leaders, poets, intellectuals and others who stand for the rights of Adivasis, Dalits and the marginalised and express their dissent to the ruling powers of the country are being targeted."
Fr Stan has consistently worked on various issues of the Adivasi communities on land rights, forest rights,labour rights and representation of the community members in the state of Jharkhand.  He has been vocal about the "indiscriminate" arrest of thousands of young adivasis by the investigating agencies labelling them as "Naxals". He had filed a public interest petition in the Jharkhand High Court against the state, asking for all such undertrial prisoners to be released on a personal bond, and also for conducting a speedy trial.
JCSA expressed its shock and dismay at the news of Fr Stan Swamy being taken into custody by the NIA. In a statement issued, JCSA has stated that Fr Stan Swamy had been already interrogated for several hours spread over several months, and he has consistently cooperated with the agency concerned. He is willing to be further interrogated at the place he is residing or online. Considering this, his age and his poor health, it was not necessary to take him into custody for further interrogation to Mumbai." In this context, JCSA has demanded the immediate release of Fr Stan Swamy.