Stepping with a man who dedicated his life for the refugees
This year the theme for World Refugee Day is #StepWithRefugees, and here is a man who dedicates his life and wealth for refugee causes in India.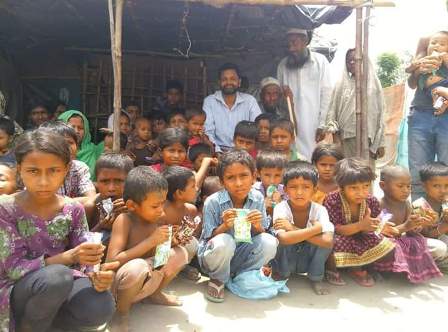 According to official statisticsof the United Nations High Commissioner for Refugees (UNHCR), by the end of 2017, 68.5 million individuals were forcibly displaced worldwide as a result of persecution, conflict, violence, or human rights violations. That was an increase of 2.9 million people over the previous year, and the world's forcibly displaced population remained at a record high. This includes: 25.4 million refugees in the world—the highest ever seen; 40 million internally displaced people; and 3.1 million asylum-seekers. New displacement remains very high. One person becomes displaced every 2 seconds – less than the time it takes to read this sentence. That's 30 people who are newly displaced every minute. One in every 110 people globally is either an asylum-seeker, internally displaced or a refugee.
According to the official figures there are around 2 million refugees in India, coming from different lands fleeing persecution.
The theme of the world refugee day 2019 is #StepWithRefugees. I have been fortunate to spend the last 3 years of my life with a man, Ubais Sainulabdeen who has been stepping, walking, living with the refugees since 1988. He and his organisation Ubais Sainulabdeen Peace Foundation (USPF) serves the various refugee groups in India from the time of the Sri Lankan Tamil refugees to the Pakistani Hindus and Rohingyas from Myanmar.
Ubais Sainulabdeen is a human rights activist hailing from Trivandrum District of Kerala, India. He believes in serving humanity without succumbing to any bias based on their race, religion, caste, gender, political ideology or any other orientation. He serves the public in many ways but he is more known for his services towards the refugees and displaced in India.
Ubais Sainulabdeen's work and mission
He began his activism for refugees in 1988. He started with the rehabilitation of the Sri Lankan Tamil refugees. It was because of his continuous efforts the plight of Rohingyas were discussed by the Indian parliament through Dr A. Sampath for the first time and subsequently raised by Dr Shashi Tharoor and E.T. Muhammed Basheer. He often raises the issues of Rohingyas in the national and international forums both online and offline. He reports about the plight of various refugee groups around the country, even from places where others don't care to go.
---
---
He runs various projects for the refugees and displaced such as providing basic education to their children and youth under school of Humanity project, providing livelihood to them under the Dignity project, providing the widows and deserted women among them with monthly ration and livelihood training under You Are Not Alone project. He provides them emergency aid, seasonal amenities like winter clothes, etc. He provides them access to water by establishing hand pumps, water tanks, etc. in their area under the Drop of Hope project.
He also gives regular counselling to the refugees, especially youth, urging them to live according to the law of the land, stay away from drugs and other antisocial activities.
Most importantly he is fighting for them legally at policy level to bring about a Refugee asylum seekers bill with the support of parliamentarians like Dr Shahsi Tharoor, former MP Dr A. Sampath, E.T. Muhammad Basheer MP, N.K. Premachandran MP, etc. He is currently a petitioner in the Supreme Court praying for equal treatment of all refugee groups in India until they can go back peacefully to their lands. His team conducts surveys and collects data and helps other humanitarian lawyers fighting for their cause.
He also gives internship opportunities to the interested– especially youth to experience his work directly from the ground. He calls it the 'How to be a Humanitarian course'. There are many who have availed this opportunity including me. He is currently on a mission to develop his work in a way useful for research purposes for the generations to access and learn from.
Ubais Sainulabdeen's principles and methodology
He is a firm believer and practitioner of Islam. He respects all other faiths equally and talks about the commonalities and universalities of these messages to Humanity. I have heard him quote Bhagavad Gita, Bible as much as he quotes Quran. He takes pride being an Indian and takes the principles of 'Lokah Samastah Sukhino Bhavantu', 'Atithi devo bhava', 'Manavseva Madhavseva', 'Vasu daiva kutumbakam' as fundamentals of his work.
He has taught me and all other interns that one must not become an activist unless he/she is self-reliant or has a source of income to sustain themselves and their families. He urges that this work has to be done by sacrificing our own wealth, health and time. He divides his wealth into three and one third of it goes to his family, and the second one third goes to himself and relation building which is his fundamental methodology. The final one third goes to the refugees, displaced and the needy. He uses his wealth and the contributions of his close friends and associates for his activism. He has warned us from taking financial help from others unless they are closely associated to you as they might be having their own agenda.
He believes that lack of humanity is the fundamental cause of all problems we face from wars, genocide, environmental problems or even diseases. He often repeats that only through building good relations based on humanitarian values and further expanding and maintaining them only an activist can do any good and sustain it.
Ubais often tells us how the so called protectors of religion are its worst enemies. How they are not aware of their own scriptures and how much trouble they cause.
The Pakistani Hindu refugee camp in Majnuka Tila, Delhi was burned down to ashes following a fire accident. I was instructed by Ubais to take a ground report. I went there and met their Pradhan (in-charge). Back then I had a long beard. There was a kid in the camp. His name was Rajkumar. He saw me and got scared. He asked me whether I was a Muhammadan (Muslim). Back home in the Sindh province of Pakistan his family has faced lot of atrocities from 'Muslim' Dacoits.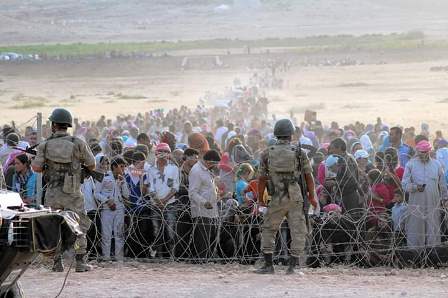 Ubais informed the authorities and told me to get food for the victims. We distributed food immediately and later provided them with other amenities like clothes, ration, books for children, etc. And the next time I met Rajkumar he told me:"I didn't know that there were good Muslims". I was shattered inside, my eyes became wet. He was a child. I gathered my senses quickly and told him that there are bigots and fanatics in every religion and he should not judge a religion by these people who are probably worst of the group. I told him that I myself was inspired to serve all living creatures by virtue of my faith. Then I hugged him. Whenever I visited the camp he would run to greet me with a smile.
Balance the interest of the host and the refugee
India has an exemplary humanitarian record when it comes to hosting refugees. India is home to the internally displaced of its own people. In its unity in diversity, the children of the developing India share the scarce resources among themselves. It is true that there is burden on the host when it receives refugees. But refugees are not migrants who left their homes seeking economic prosperity. They were forced out of their land. They fled from persecution just to live. Ubais believes that they should be given shelter and all their basic human rights must be ensured until they can peacefully go back to their homes.
---
---
More often than not the refugees don't speak the local language. They find it almost impossible to communicate and find livelihoods to survive. Ubais has been keen in making them learn the local language. He believes that communication is the key to understanding each other and overcoming fear of 'the other'. And whenever we deliver any aid to the refugees we make sure that we involve local partners. The local community must be benefitted not hurt when they receive a refugee group. The refugee group must be integrated to the economy of the local community. Ubais has always asked us to help the poor communities living alongside with the refugee groups in order to establish harmony among them and wash away jealousy and hatred. Such emotions could arise when the local community sees themselves suffering and the refugees receiving all the attention and help.
Ubais has taught me and others the importance of making refugees a boon on the local community, not a burden.
Social Activism vs. Social Service
According to Ubais, social work is easy, and for those who are involved in social work, charity has a smoother path than that of an activist. Social action requires more sacrifice. Ubais sir has been called an LTTE agent when he worked for Sri Lankan Tamils. He was called a religious fundamentalist when he was working for Rohingyas. His family and loved ones have been questioned by government agencies and authorities. Yet, through his steadfastness he carried on his work for the last 3 decades and is continuing. He makes sure through the internship experience that people like me are aware about all the possible good and bad associated with social action and how to deal with it.
He is an authority concerning the issue of refugees in India. Often his methodology and working style is opposed by other organisations working in the field. But none can deny his continuing contributions, his steadfastness and experience in this field.
You must not let this world refugee day pass without knowing about refugees and Ubais Sainulabdeen who was not only stepping with the refugees but has dedicated his health, wealth and time for them.