The Making of 'Mahatma'
South Africa was the launch pad for MK Gandhi's experiments which he later applied in Indian Independence Movement to end British Rule in India. Nation celebrates 150th birth anniversary of Mahatma Gandhi.
Mahatma Gandhi, after living for two decades in South Africa, returned to India on 9 January 1915 at the age of 46. The day is celebrated every year as 'Pravasi Bhartiya Diwas' since 2003 to commemorate the contribution of overseas Indians in India's development.
Mahatma Gandhi, born on 2 October 1869 at Porbandar in the Indian princely state of Kathiawar, went on to acquire a degree in law from a college in London. The 24-year-old barrister arrived at the eastern coastal city of Durban, South Africa in 1893, for a case concerning his client, Dada Abdullah, a Gujarati merchant in South Africa.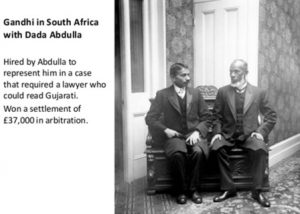 After the abolition of slavery in 1838, a major influx of Indians started in South Africa from 1890 onwards; when the white colonialists recruited Indian labourers, mostly from South India to work in the sugar plantations. The Indian community of South Africa comprised of mainly three groups of people: the labourers, the merchants (mostly Meman Muslims) and the ex-indentured labourers who had settled there with their families. Indians were subjected to widespread racial discriminations at the hands of white masters. When he arrived in South Africa, M.K. Gandhi was appalled at the widespread racism which his countrymen were subjected to.
Coming from an upper caste Modh Baniya family, his father was the diwan (Chief Minister) of Porbandar, and he himself went on to get British education; racism and widespread discrimination were alien to him.
His own account of racial discrimination in the first week of his arrival, when he was thrown out of the first-class compartment of a train while travelling from Durban to Pretoria, despite having the ticket for the first class, went on to have a deep impact on his life. After his arrival in Pretoria, where he had to work on the case of his client, he tried mobilizing Indians to resist the racial oppression through a number of ways. He offered to teach English for free, used the press to express his anger. In a letter in the South African daily, the Natal Adviser dated 23.09.1893, regarding the racial discrimination faced by Asians, he ended with a question: 'Is this Christian-like, is this fair play, is this justice, is this civilization? I pause for a reply'.
After settling the lawsuit, he prepared to leave South Africa, a bill to rip off Indians of their Right to Vote that was being passed by the Natal legislature.
Indians pleaded Gandhiji to stay there and lead them in this struggle. He agreed to stay for a month but went on to live there for two long decades.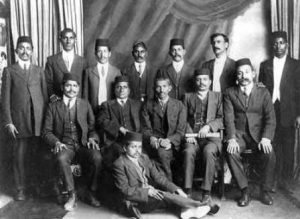 He founded the Natal Indian Congress in 1894. The period from 1894–1906 saw Gandhiji employing moderate methods of petitions and letters to resolve grievances. He effectively used the press as a tool to shape the public's opinion regarding the plight of the Asians. He himself went on to start an English newspaper 'Indian Opinion' in 1903.
The first instance where Gandhiji employed the method of non-cooperation or passive resistance, more commonly known as 'Satyagraha' was when according to a new rule, Indians had to carry a registration slip which had their fingerprints, at all instances everywhere. Having exhausted all the methods of moderate protests, Gandhiji mobilized the Indian community for disobeying the order. At a public meeting at the Empire Theatre at Johannesburg, Indians resolved to not obey the government's order. The government was equally adamant and started proceedings against Gandhiji along with 26 others after the last date of registration was over. The convicted were ordered to leave the country. More people joined the resistance, the number of those jailed rose to 155 and they called their cell 'King Edward's Hotel'.
Against the unrelenting Indians, the English Officer General Smuts employed deception by saying that the legislation was withdrawn and Indians should register voluntarily, to which Gandhi became the first one to register. When they got to know that their voluntary registration was being ratified under the law, the people retaliated by burning the registration slips.
Transvaal Immigration Restriction Act was passed in 1907 to restrict the movement of Indians. To defy this unnecessary restriction, prominent Indians from the coastal province of Natal entered the adjoining province of Transvaal in August 1908. Gandhiji was jailed for the same in October 1908. Resolute despite imprisonment, the government resorted to the deportation of the defiant Indians. Affluent merchants were threatened with economic repercussions.
With protesters running out of money, monetary support was extended from India by affluent industrialists like Sir Ratan Tata, the Nizam of Hyderabad Mir Mahbub Ali Khan and also from the Indian National Congress and the All India Muslim League. The fund was used to establish the Tolstoy Farm, a precursor to the several ashrams he established since then. This was a place of resistance for the satyagrahis and a way to sustain them.
---
---
Meanwhile, Gopal Krishna Gokhle, a stalwart of moderate Indian resistance and Gandhiji's political mentor came to South Africa in 1912. He was a big political name in Indian politics; hence, he was received as the guest of the South African government and was promised of government's resolve to end racial discrimination.
The promise was only shortly kept as in 1913 the South African government levied a poll tax worth three pounds on the ex-indentured labourers. Three pounds were a fortune for the poor labourers who at that time earned an average of ten shillings a month (1 pound = 20 shillings, at that time). A massive resistance built up.
The matters worsened when a Supreme Court judgement, dated 14 March 1913, invalidated marriages not performed according to Christian traditions and registered with the Registrar of Marriages. As many had married in India where marriages were not registered and were rather solemnized according to religious traditions, the marriages according to the Hindu, Islamic andParsi traditions stood invalidated, the children born out of such marriages pronounced illegitimate. It was particularly derogatory for the women. This was one such issue that affected everyone alike and brought the womenfolk to join satyagraha.
The satyagrahis decided to fill the jails. The tool they employed was the same as the Immigration Restriction Act, against which Gandhiji had protested once.
The satyagrahis decided to cross from Natal to Transvaal and vice versa, without a permit. Prominent among them was a group of 16 satyagrahis with Gandhiji's wife, Kasturba Gandhi as a member, who wentfrom Phoenix, a small Indian settlement in the Natal province to the northern province of Transvaal in September 1913, who were later arrested. A group of 11 women, who were all Tamilians crossed Natal from Transvaal to a small mining town of New Castle, where they mobilised the Indian miners to join their passive resistance.
Gandhiji soon joined the protesters in New Castle and assumed leadership. The protesters with the strength of approximately 2,000 men, women and children and led by Gandhi started their march to cross from Transvaal to Natal. This was Gandhi's last satyagraha in South Africa. Protesters were arrested a number of times, Gandhi himself was arrested thrice. The march continued till the protesters were arrested and sent back to Natal, where they were subjected to harshest of punishments including starvation and beatings.
---
---
The repression meted out to the protesters was such that it enraged the then Governor-General of India, Lord Charles Hardinge who described the tyranny as 'one that would not be tolerated by any country that calls itself civilized' and called for an impartial inquiry into the use of brute force and subjugation against unarmed men, women and children.
His last satyagraha in South Africa ended with a victory, when the South African government accepted most of his demands, following an agreement between M. K. Gandhi, Lord Hardinge, General Smuts and the Christian priest and one of Gandhi's acquaintances C.F. Andrews. Poll Tax was abolished, marriages solemnized according to Indian traditions recognized and a resolution was passed to treat Indian community with sympathy.
A glimpse of all of his deeds in South Africa can be seen in the Indian National Struggle led by him. Historian Chandran Devanesan once remarked that South Africa was 'the Making of a Mahatma'. Mahatma Gandhi returned to India on 9 January 1915 at the British Indian province of Bombay.