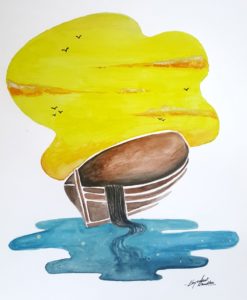 Twenty years ago you said my time has come.
As the radio played Ahir Bhairav
An association of a quarter of a century ended.
Winter had just departed.
The avenues wore shining light green
new bride smiles as she looks at her new home and husband.
Misty river misty eyed.
Sadhu's Gayatri mantra and holy dip
you loved to look at every time you crossed the river Ganga.
Village city town you saw the river flow.
Enchanted by the  Bhatiyali the twigs and dried marigolds of the immersed goddess
The soft serpentine flow depthless
Stirred the eternal traveler in you.
Too beautiful to leave
But wasn't it the right moment to surprise.
Gone before the business is about to begin and sentiments and desire's beastly grip catch up.
Before the headiness of yet another earthly day waited to unfurl
You escaped faster than light in a shaft of light in to another world and time.
But do they keep time in your world?
Is there a river of memories?
Have you seen another sun rise or heard the call of the muezzin?
Have you any regrets for the unfinished Bhairon or the boatman's Bhatiyali.
Twenty years ago I wish I knew.