The Pandemic's Impact on Tamil Nadu's Garment Supply Chain
A sector that already had weak labor rights, put its workers into further misery as the pandemic began- with no PPE kits, long work hours, and zero financial stability.
The Covid-19 pandemic has highlighted critical issues around several industry sectors, including the garment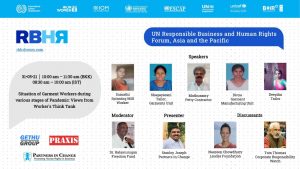 production sector in Tamil Nadu. An industry dominated by daily wage workers and female staffers, the garment production sector in the state has failed to address the primary crisis in the lives of laborers during, and even before the pandemic. With, brands and retailers often canceling orders from their supplier factories and governments imposing restrictions on travel and gatherings, garment factories often suspended production which greatly affected the economies of its workers.
A TN-based worker think tank, the Gethu Group, detailed their crisis and said that a lack of transparency and accountability may have lead to companies often sidelining their workers. A study conducted by the group reveals the pandemic's devastating impact on the garment workers, wherein working in factories has greatly increased their risk of infection. It was found that social distancing norms, apart from the general government suggested safety measures, were not implemented in garment production factories. Often, those who fell sick did not have health insurance or access to efficient medical infrastructure.
---
---
Addressing their hardships at a seminar organized by the UN Responsible Business and Human Rights Forum (A-PAC), Deepika, a mill worker associated with the Gethu Group said that her place of work only gave her masks once in a while, forcing several workers to wear the same mask for a long duration. "We had to wear them for a long time, too, which led to several facing shortness of breath during the working hours. Many did not bother to abide by safety guidelines and removed the masks. Our companies checked our temperatures but did not create any awareness about what to do if it comes out high," she said. She further added that unlike in bigger companies, there was an absence of representatives who would check the practice of preventive measures in the factory.
Apart from masks, PPE kits, and other safety equipment, several workers were also declined their statutory entitlements- provident funds and employee state insurance.
Another worker, Sumathi, added that workers were not briefed about the existence of PFs, which is something they could have utilized in the financially brutal months of the pandemic, especially the national lockdown imposed between March to July 2020. "Earlier, we were only eligible to get an incentive if we worked 26 days a month, which was very hard for women workers due to health issues. However, the policy of incentive has been completely done away with this year. Also, we only get PF along the same conditions," she said, adding that only a few workers are aware of PFs. The group's research also highlighted instances of staffers not being paid their due salaries during the peak of the pandemic.
Workers are also unaware of medical insurance, and companies do not put in a lot of effort to raise awareness as well.
The women said that they are denied something as basic as salary slips/invoices, making it very hard for them to know when their salaries come.
"I had to undergo an operation and so I went to my company for the same. However, I had left it by then. It was only after I left work did I get to know about medical insurance, otherwise I would have stayed on. They also kept my PF for 6-7 months and I had to struggle to avail it," Gethu Group's Divya said.
Experts on the panel, along with the mill workers, suggested that companies hire workers permanently, and not just on contractual terms. The panelists also discussed the issues prevalent in the garment industry before the pandemic. "Practices like those among global fashion brands to outsource production to suppliers in 'cheaper' Asian countries have led to several workers being underpaid, have contractual employment, work in unsafe conditions, and undergo a huge gender pay gap. Female workers in the industry often underwent unjust treatment with the absence of washrooms and menstrual leaves," added Naureen Chowdhury, Senior Programme Manager, Laudes Foundation.
The Gethu Group study involved interactions and interviews of 77 workers across 4 districts in Tamil Nadu, and most of the respondents, barring a few men who worked as factory supervisors, reported being daily wage workers. They were given incentives ranging between Rs 500-1000 in months where they worked 26 days, which added to the misery of women staffers. "They had to face pay cuts or compromise on their health during painful menstrual cycles and other such urgencies for which they would have otherwise taken leave."
"We work in small companies which often have small toilets. Menstrual hygiene is the biggest issue, as we cannot even ask for a half-hour break to gather some rest during our periods," Divya said. She added that female staffers found it difficult to work with menstrual pain, but carried on due to the fear of a pay-cut. "They often watch us on CCTV camera and complain about why we aren't working. This leads to women skipping bathroom breaks as well, which can lead to severe bladder issues," she added.
---
---
Bala Murugan, Program Advisor, Freedom Fund, said that the short time limit given to workers to make the products also adds a lot of stress to their lives. "The purchase practice should be changed and enough time should be given to make the product," he said. The panelist also recommended petty contractors granting statutory benefits to workers under them, for which companies need to ensure regular payment to the former. "The petty workers always have some form of pending payments which hinders them from paying his workers," he added.
Panelists also stressed the need to ensure transparency and accountability beyond the first tier of the supply chains in the garment production sector, and highlighted the importance of the language of collective bargain to ensure corporate accountability.
Tom Thomas, Convener, Corporate Responsibility Watch said, "A larger perspective of the labor-capital relationship in India started diminishing with the opening up of economy- liberalization. Globally, it has stopped being an ideological battle and has now been contained to one that merely demands wages. Rights, the language of rights, placing labor and producer relationship in socio-political dimensions, have all but diminished." He further added that the newly introduced labor codes by the Government of India are the last nail in the coffin that dilutes labor rights.
At times like these, voices of those like the Gethu Group, or worker-led think tanks, becomes unequivocal to bargain for their demands. "However old fashioned, a labor-capital negotiation has no alternative," Mr. Thomas added.
(The panel, as featured on the UN RBHR Forum, was organized by Praxis India and Partners in Change. The Forum will be hosting seminars on the topic of Business and Human Rights in the Asia Pacific Region through June 1st to 4th. Delhi Post will be publishing stories on multiple perspectives presented during the seminar)