Translation is about making choices: Daniel Hann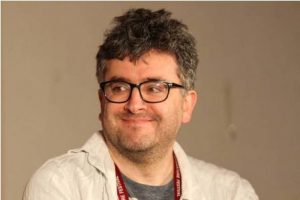 British writer, editor and translator Daniel Hann translates mostly literary fiction from Portuguese, Spanish and French. As a polyglot, he is known for his translations of 'The Book of Chameleons' by Portuguese-Angolan author José Eduardo Agualusa which won the 2007 Independent Foreign Fiction Prize. Agualusa's 'A General Theory of Oblivion' which was translated by Hann and shortlisted for the 2016 Man Booker International Prize won the International Dublin Literary Award, among many others.
In a rendezvous with Delhi Post, Hann, who was in India for the Zee Jaipur Literature Festival in January 2019, talks about the nuanced art of translation, how translations bring diversity and what issues are within the field.
Excerpts:
Delhi Post: You have translated the books of Spanish writer María Dueñas, Portuguese writer José Luís Peixoto, French writer Philippe Claudel, Portuguese writer José Saramago, Guatemalan author Eduardo Halfon and Corsino Fortes from Cape Verde, among others. Considering the diverse writers you have translated, what makes an "apt translation" for you?
Daniel Hann: There is no point (of a translation) if the meaning does not arise. If for example, one translates the meaning absolutely accurately but is not able to make you love it, I would argue that it is not a good translation. I think it is important to remain faithful to the entire book than the meaning. I am also 100 per cent sure that it is what my writers want me to do. My writers want people to read and love (the book).
Delhi Post: How do you approach the process of translation?  
Daniel Hann: Translation is about making choices. There are so many things that are happening in a piece of writing at the same time. Normally, for me, the process (of translation) is enjoyable and harmonious. Normally what happens is I drop the draft to the writer with some questions or doubts marked, to which they would respond to. They might read the whole draft or comments. There is very less disagreement because the role of the writers that I have worked with has been clearly in place.
---
---
They understand that it is my job to make the joke funny and not be miffed if I change the joke by not keeping the exact units of the joke. So, as long as my writers have an understanding in a way that English is less important, the process of translation is easier and harmonious. Though I wouldn't take away the fact that it does sometimes happen that the writer wants to control what is happening but then, that have to be further discussed and deliberated.
And problematic statements or aspects that I don't understand, I make it a point to discuss with writer/s. Also, politically, such a thing rarely happens because I translate very little of political books.
Delhi Post: You said translation is all about making choices. What is your criterion for that?
Daniel Hann: Of course, there are non-fictions which I quite don't agree with. I wouldn't agree to translate something if I found it repulsive or offensive. I think they should be allowed to publish it but I will not be the person to translate it. My job is not to correct it but translate it. My job is not to annotate it with a footnote that says, 'Of course, the writer is loud here'. As long as they are not majorly reprehensible, it is fine with me as a translator.
Delhi Post: You have already more than 40 books to your credit. Tell us what do you think is the biggest problem in translation?
Daniel Hann: One of the worries is translators only work for people who can give them work. Supply is relatively easy when working in English. If you are working into other languages, it becomes much more difficult. For example, there would be a lot of people who can translate between Tamil and English but very few people who can translate between Tamil and Turkish or Tamil and Polish or Tamil and Greek.
And in that case, you not only need to figure out the demand but also if you want to translate a great Korean writer into Tamil. You need the person to exist who can do this as well as publishers at their own place, demand, readers and market. There are some cases but not so diverse.
---
---
If one can't find a translator between Turkish to Tamil, then they could conceivably be translated into Tamil and English through bridge translations. It is not ideal and it is not the same. But it can be great and something better than nothing. But it is problematic in some ways like politically and for other different reasons. It is a thing that people are still slightly squeamish about. But I think, with lots of languages, particularly, for a country like India that is one of the things that we should get used to doing. Not between Indian languages but bringing languages from abroad. However, one is not going to find a Korean-Kannada translator because it is very hard to survive and make a living.
There are ten times as many people who want to translate from French to English. So all we need to do is to train translators and nuance their art but also get them published, commission work and find more readers. Translators should not only have passion for the job, but also change the market such that instead of 10,000 English translators from French, there is diversity.
Delhi Post: How can translations become more popular?  
Daniel Hann: I think in the same way as you encourage them to pick up other books. You encourage them because the jokes are funny, it is a bestseller, it is about some interesting things or their voices are irresistible.
I think sometimes when it's about another culture, it is interesting. Even that shouldn't be the reason to hold books.
Delhi Post: You have mentioned that you read books from India that you find fascinating. Are there any translations from Indian languages you would like to work?
Daniel Hann: I don't know. I have no idea. That is the problem. I know so less of what is written in India or what is written in English or already translated into English. How many of UK's commissioning editors read in Tamil? Most publishers have access to Indian readers as much as I do which is to say nothing unless a bridge translation is available in English. That is why, it is much easier to get a book translated from French in the UK as most of the publishers can read French and make a decision based on whether they like it. Whereas, if I go to a publisher and say that there is an amazing novel written in Kannada, you have to trust my word for it because you can't read it