Vouching for the mothers and newborns
Exclusive breastfeeding in the first six months, support services for lactating mothers and dedicated funding are three of the top parameters in a recently launched report.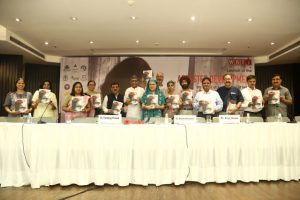 Shoba was able to exclusively breastfeed her girls, born in 2011 and 2018 for the first crucial six months. This, the 39-year-old tells Delhi Post, "was mentioned to me as important by the nurse but there was no extensive counselling or support from my hospital in Chennai". The same or worse is the case with many lactating mothers and newborns because there is limited or no counselling and support administered by hospitals – both private and government-run hospitals.
This is one of the many concerns raised by a report titled 'Arrested Development – the 5th Report of Assessment of India's Policy and Programmes on Breastfeeding and Infant and Young Child Feeding 2018'.
The World Breastfeeding Trends Initiative's (WBTi) fifth assessment report based on 10 key indicators of policy and programmes has been jointly carried out between April to June 2018 by civil society organisations, Public Health Resource Network (PHRN) and Breastfeeding Promotion Network of India (BPNI).
"The report also mentions that exclusive breastfeeding (nothing except breast milk and mandated vaccines should be given to the child; not even water and food) which is mandatory up to six months is not stressed enough."
"Not much change is visible from our previous assessment, three years back, which is disappointing," mentions Dr Arun Gupta, senior pediatrician, founder and central coordinator of the BPNI.
It is particularly important to start breastfeeding within the first hour after birth. "Breastfeeding is vital for improving child survival and development. It's a baby's first vaccine and also gives children protection against diarrhea and respiratory infections. Breastfeeding benefits mothers too as it prevents breast cancer and reduces the risk of ovarian cancer and diabetes," Gayatri Singh, nutrition specialist, UNICEF, tells Delhi Post.
However, women continue to face barriers such as perceptions of 'not enough milk', breast conditions like sore nipples, engorgement and mastitis, introduction of infant formula, cesarean section delivery and lack of support at work places, which are all common reasons for women to give up exclusive breastfeeding.
According to the report, 'about 15 million babies out of 26 million born are not able to begin breastfeeding within one hour of birth even as 80 per cent women deliver in health facilities which puts them at higher risk of death and disease and makes them less likely to continue breastfeeding'. Out of 18.8 million women exclusively breastfeeding at less than two months, the numbers fall steeply to 10.7 million at six months.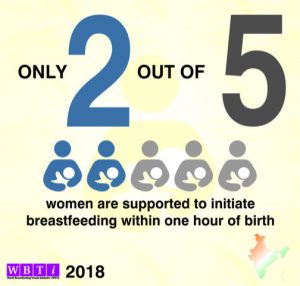 The report also suggests weak assistance to women in removing the barriers that they face to optimally feed their babies. This happens in almost every sector concerning infant feeding including health, women and child, HIV, National Disaster Management Authority (NDMA), labour and related others. "Hospitals are failing new mothers round-the-clock," asserts Dr Gupta mentioning that there is a lack of counseling and assistance services even in caesarean deliveries.
Compiled by a national consortium of public health groups and agencies including government departments, AIIMS and UNICEF under WBTi, the report is based on a consensus among several organisations and feedback from key policy makers of the Government of India.
Dr Gupta continues, "The top concerns of the report are to remind policymakers that there is a lack of high-level political will which means that 'money spent on protecting, promoting and supporting breastfeeding is despairingly deficient', and there is lack of support and counselling in the hospitals or in the community settings."
"The WBTi report provides a score card for breastfeeding in India. It highlights what else needs to be done to provide more support to mothers to breastfeed successfully," mentions Singh.
World Bank estimates mention that India would need to spend about Rs 320 per child
born, roughly amounting to Rs 1 crore per district per year. Spending this much has the potential to prevent 99,000 child deaths due to diarrhea and pneumonia each year, claims the report.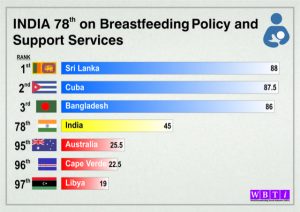 As per the WBTi report, India has scored 45 out of 100 on policy and programmes, rising from 44 in 2015. Many neighbouring countries like Afghanistan, Bangladesh and Sri Lanka have moved ahead of India (7th out of 8 SAARC nations) on policy scores and increased breastfeeding rates. In fact, recently, Bangladesh, with a population of 16 crore, allocated 13 million dollars for a five-year plan on infant and young child feeding.
The Government of India's National Steering Committee on Infant and Young Child Feeding in 2015 and 2017 decided to appoint a lactation/breastfeeding counselor at all delivery points in the health facilities; effectively enforce Infant Milk Substitutes Act and reach out to all pregnant women with information booklets etc. However, Dr Gupta says that "no significant funding" has been allocated.
Dr Gupta emphasises that certain schemes like the Pradhan Mantri Matru Vandana Yojana (PMMVY) which caters to pregnant woman and lactating mothers apart from regular government employees, entitles them to Rs 5,000 but is not universal as it only applies to the first-born child.
Dr Gupta tells Delhi Post, "Less than five per cent women work in the formal sector which means that 95 per cent work in the informal one. With India's population, universal application of the policy is essential to cover every mother and her children and not just her first-born child."
The Ministry of Health and Family Welfare launched a programme, 'Mother's Absolute Affection' (MAA) in 2016 that for the first time made an allocation of Rs 4.5 lakh per district to promote breastfeeding. However, according to the report, it does not provide accreditation and is not applicable to private sector institutions within which a large percentage of deliveries currently take place, in the context of the rapid rise of caesarean sections which need high-intensive support.
Citing an example of Uttar Pradesh's Lalitpur project, where extremely positive results began fading when funding was cut after 2012, the report suggests that a dedicated skilled team at block level is needed to mentor and train community workers in order to bridge the gaps along with dedicated funding for implementation of policy and programme interventions.