Dalits need to come out of 'victimhood' to 'victoryhood': Dr Sanjay Paswan
Dr. Sanjay Paswan, Member of Bihar Legislative Council and former Union Minister of Human Resources Development, shares with Delhi Post his State's vision when it comes to development and the various initiatives that he has taken. He was the former National President of S.C Morcha, Bharatiya Janata Party. He has received his Ph.D from Patna University. Recently, Dr. Paswan also represented India at the United Nations' High Level Political Forum on Sustainable Development Goals. In this exclusive interview, Sanjay Paswan voices his opinion on how sustainability is the need of the hour which needs to be balanced with developmental goals. The interview is part of #KnowMyConstituency series where Parliamentarians/elected representatives from across the country will shed light on their achievements and talk about their hopes for a better tomorrow.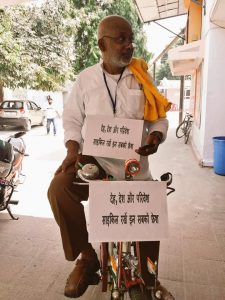 Delhi Post: As a Bihar Member of Legislative Council (MLC), what is your vision for the State's developmental programmes, vis- a- vis Sustainable Development Goals (SDGs)?
Sanjay Paswan: Since I have been a former Central Minister in the Government of India, and now I am a member of the Legislative Council of Bihar, it becomes my duty to share my earlier feelings and experiences as a Parliamentarian and a minister of the Government of India about how we can be of benefit to the Bihar Legislative forum and how we can benefit Bihar. That's why we are taking so many initiatives for Bihar as such and also for the legislative work, which is good for Bihar, with both the Legislative Assembly and the Council. That is why, we have started one legislative forum there or one legislative group on SDGs, which may be the buzzword in the universe and the world; about how the Sustainable Development Goals can be met by each and every state and nation of the UNO, and even the provinces of the respective countries. So, in Bihar we have so many schemes, so many visions and so many programmes. Through this SDGs forum, I would also seek advice, suggestions and experiences from other stakeholders so that Bihar can advance further, prosper, can go ahead and compete with other states of the country, so that our country may compete with the developed nations.
Delhi Post: Could you share some of the novel initiatives that you plan on advancing in your State? Please elucidate, for instance, on the Cycling Promotion Campaign.
Sanjay Paswan: Cycling has been my pet profession, my pet hobby and so I want that cycling should be popularised right from the Parliamentarians and legislative events so that the common man may also adopt it. Cycling makes good health, makes healthy nations and cycling makes the ambience very clear and pure. That's why it is said that:
"Deh, desh aur parivesh, cycle rakhe in sab ko fresh" (Cycle keeps the body, the country and the environment fresh)
So this is my new initiative which I am going to launch in this very session, which is going to start from the 20th of this month.
Delhi Post: As a fierce advocate of the Dalit cause, how do you plan on changing the prevalent narrative and shaping the discourse on the issue? 'Kabir K Log', 'Vivaad Nahi Samvaad', Victimhood Se Victory ki Ore'
Sanjay Paswan: Discourse, of course it is on, but the narrative is the stereotype narrative present, and we want that from "victimhood syndrome", we move towards "victoryhood". That is why we are trying that the narrative should be changed, as Dalits have been victorious and winners, and their contribution in nation building has been tremendous. So their contribution in nation building and social transformation activities should be accommodated so they can boast of it, so that the Dalits of the country can come out of "victimhood" to "victoryhood".
Delhi Post: You are attending the High Level Political Forum (HLPF) 2018- the United Nations platform on Sustainable Development Goals this month. Could you please give us an insight into the issues that you plan upon bringing forth at this Conference?
Sanjay Paswan: SDGs have been fixed by the United Nations and its member countries. I am trying to see how poverty and climate action, Number 1 and 13 of the 17 goals can be converged to see how climate action, climate impact and climate change is impacting poverty and the poor class, and how these things are taking place in the country. We would like to show some issues of concern to the world, also about how this weather change is impacting and increasing the poverty of India. That is why, we're trying to put forward in my statements at the UNO how poverty and climate action can be correlated, how their correlation can be established and how this thing can be demonstrated well so that the global community can take it up. We will try our best to demonstrate how climate action is helping to increase the poverty, how we can leverage to that and how we can minimise and diminish it so that the world and the globe can address this issue in a very meticulous way.
Delhi Post: You recently announced the launch of the state forum of the Legislators' Group on Sustainable Development Goals (LG-SDGs) in Bihar. What is your vision for this forum and how do you think it can be substantial in accomplishing the SDGs at the local level, in practice?
Sanjay Paswan: The culture of this legislative and parliamentary forum is almost non-existent. So we are trying that not only the Parliament, but also the state legislature houses must take initiatives to take up some issues on the parliamentary groups' level, on the legislature level, so I am trying to evolve that sort of culture in my state also. It has already been started in Rajasthan, and Bihar is the second state. It is taking a lead in it and I am of this cultural opinion that if Bihar takes lead in something, then the country also takes lead. Bihar has taken the lead in this regard and I am sure that certainly other states will also take lead and if need be, then I am ready to tour other states also so that legislative forums can be established in those states too. A two-way communication of top-to-bottom and bottom-to-top should take place, in addressing these global or perennial issues. That is why, we are trying that state legislatures must take the initiative, and the active members should approach the pro-active members also, so that they take up the issue outside the house as well. The civil society and the legislature house of the states could coordinate and collaborate to address this issue so that real things come out. Merely the Parliament is not enough, it is only one. But there are 30 state legislatures, if they take up the issues related to SDGs and poverty, it will certainly be more decentralised and more disseminated.
Thank You Delhi Post and the Parliamentary Group of SDGs. Thank You to you all and your team members.