Want to clock 50.78 now: Hima Das
Indian national record holder in sprint running in 400m, Hima Das vouches for importance of athletics even as she gears up for the next season ahead.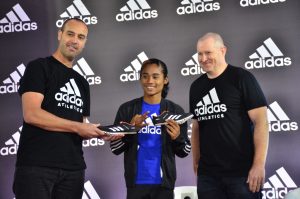 I ndia's teen sensation, Hima Das who clinched the silver medal in the 400m race at the recently concluded 18th Asian Games in Jakarta, Indonesia with a time of 50.79 seconds and holds the current national record in 400m said that she would like to better her game. "I want to clock 50.78 now," said the sprinter adding that ultimately, below 50 minutes would be a target. After clocking 51.00 seconds in heat 1 and setting a new national record, Hima qualified for the final at the Asian Games where she bettered her previous performance.
Nicknamed 'Dhing Express' as she belongs to Assam's Dhing town in Nagaon district, Hima is looking forward in the next few days to start with rigorous training schedule in the run-up to major athletic events scheduled for next year. "Currently, the season is over. But next year, there are South Asian Games, Asian Championship and World Championship. So planning and approach will be decided during the training. My complete focus is on the game," said the 18-year-old, who is the first Indian athlete to win a gold medal in a track event at the 2018 IAAF World Under-20 Championships held in Tampere, Finland.
Finland brings back one of her favourite memories when she clinched the top spot in women's 400m and clocked 51.46 seconds. "Yes, it is one of my favourite memories and also the semi-final race at Asian Games when it started raining," Hima said. She went ahead to add that disappointments like disqualification from 200m women's semi-finals at Asian Games 2018 were behind her.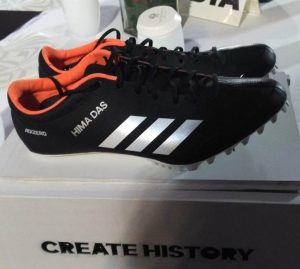 On the sidelines of being made the brand ambassador of sportswear giant, Adidas in New Delhi, where she was presented with personalised shoes featuring the sprinter's name, Hima shared how even without proper spikes, she made the transition from football to athletics on the pursuance from another school's physical education teacher, Shams Ul Haq, back in 2011-12. "Football was my first love. But there was no women's football team that I could be a part of. Athletics happened because of Haq Sir and his confidence in my abilities," recalled Hima, further adding that life has changed for the better after the spotlight.
Though India has not been affluent when it comes to athletics and track events, Hima is of the opinion that "support" can help nurture it. "Athletics is very important for India. From Finland till now, the support has been incredible which proves that constant support, love and assistance can make it happen," Hima, who often likes to use Assamese phrase 'Mon Jai', to describe 'I feel like', told Delhi Post.
She also spoke fondly about her coaches Nipon Das and Nabajit Malakar. It was in May 2017 Das and Malakar made her run 400m in Assam's Guwahati where Hima clocked 57 seconds.
Talking about Russian Olympic bronze medallist, Galina Bukharina, who is currently training Hima as part of the Senior India Camp in Patiala, since November 2017, Hima mentioned, "She is very supportive. As an Olympian herself, she gives us different challenges that we have to be prepared for."