Water Crisis in Himalayan Ecosystems: The Way Forward
A day-long workshop brought community representatives and experts to discuss the various ecological ramifications of the depleting water resources in Uttarakhand.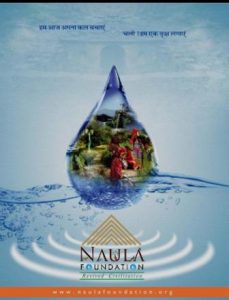 A recent report released by NITI Aayog stated that nearly 50 per cent of the springs in the Indian Himalayan Region (IHR) have dried up in past few decades affecting thousands of villages that depend on natural spring water for domestic and livelihood needs like drinking water and irrigation. In fact, the water crisis in Shimla and other hill towns in India are a direct result of drying up of springs, which indicates that meeting the water necessity is going to be a major challenge in the coming years all along the Himalayas including Uttarakhand.
This formed the basis of a recent day-long workshop titled "Neer, Nadi and Naule" (Water, River and Aquifers) in Dehradun that discussed the ecological and social ramifications of the depleting water resources in the Himalayan state of Uttarakhand.
"More than 83 per cent of springs have dried up in Kumaon region of Uttarakhand, and people are becoming more dependent on hand pumps to access groundwater which is shrinking at an alarming rate," held environmentalist Kalyan Singh Rawat who is also known as the founder of Maiti movement which is a woman-centric eco movement.
He said that the forests provide vegetative cover for the major river systems and Himalayas serve as a water reservoir, warehouse of biodiversity, and a climate architect for the whole of Asia continent. Himalayas which had 33,000 sq km of glaciers and rivers provide water for over a billion people downstream and was popularly known as the "Water Tower of Asia".
"Traditionally in Uttarakhand, the main systems of water harvesting were Naulas, Dharas, Guls, Khal, Simar, Lakes, Kund or Gazar and Gharats (water mills) used for drinking water and other household purposes from ancient times."
"These traditional water management systems are now at the verge of extinction, and a drastic cultural transformation is being noticed in Pithoragarh district itself making water a crucial development issue in the region," said Dr. Naveen Chandra Joshi, Scientist from Wildlife Institute of India, Dehradun while mentioning that the whole Himalayan ecosystem is under threat due to anthropogenic pressure and human invasions in undisturbed ecosystems. He stressed on the need for documentation of traditional knowledge related to such management systems and conservation of natural water sources.
---
---
Meanwhile, Dr. Rajendra Rana, Scientist of Uttarakhand Science, Education and Research Center, Dehradun, said that the water quality of traditional natural water sources of Uttarakhand such as Naula and Dhara were found to be fit for drinking without any major carcinogenic pollutants in his study and these water sources are needed to be protected from pollution.
Speaking at the workshop that provided a platform for community representatives to discuss their issues with experts, Dr. Girish Chandra Singh Negi, senior scientist at GB Pant Institute of Himalayan Environment & Sustainable Development (GBPIHED), Almora, said that "we have a limited amount of water" which can be used. He found that every household in hilly areas need an average of 254 litre of water per household per day and thus management of rainwater is must. He recommended the maintenance of terrace risers, crop field levelling and grasses on contour bunds for Uttarakhand.
The workshop was organised at LSM PG College, Pithoragarh by Uttarakhand Science Education and Research Centre (USERC) & Naula Foundation recently. During the workshop, a new brochure of Naula foundation was also released by Prof. Devraj Singh Pangati, Principal, LSM Govt. PG College, Pithoragarh and convener of the workshop.
Academician Dr. Hem Pandey urged all scientists and social workers to unanimously work together to get sustainable solutions through the science community.
Dr. Hemant Kumar Joshi from Seemant Institute of Technology, Pithoragarh said many of the traditional technologies are still in use and provide a significant proportion of the water requirements of the people. He emphasised on small-scale projects and pilot studies to recharge the dying natural water systems across Uttarakhand.
---
---
Highlighting outmigration which has many ill-effects including more stress on the water systems in the urban areas and lack of people in rural areas to manage the traditional water sources such as Naula and Dhara, Dr. Himanshu Pandey from Swajal, Pithoragarh recommended proper management of water systems all along the Himalayas.
"Pithoragarh Forest Department's Anil Srivastava stated that the regional forest department had made "serious efforts" to reduce the water crisis of Pithoragarh district and with certain pilot projects they were able to recharge certain conventional water sources in Didihat and Askot range of forest."
Another Environmentalist and social worker Sandeep Manral said that development of Uttarakhand could be considered sustainable only when the local resources are conserved and protected.
Various other scientists, social workers, representatives from various government and non-government organisations and community representatives from across Uttarakhand shared their views on this crucial topic with about 200 researchers and students and tried to find possible solutions to the water crisis problem in their areas.