Budget Shortfall in COVID-19 Vaccine Production: SII CEO Adar Poonawalla
Speaking to several media outlets on Tuesday, Mr. Poonawalla said that Rs 3000 crores are needed to scale up vaccine production in the country.
Serum Institute of India (SII) CEO Adar Poonawalla in recent interviews has hinted at a budget shortfall in India's vaccine production. Speaking to the media on Tuesday, April 6, Mr. Poonawalla said that a sum of Rs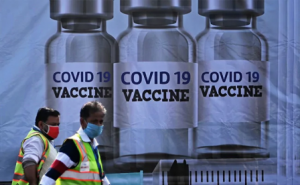 3000 crore is required to boost vaccine production in a way that every citizen can get vaccinated. SII's Covishield is one of the two vaccines currently being administered in India, and Mr. Poonawala said that its existing production capacity is "very stressed." "The vaccine's actual cost is Rs 1500, but at the request of Prime Minister Narendra Modi, we are selling it for Rs 150-160. The average price is $20. While we are making profits, we are not really making super-profits, which is the key to re-investing," he commented.
He further added that SII has sent a proposal to the central government to allocate Rs 3000 crore to vaccine production, and linked this shortfall to selling Covishield vaccine doses at a subsidized rate. "We hope that the government would give at least half the sum, and we would put in the other half. We may also have to go to the banks in case there is a shortfall in meeting the demands," he added.
---
---
This comes at a juncture when COVID-19 cases in India are at an all-time high, with the country registering 1.15 lakh cases on Tuesday. As per the Ministry of Health and Family Welfare, 33 lakh citizens were vaccinated on the day.
Mr. Poonawalla also commented on ramping up the vaccine drive and said that vaccinating 2-3 million a day is maximum India can achieve with the existing production capacity. "We provide 60 million vaccines every month, and the production may go up to 70 million by the next month. We will only be able to ramp up the production to 100 million per month by July, and we hope to receive the requested funding by then," he added.
He also said that SII had rounded the vaccine doses it had been exporting and was now focusing on fulfilling India's vaccine requirement first.
In a related development, Mumbai Mayor Kishori Pednekar announced on Wednesday that the city is undergoing an extreme vaccine shortage, and further hinted at the vaccine being delivered at a slow pace. "Vaccine stock in the city is about to get over and we only have 1 lakh Covishield doses remaining," she said. State Health Minister Rajesh Tope further added that due to a shortage of doses, many people are being sent back from vaccination centers.